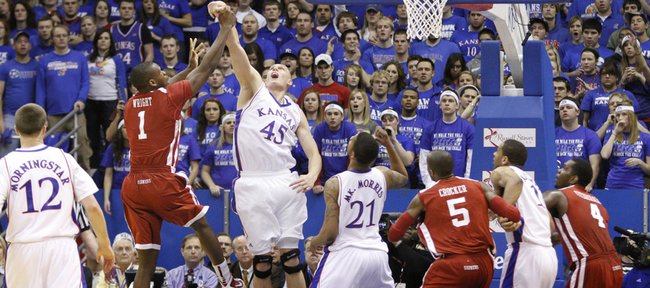 Is Cole Aldrich more like Nick Collison? Or is Aldrich another Greg Ostertag?
Aldrich, who announced Monday he would turn pro with one year of college eligibility remaining, is projected in more than one mock NBA Draft as a lottery pick.
In other words, the 6-foot-11 former Kansas University standout will be making a seven-figure salary for at least the next three years, and probably longer.
Aldrich rebounds like Collison, blocks shots like Ostertag and shares the limited offensive skills of both. Aldrich has a nice hook shot, yet, like most big men, doesn't really shoot well facing the basket.
But that's typical. Big men have always been taller than their contemporaries, so they've been able to dunk or convert an easy stick-back. Why work on a mid-range jump shot when you don't need it?
Ostertag, who was listed at 7-2 but was probably closer to an even 7-feet, could dunk, of course, but that was about it. He had no jump shot. His free throws were almost line-drives.
Ostertag was not a lottery pick. In the 1995 NBA Draft, he was the 28th player chosen in the first round.
In truth, he was chosen that high only because of his height and his gargantuan 8-foot, 1-inch wingspan. Aldrich's wingspan is 7-4. Collison, who stands 6-9, stretches 7-1 1⁄2 in that category.
Ostertag is living proof you don't necessarily need to possess offensive skills to succeed in the NBA. The Big O was lucky he played for a Utah Jazz team that had Karl Malone and John Stockton and could afford to have a nonscoring shot-blocker in the middle.
After the Jazz gifted him with a six-year contract worth $30 million, many league pundits ridiculed Ostertag for being the most overpaid player in the NBA. He may have been, but if he was crying about it, he wiped his tears on his ATM receipts.
Ostertag lasted 11 years in the NBA and earned millions of dollars. If Aldrich lands in the right situation and stays healthy, he'll make millions, too.
The other day I saw one Web site that listed Collison as one of the 10 most overpaid players currently in the NBA. A reserve with the Oklahoma City Thunder, Collison is making $6.25 million this year and will earn $6.75 million next season before becoming a free agent.
Collison was a terrific college player, a first-team All-American, but he lacks the strength and quickness to compete with the freakishly talented front-liners in the NBA. In certain match-ups, Collison can be effective, but he is clearly a role player.
Will Aldrich wind up as a role player, too? Perhaps. Collison was the 12th player selected in the 2003 NBA Draft, and that's about where Aldrich is projected to go this summer.
However, at two inches taller than Collison and with a wider wingspan, Aldrich has the potential to leave a larger pro footprint than either of the recent Jayhawks most comparable to him.
To do that, Aldrich will need to become stronger and adopt a more aggressive persona. The latter will be more difficult than the former. Regardless, though, the big guy from Bloomington, Minn., is a millionaire walking.