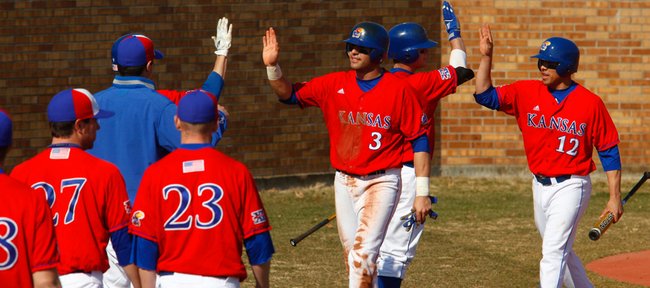 If nothing else, the Kansas University baseball team's 15-7 victory against Iowa on Sunday at Hoglund Ballpark was a good indication that, with or without All-America third baseman Tony Thompson, the KU offense still can swing it.
"Our offense started off slow the first few games, but we're getting going," said red-shirt freshman Jake Marasco. "We can definitely produce runs right now. And then when Tony's back, it'll just be an added bonus."
Sunday, Kansas pounded out 16 hits and received multi-hit days from five different players, including a 4-for-4 performance from Marasco — one of three players asked to fill in for Thompson at third base. KU also got a three-hit, three-RBI day from senior Brett Lisher. Both players' production at the plate helped the Jayhawks jump to an 8-1 lead.
"It's nice to get that lead just so you have that cushion," said left fielder Jimmy Waters, who finished 2-for-5 with four RBIs and a home run. "Everybody contributing makes the biggest difference in the world. If we can just keep creaming it like that, we're going to be pretty good."
Senior second baseman Robby Price and junior outfielder Brian Heere each went 2-for-5 with two RBIs.
On the mound, things didn't go quite as well for the Jayhawks as they had during the first three games of the series. Starter Thomas Taylor pitched two strong innings but lost control in the third and was pulled.
Junior Wally Marciel relieved Taylor in the third and inherited a bases-loaded situation. Not only did Marciel get out of the jam, but he also went on to allow three hits over four innings to pick up his first victory of the season.
"When you're put in that kind of a situation, you just want to get outs however you can," Marciel said.
Kansas improved to 7-3, while Iowa dropped to 4-5.
KU coach Ritch Price said he was particularly pleased by the way his team responded after dropping the second game of a doubleheader Friday.
"I thought the quality of our at-bats improved all weekend," Price said. "To win three out of four (against) a solid Big 10 team, I'm proud of the way we came back."
Kansas will return to the diamond Tuesday for a 3 p.m. contest against Saint Mary.