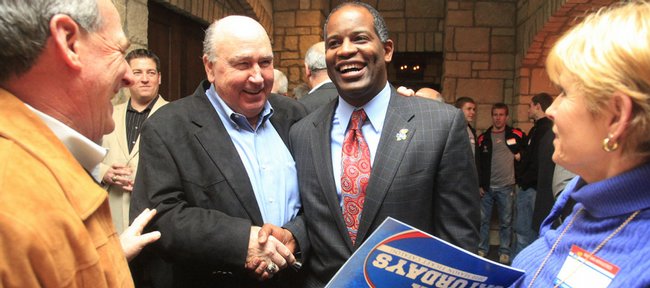 Kansas University football coach Turner Gill wants you to know two things about his first few months in Lawrence.
First, his new town does not yet feel like home.
"No," Gill said. "And I say no in a quick way just because my wife (Gayle) and our youngest daughter (Margaux) are not here. And because I don't have a home-home. But time will take care of that, and it will definitely feel like home once we all get here together."
Second, settling into the new town, team, program and university is not something Gill has attacked alone.
"I think the great thing about it is (the adjustment) has been very, very efficient," he said. "The administration and everybody here has been helping us, this whole staff, because it's not just about me, it's about this whole staff adjusting, and that's been outstanding."
A little less than three months have passed since Gill, 47, officially was introduced as the newest KU football coach. Although he has yet to move into a permanent residence and has spent as many days on the road recruiting as waking up in the town he now calls home, so much has happened to Gill since accepting the KU job in early December.
A fan base has fallen in love with him. Critics have questioned his credentials and wondered whether he's ready for such a high-profile job. Players have come and gone. Coaches have come and gone, too. Through it all, Gill has stood up to the public image he arrived with — that of a coach whom people call "a good man" and "a great person" long before any other adjectives leave their lips.
He goes about his day in the same way those who know him best have come to expect.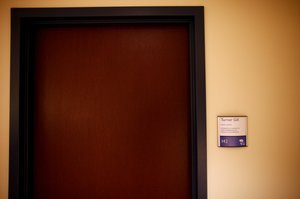 "Same guy that I met back in Lincoln, Neb., six years ago," said KU special-teams coordinator Aaron Stamn, who coached with Gill at Nebraska and in Buffalo. "He's the same guy, just a different town. I will say this, though, he's got a new little energy about himself. He's kind of charged up right now. We still haven't practiced or played, but he's kind of got that little extra excitement right now."
Who could blame him? Thanks to the university's commitment to football in recent years, Gill's new surroundings are a far cry from what he was used to in Buffalo. From his spacious and luxurious corner office that overlooks Memorial Stadium and the east side of the KU campus to the immaculate Anderson Family Football Complex he strolls into each day, every step Gill has taken has been filled with a reminder that this is the big time.
But none of it has fazed him.
"He's just very consistent," Stamn said. "The way he carries himself and handles himself around people, he doesn't change his moods or anything like that."
Added Reggie Mitchell, KU's running-backs coach and recruiting coordinator: "He's comfortable here."
And Mitchell isn't just talking about the friendly confines of the football facility. He's talking about Kansas University, Lawrence, the Midwest and the Big 12. The reason?
"The people," Gill said. "Just like anything, when you're asked a question about what you like about this place or that place, I would hope that everyone would say something about the people. The people here are hard-working, genuine. They want to help others. You can just sense it and feel it."
The look on his face when talking about these people almost gives the impression that Gill also is describing himself. He certainly has been blitzed by the buzz since arriving at KU, hob-nobbing and shaking hands with whomever asks one minute and hitting the recruiting trail hard the next.
"He's said it to numerous people, 'It's our program,'" Stamn said. "He fully embraces everybody who has the energy and excitement to want to be a part of the program. When you look at it, it is a community, and there is a following, and he brings a great energy to it that gets people excited."
He's also worked hard. But that's just Gill doing what he knows best, harnessing that inner drive that led him to a 28-2 record as a starting quarterback at Nebraska, then to his first head-coaching opportunity at Buffalo and, ultimately, to Kansas.
For Gill, the thing that remains highest on his to-do list is to get his new team, which reports for spring drills on March 27, heading in the direction he believes is right.
"He can do it," Stamn said. "He will do it."
• A previous version of this story was updated.