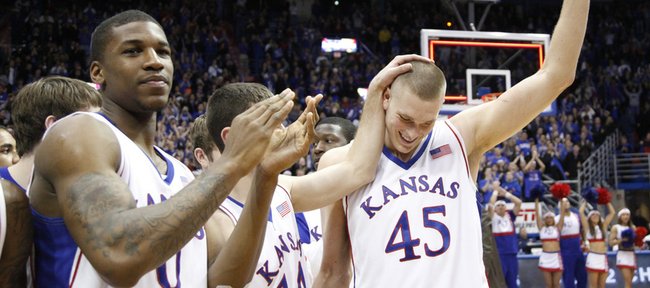 Columbia, Mo. — Yes, Cole Aldrich heard the fans' chants of "One More Year" at the end of Wednesday's Senior Day victory over Kansas State.
"It's cool," Aldrich, Kansas University's 6-foot-11 junior center, said of the fans wanting him to return to KU instead of heading to the NBA.
"I still don't know what I'm going to do. I'm still just trying to play ball. Whether it is my last year or not, I'm just trying to make it the most fun I could ever have."
So he's not totally sure he's headed to the NBA?
"Not really," Aldrich said. "I'm just going and having fun. I'm going to do the same thing that Sherron (Collins) and I did at the end of the year (last year in assessing options), see where things are and kind of assess it."
Coach Bill Self on Wednesday told the fans not to hold their breath about Aldrich coming back.
"I don't know," Aldrich said. "It could be a possibility (heading to NBA), but you never know."
Aldrich is considered a lottery pick in the 2010 Draft. It's been assumed ever since last year's KU basketball banquet this is the big man's last year in college.
Antlers strike?
Missouri's student cheering section, the Antlers, may have pulled off one of the best pranks of all-time.
"You know what somebody did to me? Somebody made a flier and said I was selling a dog and put my name and my number on it. So, I've been getting phone calls about giving away a dog that I don't even have for the last two days," KU sophomore Tyshawn Taylor said with a grin.
"I haven't seen the flier yet. My teammates told me about it. "They pulled it out of the elevator. It was in all kinds of dorms and classrooms. I'm like, 'I don't have a dog. Stop calling me,'" Taylor added.
KU coach Bill Self said he still gets phone calls "periodically" from the Antlers.
"If it's a 573 (area code) I usually don't pick up or 314 I don't pick up this time of year," Self said.
Of the calls, junior Brady Morningstar said: "It does get kind of annoying seeing numbers pop up you don't know. It's, 'Dang, man, what's up with that?'"
Aldrich hadn't heard from the Antlers as of Friday. "It is very nice and relieving," he said with a smile.
No distractions
Taylor grinned when asked why he's played so well of late.
"No Facebook, man. No Facebook," he said of the controversy several weeks ago in which he posted on Facebook that he didn't know his role on the team. He's since taken his page down. "Before, a lot of stuff happened off the court that was limiting my play on the court. All the off-the-court stuff is gone. I can just play now."
Collins a finalist
KU senior Sherron Collins is one of six finalists for the Bob Cousy Award, which goes to college basketball's top point guard as awarded by the Naismith Memorial Basketball Hall of Fame and The Hartford Financial Services Group, Inc. Other remaining candidates: Scottie Reynolds (Villanova), Jon Scheyer (Duke), Evan Turner (Ohio State), Greivis Vasquez (Maryland) and John Wall (Kentucky).