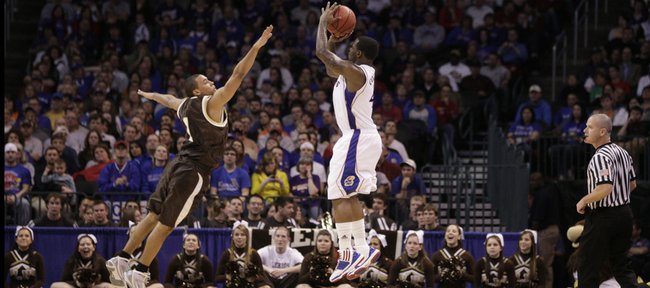 Reader poll
Yes

65%

1744 votes

No

32%

855 votes

Undecided

2%

64 votes
2663 total votes.
Kansas senior guard Sherron Collins was not selected during the two-round NBA Draft on Thursday night.
Collins, who was a consensus first-team All-America selection last season, averaged 15.5 points and 4.5 assists during his senior season.
"I think it's disappointing," KU coach Bill Self said. "I can't believe he is not one of the best 60 prospects to come out of this draft. I feel for Sherron but certainly it's not lost. He's put himself in a situation where he's going to have to work harder and be more disciplined than he ever has been to show everybody they made a mistake. Hopefully this will be a big carrot for him to basically prove everybody wrong.
"To me there were many guys picked that can't help a team win like Sherron can. But everybody has their own needs. I think it is very difficult to be critical of people until you have been in their rooms, heard the discussions and that kind of stuff. What I would do to educate Sherron is say don't be mad at anybody, just change it."