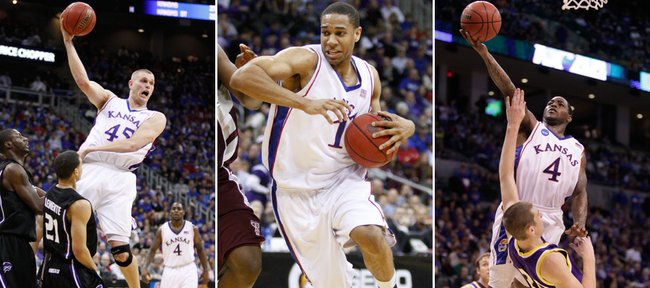 Kansas University basketball coach Bill Self, who will be working as an analyst for NBA-TV and NBA.com during Thursday night's 2010 NBA Draft coverage, shared his up-to-the minute insight regarding the Jayhawks' three hopefuls on Tuesday.
"I think Cole and X will both go in the lottery," Self said of center Cole Aldrich and guard Xavier Henry.
The lottery encompasses the first 14 picks.
"I don't know where or how high. It could vary with both of them," Self added. "There's teams in the 7-8-9 slots that have expressed interest. I think the reality is I believe both will go in the 8-to-15 range. I really believe that.
"My prediction is Sherron will go mid-second round," Self added of point guard Sherron Collins. "If somebody gets him mid-second round, they've got themselves a player."
NBA officials — who are not out to embarrass the league's future players — obviously are confident in the draft status of Aldrich and Henry.
Both have been issued — and accepted — invitations to sit with their families in the draft's Green Room Thursday in New York's Madison Square Garden. Green Room invitees are chronicled closely by ESPN's TV cameras during the draft, which will start at 6:30 p.m. Central time and run until 11.
As far as the 5-foot-11 Collins, there's been a lot of talk about his weight and how that might impact his draft stock.
"Well, his weight has fluctuated a lot," said Self, who last spoke with Collins over the weekend, when he weighed in at 219 pounds in Portland.
"He's been as low as 207 and as high as 229 based on what I heard in a span of two months. It's a big fluctuation. He's very capable of keeping it down. I know there's no 220-pound point guards in that league. That probably has not helped him at all.
"One good thing," Self noted, "is Sherron has shown he can lose weight. He can gain or lose weight the easiest of any human being I've seen. He can lose 12 pounds in a week or put on weight in a week. I wouldn't be surprised if he's down to 210 by Thursday. Unfortunately for him, he weighed more than that in Chicago (during official draft measurements when he was 217).
"The thing with Sherron, whenever he gets hurt and can't work out, that's when he puts on weight," Self explained. "Sherron hurt his groin (within last month) and couldn't work out. At that time he put on some weight."
Self believes Collins, KU's all-time winningest player, can be effective in the NBA.
"Everybody knows he can play," Self said. "Hopefully it (weight) is not a big negative for him. We're hopeful he'll be picked in the second round. Even if he isn't, he then can pick and choose what team he goes to. We're still holding out hope somebody will fall in love with him and want him to be a backup point guard for an organization starting out (and be starter later). I feel he's capable of doing it. He can play. He's a winner."
Collins' uncle, Walt Harris, said the Collins family enters the draft "confident. I think he'll be a first-rounder. I just don't know where he's going. I know he can play. If he was 6-3, 6-4, we wouldn't be having this conversation (about uncertainty involving Sherron). He's proven himself at every level. He won in high school and college and will win in the pros."
Walt pointed out that there's something special about Collins' high school Class of 2006.
"It's one of the most successful classes ever," Walt Harris said.
Members of the Class of 2006 in the NBA: Ryan Anderson, D.J. Augustin, Darrell Arthur, Patrick Beverley, Chase Budinger, Earl Clark, Mike Conley, Daequan Cook, Stephen Curry, Javaris Crittenton, Kevin Durant, Wayne Ellington, Taj Gibson, Spencer Hawes, Gerald Henderson, Jordan Hill, Ty Lawson, Jodie Meeks, Brook Lopez, Robin Lopez, Greg Oden, Marreese Speights, DaJuan Summers, Hasheem Thabeet, Russell Westbrook Brandan Wright, and Thaddeus Young.
"This is going to be a new challenge. Sherron likes challenges," Walt Harris said. "Anything is possible with him. Wherever he goes, he'll be special."
At this point, it's not likely Collins will be headed to his hometown team. The Chicago Bulls have just one pick — at No. 17 in Round One.
"I won't say he's giving up (on that possibility). But they already have a point guard," Walt Harris said of Derrick Rose.
There have been rumors the New York Knicks and New Jersey Nets like Collins.
"At this point, you never know," Harris said. "After Thursday, we'll have three more Jayhawks in the NBA. I'm pretty confident of that."
Lee headed to USF
Former KU guard Michael Lee soon will be introduced as assistant coach at the University of San Francisco. The Dons are coached by former KU guard Rex Walters, who also has hired former KU manager Justin Bauman as a full-time member of his coaching staff. Lee recently accepted a position as assistant director of basketball operations at the University of Oregon after working as an assistant at Gardner-Webb for two years.