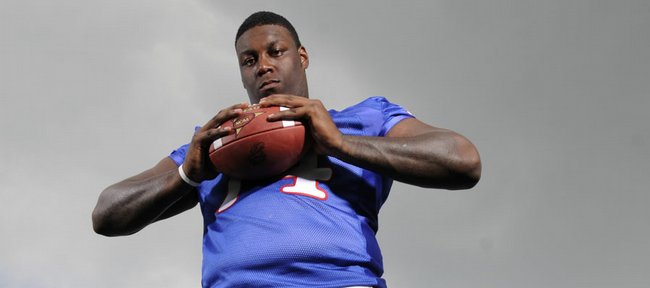 Kansas University's football program has suffered another injury to its offensive line, the second in the past two weeks.
The Journal-World has learned that junior tackle Jeff Spikes injured his Achilles tendon during a recent non-contact, non-football accident, and on Monday KU officials confirmed that Spikes "has a lower leg injury and will miss the 2010 season."
The news comes just a week after it was learned that senior lineman Brad Thorson broke his foot. However, Thorson is expected to be ready in time for the start of fall camp, which opens Aug. 3.
With Thorson slowed by injury, the loss of Spikes is a big blow for the KU offensive line. Returning starters Sal Capra, Jeremiah Hatch and Tanner Hawkinson are proven commodities at the position, and part-time starter Trevor Marrongelli also seems to be a reliable option.
Beyond that, the Jayhawks are young but packed with potential up front. With Spikes sidelined, sophomore Duane Zlatnik and red-shirt freshmen Riley Spencer and Gavin Howard likely will take on increased roles and compete for his reps.
Spikes, a junior from Painesville, Ohio, red-shirted in 2007, started 13 games as a red-shirt freshman in 2008 and started 10 of 12 games last season. He appeared in all 12 games in 2009, starting the first eight at right tackle, and moved to right guard against Nebraska and Texas.
Spikes is likely to apply for a medical hardship, which, if granted, would give him two years of eligibility remaining should he come back from the injury. In the past, most athletes who faced similar situations have been granted the medical red-shirt.