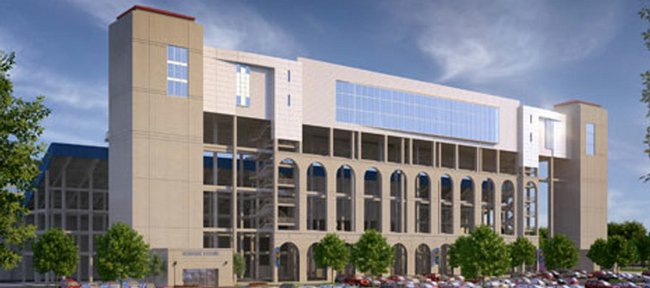 Photo Gallery
KU Gridiron Club at Memorial Stadium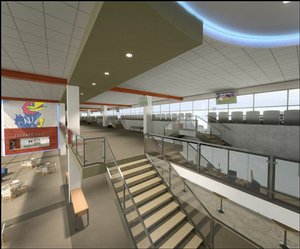 The club will hold 3,000 seats, cost $34 million to build and finance a $40 million commitment from Kansas Athletics to KU's academic programs.
Related content
Kansas Athletics Inc. knows how big the new Gridiron Club will be, how much it will cost and even who will be building it on the east side of Memorial Stadium.
Now it just needs the money.
The effort to add and operate a 3,000-seat club atop the east side of Memorial Stadium so far has attracted nearly $4.5 million in contributions and commitments, said Jim Marchiony, an associate athletics director.
The entire project is expected to cost $34 million, and athletics officials have said they would not start construction until they had secured enough money to build the place — a project still formally scheduled to open in 2010.
That window appears to be closing.
"It's a 10-month construction project," Marchiony said. "Even if we started February 1st, you can do the math."
Kansas Athletics continues working with the Ellerbe Becket architecture firm and JE Dunn Construction to finalize designs as originally proposed, Marchiony said.
"We will build it the way we have planned to build it," he said.
KU unveiled the Gridiron Club concept at the beginning of the 2009 football season, which started with promise before ending on a seven-game losing streak and the departure of Coach Mark Mangino with a $3 million settlement.
A month ago, club memberships — each ranging from $30,000 for five years to $105,000 for 30 years — had amounted to slightly less than $4 million.
"We are aggressively and confidently moving forward," he said.
The Gridiron Club is to be financed solely by memberships. Benefits for each include a game ticket, food and drink, and a seat in and access to the club.
Memberships could generate as much as $200 million, of which $40 million would go to Kansas University academics and $25 million would finance construction of an "Olympic Village" complex for athletics.