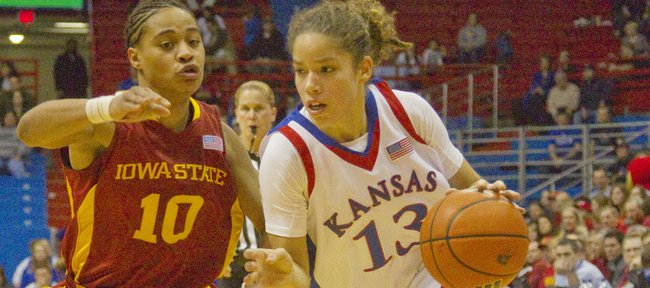 Document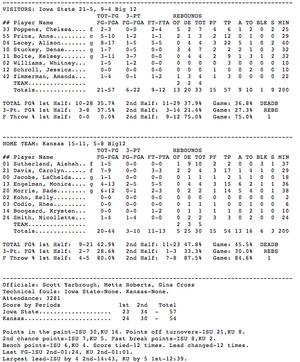 Carolyn Davis summed it up in 14 words.
"They played like a ranked team that didn't want to lose," Davis said, "and we didn't."
No. 15-ranked Iowa State overcame a four-point lead late and pinned Kansas, 57-54, in Big 12 women's basketball Thursday night in Allen Fieldhouse.
For the Jayhawks, it was their third loss to a ranked team by three points or less at home.
Davis, a freshman forward who led the Jayhawks with 17 points, was involved in the critical play.
Kansas lagged 55-54, but had the ball with the potential for a winning basket with less than 30 seconds remaining. Then, with under 10 seconds to go, Davis posted up, but Nicolette Smith didn't get her the ball in time, and ISU's Chelsea Poppens stole it.
"That was a great play by Poppens," ISU senior point guard Alison Lacey said, "maybe the play of the game."
Poppens quickly flipped the stolen ball to Lacey who was fouled with :06.5 on the clock. Lacey nailed both charities, her 21st and 22nd points, for a 57-54 lead.
"We didn't get good spacing," a somber KU coach Bonnie Henrickson said afterward, "and then we threw a really bad ball inside."
Kansas seemed in control with 3:16 remaining after Monica Engelman's conventional three-point play resulted in a 52-48 lead.
But Iowa State, helped by two KU turnovers and an Engelman miss, went on a 7-0 run before Davis snapped the drought with an inside basket at 1:01.
A Lacey miss underneath at :26 kept KU's hopes alive, but Smith's errant pass popped the balloon.
"When I flashed over," Davis recalled about that fateful play, "I thought I'd be open."
She was momentarily, but the pass was too late.
Kansas did have one last chance to forge a tie. Engelman raced downcourt and launched a jumper from just beyond the men's three-point line that bounced away just before the buzzer.
"I was a little anxious," said Engelman, a freshman guard who finished with 15 points, "and I tilted to the left a little to get away from the defender."
On a positive note, Thursday's defeat was not a bad loss in NCAA Tournament selection terms. In fact, the Jayhawks don't have any really bad losses … just a bunch of close defeats to good teams.
"We're so close," Henrickson said, "but it seems like we're not so close."
With three more ranked teams on the schedule before the start of the Big 12 Tournament in Kansas City, Mo., the Jayhawks can't afford many more losses, good or bad. They need at least one win, and probably two, in order to secure an NCAA tourney ticket.
"It's getting real old," senior Sade Morris said of the Jayhawks' squeaker defeats at home. "We've got to find ways to finish."
And they need more punch.
Davis (17), Engelman (15) and Morris (14) combined for 46 of the Jayhawks' 54 points.
KU's other narrow losses to ranked teams in Allen Fieldhouse have been to Oklahoma State (70-68) and to Texas (85-82 in 2 OTs).
Next for the Jayhawks is a Sunday trip to No. 17 Baylor, followed by a visit to No. 3 Nebraska on Wednesday before the home finale on March 6 against No. 12 Texas A&M.;