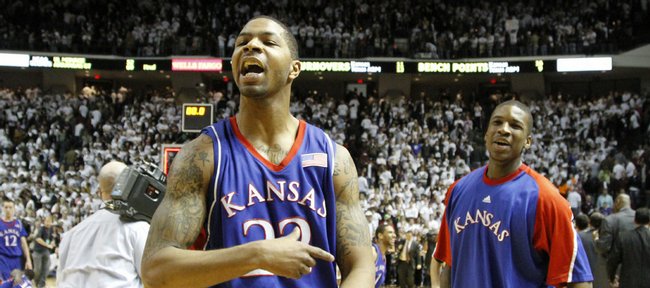 KU scoring — X. Henry 12, Marcus Morris 12, Aldrich 12, Markieff Morris 9, Collins 7, Taylor 4, Reed 3.
KU was 20-for-46 from the floor (43.5 percent), 1-for-10 from three (10 percent) and 18-for-26 from the free-throw line (69.2 percent).
Texas A&M; was 22-for-63 from the floor (34.9 percent), 5-for-21 from three (23.8 percent) and 5-for-11 from the free-throw line (45.5 percent).
Texas A&M; had 13 turnovers to KU's 11. Texas A&M; out-rebounded KU, 41-33. The Aggies had 20 offensive rebounds, while the Jayhawks had eight.
FINAL: KU defeats TAMU, 59-54
Marcus Morris tips away a pass by Harris, and Xavier Henry comes away with it. Another huge play by Marcus. He's come off the bench to save the Jayhawks.
Xavier Henry gets the loose ball, and he's fouled. He makes both free throws to put KU up five with 26.8 seconds left.
Holmes misses another three, and Morningstar runs down the loose ball. After getting fouled, Morningstar misses both free throws.
Sloan misses a desperation three, and Markieff gets the rebound to run out the clock. A&M; didn't score in the final 4:07.
KU comes away with a 59-54 victory.
KU 57/TAMU 54 — 1:17 left in 2nd half
Aldrich tries a move inside, but good defense by A&M; stuffs him. Collins has a chance for a shot late, but he dribbles it off his foot. Shot-clock violation KU.
Turgeon calls timeout with 42.7 seconds left. A&M; looked confused on its offensive possession.
KU 57/TAMU 54 — 1:17 left in 2nd half
Holmes misses another look at a three, and the rebound rattles around before Aldrich snares it.
On the other end, Aldrich gets his man in the air, then executes an up-and-under move. It's blocked, but too late, as A&M; is called for goal-tending.
Harris misses a three, but on the other end, Marcus misses an open 16-footer. Davis clears the rebound for A&M; down three.
Sloan misses a floater, and Aldrich comes down with the easiest rebound he's gotten all game.
With 1:17 left and possession, Self calls timeout.
KU 55/TAMU 54 — 3:16 left in 2nd half
Marcus Morris once again hits both ends of the one-and-one, tying the game before Self checks in Markieff. Smart play by the coach trying to avoid Marcus' fifth foul.
B.J. Holmes misses a wide-open three for A&M;, and Xavier Henry is fouled on the rebound. He gets two shots, but he only makes the second. KU up, 55-54, with 3:32 left.
TAMU 54/KU 52 — 3:55 left in 2nd half
Big offensive rebound for KU, as the ball is tipped out to Morningstar after a missed three-pointer by Henry. Aldrich misses a shot, but this time, Xavier grabs it before getting fouled on the shot. Xaiver makes both free throws.
Harris — the miracle man after returning from his injury — knocks down a huge three for A&M; from the top of the key.
Aldrich loses the ball, but he hustles back to contest a dunk attempt by Davis. Davis appears to throw the ball out of bounds, but the officials say the ball is off Aldrich. Self is furious. Still, KU gets it back after a travel call on Davis.
Aldrich is fouled, but he misses the front end of a one-and-one. He gets his own rebound, but Collins rattles out a three. KU now 1-for-10 from three.
Marcus Morris checks back in. He immediately makes an impact, playing nice defense on Sloan before drawing a foul on the other end. He also makes both ends of the one-and-one.
Marcus with a steal, and Collins races to the other end for a left-handed layup that ties it at 52.
Sloan answers immediately, though, hitting a long two-pointer.
Marcus Morris takes charge on the other end, driving to the basket to draw a blocking foul.
TAMU 48/KU 46 — 7:26 left in 2nd half
KU can't grab a defensive rebound. Playing the 2-3 zone, the Jayhawks give up four consecutive offensive rebounds, but A&M; still comes away empty on the offensive end. Aldrich finally brings down the defensive board. A&M; has 16 offensive rebounds, while KU has five.
Collins with another turnover, throwing an ill-advised bounce pass into heavy traffic. The point guard is 0-for-6 from the floor with four turnovers and no assists.
Off the weave, Collins finally gets a shot to go down, swishing an open 10-footer in the lane.
Markieff Morris picks up a cheap foul on the baseline, and that's his fourth foul. KU now has gotten into serious foul trouble, and Self spends the first 20 seconds of the media timeout discussing things with an official.
TAMU 45/KU 43 — 10:37 left in 2nd half
Morningstar with a lob to Markieff, who lays it in for two. Good execution for KU out of the break.
Davis answers with a short shot on the other end. The Aggies are getting easier shots than most teams get against KU's interior defense.
TAMU 43/KU 41 — 11:46 left in 2nd half
Markieff Morris with a smart move, getting Ray Turner up into the air on a ballfake to draw contact. He also hits two free throws, making him 5-for-6 tonight. Let's not overlook that strong shooting from a guy that's struggled at the line recently.
Marcus Morris checks in, but just a few seconds later, he picks up his fourth foul. He was just an innocent bystander on that defensive play, but sometimes on the road, innocent bystanders get called for the foul. With more than 13 minutes left, KU will most likely have to play the next seven or eight minutes without one of its best players.
Collins drives to the lane, but his shot misses as he hits the floor hard. Self wants a foul. None is called.
Morningstar drives under the basket (his patented move) before dishing out to Reed for a three from the corner. Swish. That's KU's first three, as the Jayhawks are now 1-for-8 from deep (12.5 percent).
Turner puts in a layup on the other end, and Self calls timeout. The crowd grows louder, but the Jayhawks are still just down two.
Tonight's attendance is 13,657 — a new record for Texas A&M.;
TAMU 36/KU 36 — 15:19 left in 2nd half
KU's big men show some fire on their first offensive possession, as Aldrich tips a KU miss to Marcus Morris. Marcus finishes with a short shot over a defender. Self might have had a chat with them about only getting 13 rebounds in the first half.
Aldrich blocks a Davis shot, and that ties Greg Ostertag's school record for blocks in a season with 94.
Taylor drops a bounce pass to Aldrich, who puts in a hook that hits a soft spot on the back of the rim before bouncing in.
Aldrich puts in a layup after getting a lob from Marcus. On the other end, though, Aldrich doesn't block out his man, and Marcus follows with a foul. That's his third, and he'll return to the bench with Aldrich. Jeff Withey gets his first action for KU.
KU scoring — X. Henry 6, Marcus Morris 6, Aldrich 6, Markieff Morris 5, Taylor 4, Collins 3.
KU was 12-for-25 from the floor (48 percent), 6-for-9 from the free-throw line (66.7 percent) and 0-for-4 from the three-point line (0 percent).
Texas A&M; was 14-for-31 from the floor (45.2 percent), 3-for-8 from three (37.5 percent) and 1-for-2 from the free-throw line (50 percent).
Texas A&M; had eight first-half turnovers, while KU had seven. Texas A&M; out-rebounded KU, 19-13, in the first half.
Halftime thoughts
• Thirteen first-half rebounds? I didn't realize KU had such few rebounds. That definitely should be the biggest concern for Self on the stat sheet.
• KU has done a great job of not fouling, as A&M; had just two first-half free throws. Remember, the Aggies average 29 free throws per game. The Jayhawks were hurt a bit when Marcus Morris picked up his second foul, though. His presence in there to start the second half should be a boost for KU.
• It looks like KU's three-point slump might have carried over to the next game. The Jayhawks didn't take many threes, but you'd still expect for at least one of four to go in.
• That's one of the worst halves for Collins that I can remember this year. He didn't contribute much of anything with 0-for-3 shooting, no assists and three turnovers in 16 minutes. Perhaps worst of all, we didn't see his normal fire in there, especially in a road atmosphere. When KU is in need of a second-half spark, it usually turns to Collins. Will he be more into it later this game?
TAMU 32/KU 30 — Halftime
Well, Markieff being in the doghouse didn't last long. One offensive play for Thomas Robinson resulted in a turnover, and Self quickly checks Markieff back in. Before the timeout, Markieff had saved a ball under his own basket, leading to a three-point play for A&M.;
On a missed alley-oop attempt, Texas A&M;'s David Loubeau is called for a technical foul for hanging onto the rim. That's a questionable call at best, as the original intent of banning hanging on the rim was to prevent showboating. Can't really showboat when you miss a dunk. Collins makes one of the two free throws.
Aldrich misses the front end of a one-and-one, but Markieff cleans up the board and puts it back in for two.
Morningstar passes to Collins for a wide-open three at the buzzer, but like all the other field goals Collins took in the first half, this one bounces away.
The Aggies take a two-point lead into the break.
TAMU 27/KU 27 —2:24 left in 1st half
KU switches to a 2-3 zone, perhaps because Texas A&M; has been such a poor long-range shooting team lately. Khris Middleton hits a three from the corner, and A&M; is 3-for-6 from beyond the arc so far (after coming into the game at 24.9 percent during Big 12 play).
Markieff Morris bangs into Davis and picks up a blocking foul. That's Davis' second whistle, which could be significant from here on out.
Collins with a wide-open three, and he airballs it. He doesn't look right tonight.
Marcus Morris is whistled for his second foul. He goes to the bench.
Nathan Walkup checks in for his first action for A&M;, and he pump-fakes before driving to the baseline and putting in a dunk. Self is furious, and he calls a timeout.
Just got word that Dash Harris has a bruised wrist and a hip pointer from his previous fall. His return is questionable.
Nice high-low lob from Markieff to Aldirch, and the KU center catches and puts in the layup. KU takes its first lead in a while at 27-25.
TAMU 20/KU 20 —7:48 left in 1st half
Aldrich gets a cheap foul on an illegal screen. That's one for him. Keep an eye on that.
Tyshawn Taylor comes away with a steal, and no one steps up to defend him for A&M.; The KU sophomore takes it straight to the rim, putting in the short shot for two. Nice recognition of the defense by Taylor.
Collins turns it over, but he hustles back to slap the ball away from Dash Harris. Harris crashes to the floor, landing hard on his tailbone. No foul is called, but the A&M; fans are furious that Collins wasn't whistled for something. Harris is carried off the court by three people.
Smart play by Markieff Morris, who anticipated contact from Bryan Davis and when he received it, he bounced backwards to the floor, drawing a charge.
Marcus Morris with a nice swim move on the baseline to free himself for a layup, and after a steal, Morningstar finds a cutting Taylor for a left-handed lay-in.
TAMU 16/KU 14 —11:52 left in 1st half
Markieff Morris draws a double-team, then zips a pass under the basket to his brother, Marcus, for a layup.
KU doesn't have an answer for Sloan, though, who pulls up for 12-footer that swishes through. That's 10 points already for him on 4-for-5 shooting.
Tyrel Reed jumps into the passing lane for a steal, and Xavier Henry pulls up from 14 feet to drain a jumper in transition. Xavier is 3-for-5 for six points.
TAMU 12/KU 10 —13:52 left in 1st half
Xavier Henry misses an 18-footer on the baseline. Aldrich has the rebound go off his hands and out of bounds.
Donald Sloan puts in a tough, one-handed shot over Brady Morningstar and Aldrich, and A&M; has scored four straight.
Xavier Henry misses a short shot in transition. I think he has shot it every time he's touched it.
Sloan hits a three, and A&M; has its first lead at 9-8. Aldrich answers with a turn-around on the other end.
KU isn't getting out to Sloan defensively, though. He knocks down another three and has eight points already.
Sherron Collins is called for a charge, and Mark Turgeon pumps his arm in satisfaction.
KU 8/TAMU 4 —16:38 left in 1st half
Marcus Morris puts in his first basket, and Xavier Henry hits a shot from straight on with his foot on the three-point line.
Following a Marcus Morris miss, Xavier scraps for the rebound before putting in a fallaway on the baseline.
KU 2/TAMU 0 —19:35 left in 1st half
Cole Aldrich starts the game with a turn-around on the baseline for KU. Texas A&M; didn't double-team the KU big man.
7:22 p.m.
Our pregame chat is open. I'll be talking there until gametime.
Just a reminder to use the "Submit a question" link to post a score prediction, to submit a comment or to ask a question.
Today's random question: Has Mark Turgeon been the Big 12 coach of the year up to this point?
7:05 p.m.
Welcome back to the Newell Post Live, coming to you from Reed Arena in College Station, Texas, where the No. 1 Kansas Jayhawks are getting set to take on the 24th-ranked Texas A&M; Aggies.
As I said in today's GameDay Cram Session, I think a big key in this game will be for KU to avoid fouls.
Texas A&M; averages 29 free throws per game, and guard Donald Sloan (6.4 fouls drawn per 40 minutes) and forward Bryan Davis (6.9 fouls drawn per 40 minutes) are the Aggies' two best at getting whistles.
TAMU gets 25.8 percent of its scoring from the free-throw line, which is the 14th-highest mark in the country.
If the Aggies aren't able to get those free throws, they could be in major trouble tonight.
Why is that? Well, 48.9 percent of the Aggies' scoring comes from two-point field goals, and that's where KU excels defensively. In fact, the Jayhawks are No. 1 nationally in two-point percentage defense, as opponents are making just 37.9 percent of their shots inside the arc. On Saturday, Iowa State only had four two-point field goals in the entire first half against KU.
So A&M; could struggle with two-pointers. And the Aggies the worst in the league at shooting three-pointers in Big 12 play (24.9 percent), so they haven't been able to get many points from long range, either.
It looks to me like a big trickle-down effect that all comes back down to KU's team fouls.
If the Aggies can get KU's big players in foul trouble (and especially Cole Aldrich), they should be able to score from the free-throw line and they also will have an easier time scoring inside with the Jayhawks putting some of their big men on the bench because of foul trouble.
If the Aggies can't get KU in foul trouble, though, the Aggies won't shoot many free throws, will have to go against a full-strength KU defense and might have to win a game by excelling at three-point shooting, which they haven't done much in the conference season.
I would say KU fans should pay very close attention to KU and Aldrich's foul situation early in this game. It might just be the difference between a down-to-the-wire contest and an easy win for KU.
I'll get the chat going here in a few minutes. In the meantime, be sure to vote in our poll on the left and use the hashtag #kubball to have your tweets appear on the left side of our page.