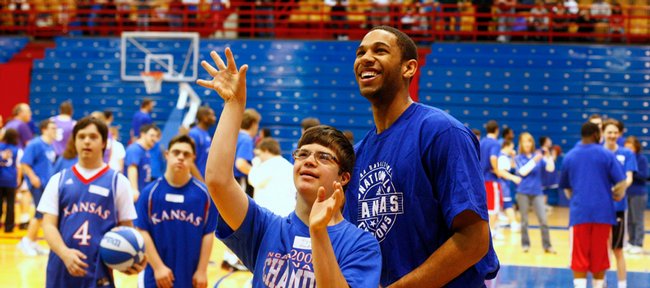 Kansas University senior Sherron Collins, who was the hero of Saturday night's basketball victory over Kansas State, had an even better time Sunday afternoon in Allen Fieldhouse.
"It's a close call. I'm not going to say it wasn't good last night, but this overweighs it by two times," Collins said after spending two hours working with more than 100 Special Olympians at the 26th-annual Wilt Chamberlain Basketball Clinic.
"The game of basketball is fun. You want to win every game, but this is life."
His driving one-hander off the glass stretched a one-point lead to 79-76 with 9.2 seconds left in overtime of the Jayhawks' 81-79 victory at Bramlage Coliseum.
Sunday, he displayed a similarly soft touch.
"To touch these people ... this is probably the highlight of their year," Collins said. "They don't get to see us all the time in person. When they see us, they get all happy. It's not about me. It's all about them."
On Saturday, the focus was on Collins, who started the overtime, but cramped up and left the court with 2:44 left with KU leading, 75-74. Collins returned with a minute to play and KU up, 77-76, thanks to a Cole Aldrich hook shot in the lane at 1:53 that erased a one-point deficit.
Collins said after the game he had suffered a sprained ankle and had crippling cramps in the game. It also has been reported that he had back spasms.
"Something hit in my back, but it wasn't a back spasm," Collins said Sunday. "It was cramps, in my calves, quad, hamstrings. My whole leg cramped up. I was drinking a lot (of electrolytes). I drank so much my stomach was so full I couldn't drink any more."
He said the Jayhawks celebrated big-time after improving to 20-1 overall and 6-0 in the Big 12.
"Everybody went nuts after I got out of my interview with (ESPN's) Erin Andrews. I headed to the locker room, and everybody went nuts. We were all hyped," Collins said. "It was a nice, loud bus ride back home. It can be real quiet after a loss. This was loud."
He didn't go out to celebrate upon returning to Lawrence after 11 p.m. Saturday.
"I just took it easy. I cramped up a little bit during the game, so I needed to get some rest," Collins said.
KU coach Bill Self on Sunday repeated his statement after the game that it was one of the Jayhawks' biggest road victories in his seven years here.
"The game we won at Hearnes our first year ... it was the last game in Hearnes. That was a great atmosphere and great road win," Self said of KU's 84-82 victory over Missouri on March 7, 2004.
"Last year at OU was a great road win," he added of a 87-78 victory at Noble Center in Norman, Okla. "All things considered, I think the win yesterday, although very, very, very tough, was probably as exciting and as good a road win as we've had, in large part because both teams played so well."
He was happy to see all his players energized for Sunday's Special Olympics clinic.
"You would think that college kids that probably didn't get a lot of sleep last night would not look forward to doing anything on their day off, but that's not the case with these guys," Self said. "Last night after we celebrated, we said, 'Tomorrow is a special day.' The guys who didn't know what to expect ... our older guys were telling 'em, 'You are going to love this. This is fun.'
"It's a day we look forward to every year. Win or lose last night, this would have been a great day today. It does make it a little bit sweeter that we won last night. It's a great day."
Injury update
"I think we're fine," Self said. "Markieff (Morris) twisted his ankle. He's sore. Sherron's sore all over. Hopefully we'll be at 100 percent or close to it by Wednesday (for an 8 p.m. tipoff at Colorado)." ... Colorado's Alec Burks, a 6-6 freshman from Grandview, Mo., suffered a sprained knee in Sunday's 64-63 loss at Iowa State. Burks, who averages 16.3 ppg, is listed day-to-day.
No. 1
KU should move from No. 2 back to No. 1 in the polls today.
"I would much rather be 6-0 in the league than be ranked No. 1 in the country," Self said. "Although it's just fine if we are ranked that. Certainly that doesn't mean much to me right now. I just want to play to that ranking."