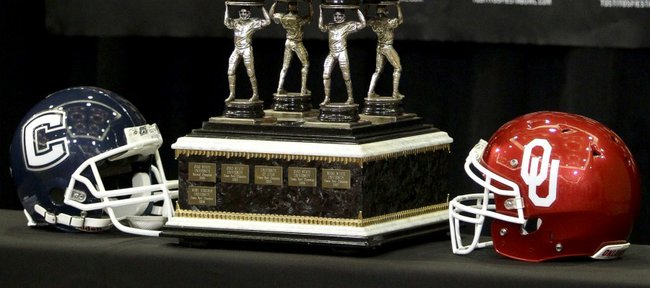 Of the dozen football teams in the Big 12 Conference, eight of them received bowl invitations this season.
Four teams missed the bowl boat: Kansas, Iowa State, Colorado and Texas.
Yes, Texas. The juggernaut Longhorns, who one year ago played for the BCS Championship, will be sippin' on eggnog when other teams take the field this holiday season. UT couldn't play itself into a field of 70 Football Bowl Subdivision teams this season. It was a long 5-7 season in Austin.
The Big 12 bowl slate starts at 9 tonight, when Missouri takes on Iowa in the Insight Bowl in Tempe, Ariz. The Big 12 has never fared better than 5-3 combined in bowl games.
Hopefully, the following Big 12 bowl guide will be of service when determining what conference games are worth your valuable time.
Big 12's blockbuster bowl: Cotton, 7 p.m. on Jan. 7, 2011. Texas A&M; vs. LSU in Arlington, Texas.
It's the only Big 12-related bowl to involve ranked BCS teams (A&M; No. 17, LSU No. 11). The Big 12's biggest challenge each bowl season is knocking off teams from the SEC. The Big 12 has lost the past five bowl matchups against SEC opponents. A&M; (9-3) vs. LSU (10-2) is the only Big 12-SEC matchup this postseason.
Also remember, the Aggies seriously considered joining the SEC this summer during the realignment process. Can A&M; compete with the big boys?
Momentum is a tough measuring stick during the bowl season because of the long layoff — A&M; hasn't played since Nov. 25 — but the Aggies are the hottest team in the Big 12, winning their past six games.
Big 12's NyQuil bowl: Fiesta, 7:30 p.m. on Jan 1, 2011. Oklahoma vs. Connecticut in Tempe, Ariz.
One problem with automatic BCS bowl bids: Teams like Connecticut can win the Big East and (automatically) sneak into a BCS game. How's this for a Fiesta Bowl resume? The Huskies are 8-4, 2-4 on the road and lost to Temple, Rutgers and Louisville. Oklahoma (11-2), which won the Big 12 Championship, will face a team that's not even in the top 25 of the latest BCS rankings. This is supposed to be the most high-profile Big 12 battle? No thanks. Take that NyQuil and catch up on your sleep instead.
Big 12's Night Owl bowl: Insight, 9 p.m. on Tuesday. Missouri vs. Iowa in Tempe, Ariz.
If you don't have a problem staying up as the clock moves to the next day, this bowl game should be entertaining. Grab some snacks and a comfy couch.
One of the interesting storylines here is the streak. The Big 12 has owned the Big Ten lately in bowl matchups, winning the last six battles dating back to 2007. No wonder the Big Ten wanted Nebraska.
The Tigers have had one of the quietest 10-2 seasons in recent memory. Missouri is looking to win 11 games in a season for only the third time in school history. Iowa (7-5) was a top-10 team earlier in the season, but lost its last three games.
Big 12's bang-your-head-against-a-wall bowl: Holiday, 9 p.m. on Thursday. Nebraska vs. Washington in San Diego.
Haven't we seen this game already? Oh, yes, on Sept. 18, when Nebraska (10-3) rolled Washington (6-6), 56-21, in Seattle. That, plus the Huskers leaving for the Big Ten after this season, equals me wanting to listen to the Taylor Swift CD on repeat for three hours rather than watch this snoozefest. And that's saying something.
Big 12's chip-on-the-shoulder bowl: Alamo, 8:15 p.m. on Wednesday. Oklahoma State vs. Arizona in San Antonio.
Congrats, coach Mike Gundy and Oklahoma State. Your reward for setting a school record with 10 regular-season wins is a trip to the Alamo Bowl. Never mind that the more prestigious Cotton Bowl picked Texas A&M;, a team you beat this season, and a team whose 9-3 record is not as good as your 10-2 mark. Am I missing something here? The Cowboys and their top-ranked offense should play with a chip on their shoulder to prove a point. They're too good to be playing in this game.
Big 12's paradox bowl: Pinstripe, 2:30 p.m. on Thursday. Kansas State vs. Syracuse in New York.
Location is a big deal for Big 12 North fans who want to travel to watch their team play in the postseason. Bowl games are played in warm climates. Well, except for this one.
The Big 12 signed an agreement to appear in Yankee Stadium's Pinstripe Bowl, set to make its debut Thursday, through 2013.
It's fair to say the weather won't parallel Arizona, Texas or California. Yeah, fine, there's no place in the country like New York, blah blah. I'm not buying that argument. New York is one of the most expensive places to fly and to stay, and in this economy I'd rather fly to Arizona or Texas, where more money would stay in my wallet and I could dress to go to the game in a T-shirt and jeans. For fans from the Little Apple who want to spend a fortune in the Big Apple and watch the game in unfavorable conditions rather than saving money and watching in HD, more power to you.
Big 12's oh yeah, they're playing bowl: Tie between Texas and TicketCity bowls.
The Texas Bowl will pit Baylor (7-5) against Illinois (6-6) at 5 p.m. Wednesday in Houston. Other than the Bears playing in their first bowl game since 1994, there's not much intrigue here.
The TicketCity Bowl will feature Texas Tech (7-5) against Northwestern (7-5) at 11 a.m. on Jan. 1, 2011, in Dallas. If you're waking up from a long night out on New Year's Eve with nothing better to do, I'd sign off on viewing this game, but not under many other circumstances.