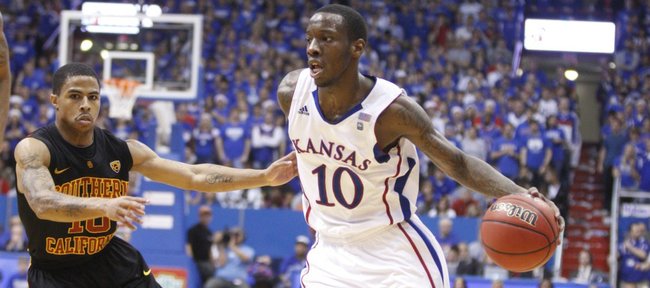 Tyshawn Taylor's extended Christmas vacation should finally end Tuesday.
"He'll be back by noon (today) unless they get dumped on again," Kansas University basketball coach Bill Self said Monday, referring to KU's junior combo guard from Hoboken, N.J.
Taylor was unable to return to campus with the rest of his teammates from three-day holiday break Sunday because of a paralyzing blizzard on the East Coast that also kept him grounded all day and night Monday.
"I understand the weather is clearing," Self said. "Those people there couldn't get out of their driveways, let alone to the airport (past two days). They couldn't get the plows out early enough to get the roads done."
KU's Marcus and Markieff Morris also had an interesting holiday odyssey in Philadelphia, starting with a delayed flight last Thursday from California, site of KU's victory over Cal.
"They get to Philly at 7 p.m. on the 23rd," Self said on his Hawk Talk radio show. "They go to a hotel with their uncle to stay, and his car gets stolen that night. They were stranded at the hotel the next day (Christmas Eve) until 7 p.m. They (police) found the car, and they got it back. They spent 24 hours home without a chance to see anybody and the next day (Sunday) came back here. They got one day back home."
•
Withey's weight fluctuates: Self on Hawk Talk was asked about a couple players who haven't had much playing time of late: sophomore center Jeff Withey and freshman combo guard Royce Woolridge.
Withey, who is listed at 7-foot, 235 pounds, has lost a lot of weight since returning from surgery to repair a broken bone in his foot.
"He's probably lost 23 pounds since early October," Self said. "We've got to get some weight on him in some form or fashion. He is having a hard time keeping weight on. It's not easy to lose 23 pounds at his age. He tries to eat, too. Right now his strength level is not what it needs to be.
"Jeff will win us some games down the stretch," Self added. "He has to be stronger and more physically energized to do that. I've seen him play above the rim. Right now, he's not doing that consistently. I think it's just energy level."
Of Woolridge, Self said: "Royce is a little behind some of the other guys, but he's a freshman. We've got some good players (ahead of him). If he keeps working hard, he'll be able to impact the program at some point in time. He's a great young man."
•
Player of week: KU junior power forward Markieff Morris, who scored a career-high 21 points against Cal last Wednesday, on Monday was named Big 12 player of the week. Morris' brother, Marcus, who was ejected early in the second half against Cal, was named player of the week on Nov. 29.
"Kieff was great. He needed to be great since his look-alike didn't finish the game," Self said on Hawk Talk.
Tristan Thompson of Texas was named rookie of the week.
•
Self on next year's nonconference schedule: "We play Kentucky in the Garden," he said of KU-UK in the Champions Classic in New York. "We go to Maui in a field that is us, Tennessee, Memphis, UCLA, Michigan, Duke, Georgetown (and Chaminade). That will be three monster games in Maui. We have Ohio State and South Florida in our building, and we go to USC. It's the hardest schedule we'll have played (in his KU career)."
•
Larry, Larry: Self on whether one of his mentors, former KU coach Larry Brown, will coach again. The 70-year-old Brown was ousted as coach of the Charlotte Bobcats last week.
"I think he'll coach again if he wants to coach again," Self said. "I texted him after it happened. I said, 'Don't think you are getting out of it. You have a job to do, and that's to help us get better,''' Self said, figuring Brown will venture to Lawrence at some point to watch KU practices.
•
Next: KU will meet Texas-Arlington at 8 p.m. Wednesday in Allen Fieldhouse.
"Yesterday was an average day. Today wasn't special at all," Self said of practice. "Hopefully tomorrow we'll have a great day and get back in the swing of things."