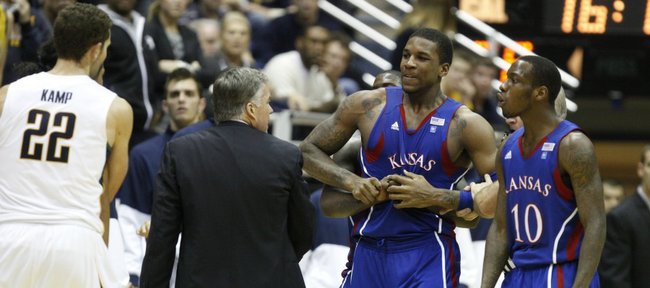 KU vs. Cal
Berkeley, Calif. — Ho ho ho and mistletoe? Peace on earth, good will toward men?
Kansas University's basketball players obviously were saving those sentiments for today through the weekend, not Wednesday night during an intense, heated — call it a Scrooge-like — 78-63 victory over California in Haas Pavilion.
To summarize ...
Marcus Morris was ejected from the game for elbowing Cal's Harper Kamp in the face with 17:23 to play.
Brady Morningstar was tagged with a technical foul for popping the ball out of Brandon Smith's hands during a second-half stoppage of play, and Thomas Robinson was flagged for a 'T' along with Cal's Jorge Gutierrez for a heated second-half exchange.
Oh yes, Robinson committed an intentional foul on Gutierrez in the first half, one in which KU — thanks to 13 points from Josh Selby and Markieff Morris — led 38-30 at the break.
"I thought it was ridiculous," KU coach Bill Self said of KU's players acting up during their 11th victory in as many tries. "We obviously contributed greatly to it. Cal was chippy also. We didn't handle it well."
The Jayhawks had things under control when Marcus Morris left the game with KU up, 47-35. Cal would cut the gap to four points, 47-43, at 15:27, before the Jayhawks righted the ship and won going away.
Markieff Morris by game's end had 21 points, while Tyrel Reed had 18 and Josh Selby 18.
But everybody wanted to talk about the chippy plays in the game.
Self said he was "really disappointed in Marcus," who Self said "got what he deserved."
Morris will not be suspended for the next game.
"The thing that bothers me is when guys put their own agenda ahead of the team. That's very very selfish," Self said. "It was about as bad a basketball play as I've seen," he added of the play leading to Cal immediately getting back in the game.
"Marcus is going to get punished big-time," Self said undoubtedly ready to put some players on the early-morning treadmill after returning from holiday break the night of the 26th. "He's not the only one. Brady knocking the ball out of the guy's hands. On the positive front, it's probably the most fun game we have played all year. Our guys liked that. We competed hard after it got close. When it is chippy, you need to beat them on the scoreboard. We need to mature. We don't have a mature team and we have known that from the beginning. They are competitive, though."
He said the chippy behavior is "because of the twins. They've got to wake up. We have to mature in some ways. They are competitive."
The thing that bothered Self most? "That we felt we had to get the last word in," he said of Morningstar committing the final 'T' of the night poking the ball away.
Marcus Morris headed to the bus and didn't speak with reporters after the game.
Thomas Robinson noted: "It's a physical game. You get hit sometimes. I went after the ball. He went after the ball. That was it. I got hit. I don't know if it was intentional or not.
"Coach said he was mad at some dumb plays. We have to be smarter on the court."
Markieff Morris said of his brother's ejection: "I didn't see what happened. You never want to get in the position you have to leave the game."
Selby didn't start, but he did play 17 minutes the first half, exploding for 13 points off 5-of-6 shooting, including 3-for-3 from three-point distance. Markieff Morris also had 13 in 15 minutes as the Jayhawks took a 38-30 lead into halftime.
Just four Jayhawks scored in the entire half. Tyrel Reed hit a pair of threes in four tries, while Marcus Morris also had six points.
Cal led KU, 8-5, but then was hit hard by an 18-5 KU run. Markieff Morris scored nine points and Selby six.
KU's biggest lead of the half was 11 points at 36-25.
• KU center Jeff Withey did not play because of coach's decision.