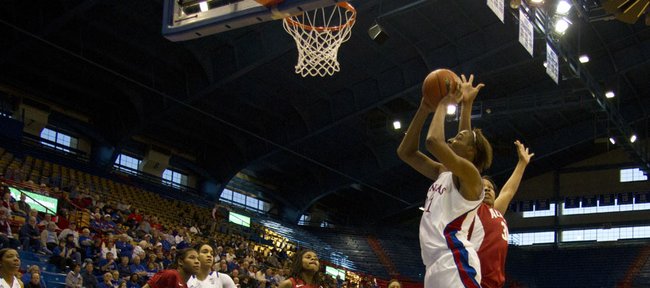 Late last week, Kansas University women's basketball coach Bonnie Henrickson said her team's response to its first loss of the year — Thursday at Michigan — would be far more important than the loss itself.
Sunday, back home in the comfortable environment of Allen Fieldhouse, the Jayhawks responded with a strong effort against stiff competition and ran away from Alabama, 79-57.
"This was very big," KU junior Aishah Sutherland said. "This just showed that we're still in there. That was just a struggle that we went through, but now we're back on track."
Sutherland played a big role in getting the Jayhawks (9-1) going in the right direction again as she recorded her fifth double-double of the season, with 17 points and 12 rebounds. She also added a block and three steals in 32 minutes.
Sophomore Carolyn Davis (24 points on 8-of-10 shooting) teamed with Sutherland to outscore the Crimson Tide in the paint, 48-14. Most of those points came off of layups as the Alabama pressure — which had forced opponents into an average of 27 turnovers per game this season — had little impact on the young Kansas guards, who handled it like veterans for most of the afternoon.
"We did a lot of gambling, and they made us pay for gambling," Alabama coach Wendell Hudson said. "Kansas did a very good job handling our press."
The credit for that goes to several players, as well as a coaching staff that had them well prepared. Said freshman point guard Keena Mays of seeing 'Bama's pressure live: "I don't think it was as bad as it looked on film. We were ready for it, and we knew what to expect when we got in the game."
Mays, KU's primary ball-handler, picked up two fouls early in the first half and was forced to sit for a good chunk of the first 20 minutes. With Mays out of the lineup and former starter Angel Goodrich still out because of an injury, Henrickson turned to sophomore Monica Engelman, who got help from CeCe Harper and Diara Moore.
"We were scrambling with Monica at the point and were just trying to get into the locker room alive," said Henrickson, whose team owned a 34-29 advantage at the half. "I'll be honest with you, I didn't care if we scored or if we kept them from scoring. Credit to (our) guys to just hang on and not panic and have some poise and get us into the locker room, where we could regroup."
Asked if she was comfortable handling the ball against such heavy pressure, Engelman (22 points, six assists) was honest.
"That was a last resort. That wouldn't be the first option that we would go to, for me to be the point guard," she said. "But we had to play with the cards we were dealt, and I just handled it the best I could."
Ball-handling wasn't much of a problem in the second half. KU opened with a 13-1 run and kept the Crimson Tide at bay the rest of the way.
"We came into the locker room, and, as a team, we got together and said we don't need to get comfortable, we need to go back out there with energy and take over," Sutherland said.
That's exactly what KU did, outscoring 'Bama, 45-28, in the second half to pick up the victory. KU shot 59 percent from the floor and limited Alabama (8-2) to 27 percent.
In addition to staving off Alabama's pressure (KU committed 19 turnovers), Mays chipped in six points, six assists and a career-high 11 rebounds.
Senior Krysten Boogaard added seven points.
"This was really big," Engelman said. "It's preparation for Big 12. You might lose one, but you have to be able to bounce back, and I think it was good for us to show we can do that."