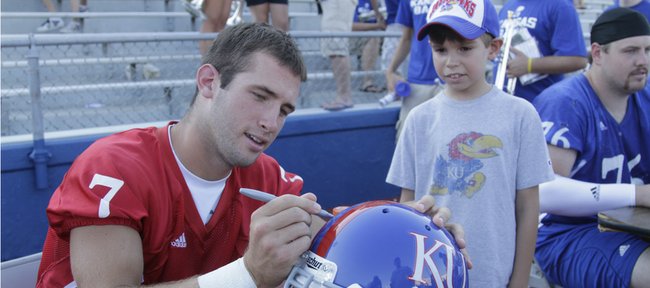 Kansas University sophomore Kale Pick has been through four practices and one scrimmage since being named the team's starting quarterback late last week.
During that time, he consistently has shown the same kind of skills that convinced KU coach Turner Gill and offensive coordinator Chuck Long to give him the job in the first place.
"He doesn't have to change," Gill said. "I don't necessarily (think) he has to change what he's been doing, he just has to continue to get better and have our players respond in the right way and all of our players have been doing that."
The biggest thing Gill noticed about Pick during his first few days as KU's official starter was that he appeared just as dialed in after winning the job as he did while competing for it.
"I think his focus has still been great," Gill said at last Sunday's Fan Appreciation Day. "I can say the same about Jordan (Webb). Both of those guys are doing well. Kale Pick has been a guy who has made some plays for us in every aspect in practice."
In his recently released book, "Rising to New Heights: Inside the Jayhawks Huddle," former KU quarterback Todd Reesing included a section about the way things changed for him in the days that followed his victory over Kerry Meier in the battle for the starting QB job in 2007.
"It's a different mindset," Reesing wrote of knowing he had the job versus competing for it. "You can take a whole different approach to practice than when you're competing with someone who is just as good as you are at the position and when every play is a huge indicator of what your coaches are looking at. So, for the rest of (practice), I could kind of focus on getting ready to be the guy for the team."
Reesing continued: "The other thing I could do after they made the announcement is concentrate on being the leader of the team. When you are in a competition, you are more focused on getting your reps and capitalizing on your chances. Once you become the starter, you have some other things you have to do. You have to be enthusiastic. You have to be a little more vocal. You have to show you are going to be a leader."
Pick, in limited time, seems to already have a grasp on the idea.
"That's going to come naturally with more reps," he said. "I just want to make sure that our guys want to come out here and work everyday. And now you gotta move it to Game 1, you gotta think about North Dakota State and you can't just be satisfied right now. I gotta keep pushing my teammates and I think that's just going to make our team better."
In 2007, Reesing was named the starter two weeks before the team's season opener against Central Michigan. The announcement of Pick as this year's starter came 16 days before the Jayhawks opener. KU will kick off the season at 6 p.m. Sept. 4 against North Dakota State at Memorial Stadium.