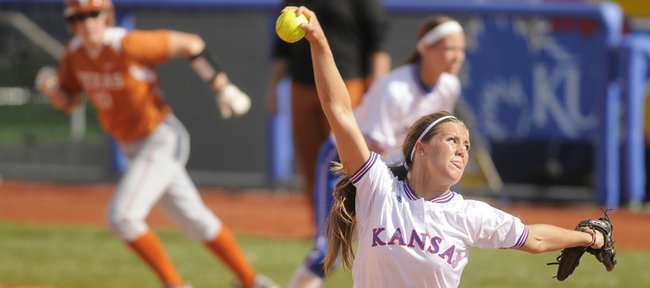 Sometimes all you can do is look on the bright side.
Document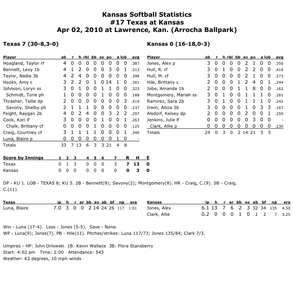 "Defensively, we made plays," Megan Smith said. "That's a positive."
Otherwise, there wasn't much for Kansas University's first-year softball coach to smile about following Friday afternoon's 7-0 loss to Texas at Arrocha Ballpark.
Texas touched KU starter and loser Alex Jones for 13 hits and probably would have scored more runs if not for a couple of sparkling defensive plays.
Shortstop Mariah Montgomery made a diving over-the-head catch in the first inning with the bases loaded. And first baseman Amanda Jobe helped KU escape another jam in the seventh by spearing a line drive and touching the bag for an inning-ending double play.
Smith had no complaints about Jones, a freshman who is primarily an outfielder but pitches because of a lack of depth in the circle.
"Alex battled really well," Smith said. "She fought really hard. I feel good about her performance."
While the Longhorns were putting runners on base, the Jayhawks didn't pose many threats to freshman right-hander Blaire Luna, who surrendered only three safeties and fanned 14. Twice Luna struck out the side.
"She threw the rise and drop a lot when we had two strikes," KU outfielder Rosie Hull said. "We got fooled on that a lot."
Hull, who leads the Jayhawks with a .418 batting average, collected one of the three hits, a ground single into right in the first inning.
KU's only other safeties were a ground single by Sara Ramirez in the second and a leadoff double into the right-center-field gap by Montgomery in the fifth.
Kansas mounted its only real threat in the seventh, when Brittany Hile and Amanda Jobe coaxed back-to-back walks — the only free tickets Luna issued all afternoon. But Luna retired the next three batters to post her 17th win in 21 decisions.
Luna has more victories than the Jayhawks (16-18) have posted this spring. Texas is 30-8 overall.
Luna is the probable starter at noon today for the wrap-up game of the series.