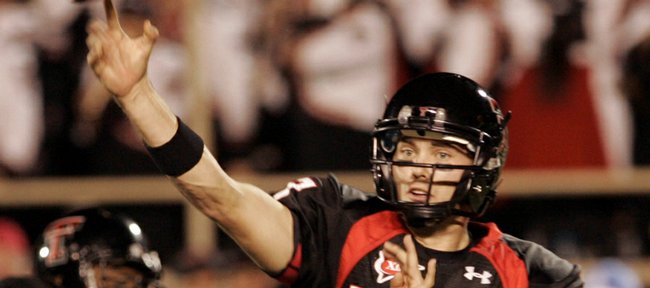 When it came to light Wednesday that Texas Tech coach Mike Leach had opted to start red-shirt freshman quarterback Seth Doege over incumbent Taylor Potts in today's matchup with Kansas University, it's hard to imagine the move was met with more than a shrug by members of the Kansas University defense.
If there has been one constant in college football over the course of the past half-decade, it's that no matter who is penciled into the Red Raiders' quarterback spot, the team is capable of throwing for 500 yards every week.
Since Leach took over the program in 2000, the Red Raiders annually have produced some of the nation's top statistical quarterbacks, from Kliff Kingsbury in the early part of the decade to recent graduate Graham Harrell to Potts, who despite his demotion remains the Big 12's leader in passing yards per game and ranks second in pass efficiency, yards per attempt and completion percentage.
"When it comes to his offense ... he has a certain idea about what he wants to do, he recruits to that type of system, and he does a phenomenal job with it," said KU coach Mark Mangino, whose team will be charged with slowing the attack today at 2:30 p.m. in Lubbock, Texas. "People talk about the system — yeah, he does have a good system, but he coaches his players well. And that's a big factor in it."
Last season, Kansas had the unfortunate opportunity of seeing that system, and its coaching, firsthand.
In a 63-21 loss, the Jayhawks gave up 418 passing yards and 556 yards of total offense in what proved to be their most lopsided loss in three years.
And while it's safe to say Kansas is hoping things go a tad better this time around, figuring out a way to slow down what to this point is the nation's top passing attack (418.9 yards per game) has proved easier said than done.
There are plenty of theories on how to go about doing it — communication, according to KU cornerback Daymond Patterson; challenging every catch, according to defensive coordinator Clint Bowen — but taking on an aerial attack like Tech's presents a unique set of challenges.
On the one hand, there is the issue of talent. Texas Tech is adept at getting the ball into the hands of its best players, most of whom — like former All-American and current San Francisco 49er Michael Crabtree — know precisely what to do with it.
But there is also the mental aspect. With the Red Raiders, who have thrown the ball 408 times this season, it is a near-certainty that — if for no other reason than the sheer volume of passes thrown — there are going to be stretches in a game in which five or six or seven passes in a row will likely be completed.
It's stretches like these that have a tendency to tear at the confidence of a secondary — particularly one, like KU's, containing a good deal of inexperience.
"Their system is just made for that," Kansas defensive back Chris Harris said. "All they got to do is go out and throw; pitch-and-catch. ... It's just the system that they've built up."
The belief, however, that Texas Tech is bound to get its 400 yards and 40 points just by showing up sounds like fingernails on a chalkboard to those charged with stopping it.
"I don't believe in any of that — that they deserve to get their yards because they're Texas Tech and they got this system," Bowen said. "I ain't buying into any of that. They got to run their routes, the QB's got to throw it, we got to put pressure on them. We do what we gotta do to stop them."
They'll get that chance today.
Of course, even in light of the Red Raiders' recent struggles — they turned the ball over five times and benched Potts during last week's 52-30 loss to Texas A&M; — they still possess three quarterbacks — Potts, Doege and the injured Steven Sheffield — capable of shredding the conference's most stout pass defense on any given day.
"We recruited them for a reason," Tech linebacker Bront Bird said of the team's signal-callers. "They're all extremely talented, no matter who goes in there. Mike Leach just doesn't recruit people who can't throw the ball.
"That's what we make a living off of around here."