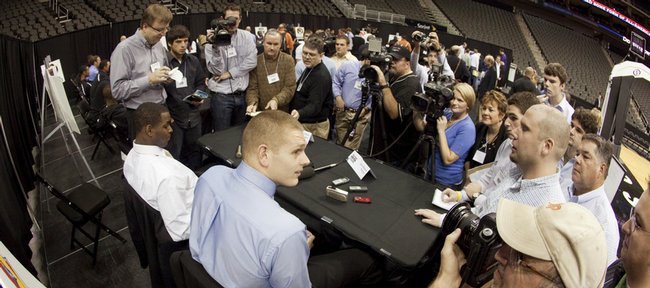 Kansas City, Mo. — Kansas University's Bill Self didn't ask his fellow Big 12 coaches for an emergency recount.
Yet on Thursday he had a message for the 11 coaches who unanimously tapped his five-time defending champion Jayhawks tops in the league's preseason poll: Another KU title is no slam dunk.
"We don't pass it worth a flip," Self said, assessing his 2009-10 squad after a handful of practices. "We don't value the ball at all. We can't guard anybody. We can't retain things. We don't remember anything. Other than that, I love our guys."
"The guys are doing fine. I'm just joking," added Self, who huddled with dozens of media members during an hourlong Big 12 Media Day Q-and-A session in Sprint Center, site of the 2010 league tourney.
Self says he wouldn't trade his team for any in the land.
Still ...
"I'd say there are 10 teams, 15 teams by Jan. 1 that will have a legitimate shot," Self said, referring to the national title chase.
His squad is a popular choice to cut down the nets in April in Indianapolis.
"There are always teams that come out of nowhere that have a shot. If we play well and get lucky, we could be one of the teams that get serious consideration," Self added.
The good news is that senior guard Sherron Collins and junior center Cole Aldrich have looked as talented as ever during the season's first five practices.
"Without a question I think Sherron is," Self said, when asked to name the conference's top player. "I'm not taking anything away from Cole (co-Big 12 preseason player of year). I don't think I've ever coached a guard that impacts the game in more areas than Sherron. Now from a potential standpoint, I'm not sure Cole is not (the league's best) because his upside is pretty high."
As far as the unknowns, Self said the team's most pleasant surprise has been freshman power forward Thomas Robinson.
"We haven't had anybody go after the ball like him since I've been here," said Self, now in his seventh season at KU. "There have been times he's been the best player in the gym. There's been times he's looked like a freshman, too. He's definitely going to play."
"He's relentless going after the ball. He's a thoroughbred," noted Collins, who joined Aldrich and Self at Media Day.
Self said much-hyped freshman guard/forward Xavier Henry hasn't disappointed at all.
"He's a guy that wants to get to the line. He's probably our best driver of the ball other than Sherron," Self said of the 6-6, 220-pounder. "I don't think he'll just settle for shots. He's not a one-dimensional guy."
Henry and Robinson's penchant for hitting the boards has been contagious, Self indicated.
"I can't remember a time when the ball was on the rim we've had as many guys go after the ball as we do now," Self said. "We have some guys really active in pursuing the ball. I think Thomas Robinson has made that a key emphasis for everybody because the twins (Marcus and Markieff Morris) now are different, and Xavier goes after every ball. We're going to have a chance to be a much better rebounding team than in the past. We've been decent in that area. We'll be much better this year, I think."
Sophomore forward Travis Releford, who scored 15 points in KU's Late Night in the Phog scrimmage, continues to look like he may be a factor.
"He was 6-for-6. It's hard to do that well every day," Self said. "He's done well. Travis is definitely in the mix to play a ton."
Self also said the sophomore Morris twins "have played at a high level so far in practice," and sophomore Tyshawn Taylor has been playing with more confidence than ever.
He wasn't asked about everybody on the roster, but repeated a common refrain: Because of an abundance of guys who can play — and fact the rotation likely will include a maximum of nine players — there might be a red shirt or two this season.
"If Marcus is as good on the perimeter as he is inside — which remains to be seen, but he's working at it — you go from playing nine guys to eight guys because one could play both ways," Self said of inside and perimeter. "You could play four bigs and four perimeters with him one of the four bigs.
"For me to predict what any of the newcomers' role will be ... it's not fair to them or me. I don't know yet. It's their job to prove they need to be out there. If we have a guy who is a starter in his career and he wouldn't be in our rotation this year, then obviously you could potentially red-shirt somebody, too. I don't know who that is. I will not make a prediction on who it is. It just depends on how everything plays out."
That's what preseason practices are for.
And Self is enjoying the competition already, despite the fact things haven't been pretty at all times.
"I like our guys. I wouldn't trade them for any," he said.