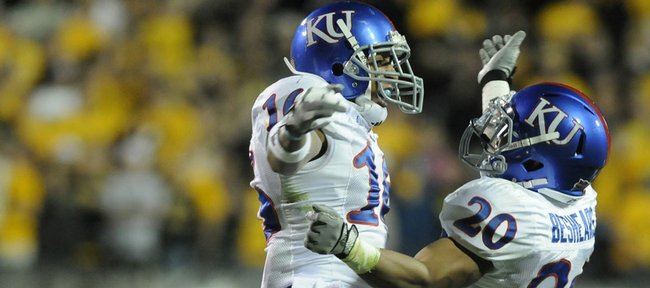 Kansas University football coach Mark Mangino didn't need to see much from a group of defensive newcomers to know that his team would be better off with them contributing.
Six players made their first defensive appearance of the season during Saturday's 34-30 road loss to Colorado — including first-time starters John Williams (defensive tackle) and Lubbock Smith (safety) — and afterward, the coach seemed confident that each could play a prominent role going forward.

"I think it worked out pretty well," said Mangino, whose team dropped seven spots to No. 24 in the Associated Press poll on Sunday. "We only had a week to practice. We moved some guys from offense to defense, plus the more experience they get, they'll make that defense better. ... I'm very encouraged."
In addition to Williams and Smith, senior Angus Quigley saw his first action of the season at linebacker, finishing with a tackle for loss, and transfer Quintin Woods played for the first time at defensive end, as well. True freshman receiver Bradley McDougald, who played both offense and defense in high school, played sparingly at defensive back.
Perhaps the biggest surprise, however, came in the promotion of cornerback D.J. Beshears, who became the fourth true freshman to see playing time this season when his red-shirt was burned against the Buffaloes.
Beshears, who'll battle sophomore cornerback Daymond Patterson for playing time, had impressed coaches while working with the defensive scout team this season, and Mangino figured he could help a secondary that had yet to gain its footing throughout the first five games of the season.
"He's like any other kid — if you ask them if they want to play, they tell you yeah," Mangino said. "And I think he ... did help us a lot last night, and he's going to play a significant amount the rest of the way through."
Time will tell how beneficial the changes prove to be, but Saturday's game represented a marked improvement over the team's previous outing.
Kansas gave up just 322 yards of total offense to Colorado — compared to 512 yards against Iowa State two weeks ago — and held the Buffaloes to a single second-half touchdown after giving up three in the second quarter alone, though two of those came following Kansas turnovers that gave Colorado the ball inside the KU 5 yard line.
The mid-season defensive restructuring, meanwhile, called to mind last year's overhaul, when the team greatly altered its secondary unit after a sub-par first half of the season.
"I've got total confidence in the adjustments of our coaches," said senior safety Darrell Stuckey, who said the abrupt changes hadn't led to any on-field confusion. "If they put a player out there, the player has the full ability to go out there and make plays in every way. When it comes to ... whoever is out there, they're going to have my full confidence because I know they went through the whole week just like I did."
And heading into the second half of a schedule that will get immensely more difficult, Mangino will take all the defensive help he can get.
"I'm pleased with the direction they're going," he said of the defensive newcomers. "(Some) didn't get a whole lot of reps just because they're kind of on a speed course, but I like what they did, and they're going to play more and more at those positions."