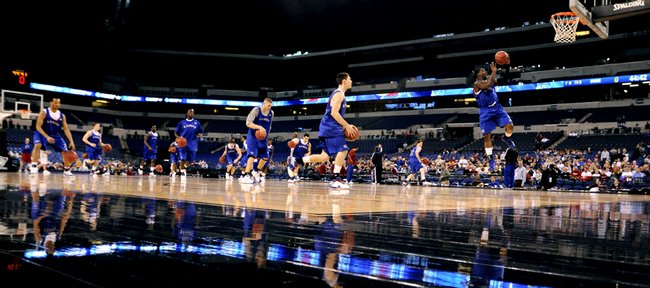 Indianapolis — The talk du jour around the Kansas basketball team centers on the need for better performances from supporting actors, none of whom joined Sherron Collins and Cole Aldrich in producing a double-figures scoring effort in either of the victories in the first two rounds of the NCAA Tournament played in Minneapolis.
The search started with freshmen Marcus and Markieff Morris and Tyshawn Taylor because those were the three players coach Bill Self called into his office, one at a time, for frank talks about how their Metrodome performances simply won't cut it in Lucas Oil Stadium, site of the Midwest Regional.
On the same day Cole Aldrich registered the school's first official triple-double, Marcus Morris recorded the first double-zero of his career. His coach let him know that had to be the last of his career as well. In 14 minutes against Dayton, Marcus Morris did not get credit for a single point or rebound.
Next, the search made its way to wings Brady Morningstar and Tyrel Reed and their need to shoot better in this massive football stadium than the last one. Morningstar and Reed combined to make just three of 13 shots from long distance.
Meanwhile, the quest never seemed to make its way to KU's stealth weapon, junior forward Mario Little.
In a 75-62 loss to Michigan State in January in which the Spartans led, 37-18, at the half, nobody was more invisible than Little. He played seven scoreless minutes and fouled out.
"I was kind of lost out there," Little said, looking back on his third Div. I game. "Just out there in a way, kind of."
Three games later, Little scored 15 points against Texas A&M;, triggering a six-game run in which he averaged 9.1 points. In the nine games after that, through his scoreless effort against North Dakota State in the opening round of the tournament, he averaged 2.6 points.
"I was in a slump, hit a wall for maybe two, three weeks, maybe four," Little said.
He broke out with seven points and six rebounds against Dayton, a quick team not nearly as physical or big as Michigan State.
"We've been practicing the whole week physical," Little said. "The scout team has been doing a great job, pushing us around, making it real tough for us."
Little agreed to play a game of finish-the-sentence: "If he gets a lot of playing time today ... "
"That means I'd have to be knocking down my shot, I know that, and I'd have to be rebounding and in attack mode for me to play a lot," Little said.
And how does he get himself locked in that mode?
"I don't want to say knocking down a shot, maybe just the type of game it is, the environment, maybe a little trash talking, just to get my motor running," Little said.
He didn't want to say knocking down a shot because he knows it's not the right answer to give, but it's an accurate one. It's part of it.
"It pumps some adrenaline in you when you knock down a shot," he said. "If you hit a shot, it's always going to make you play harder."
Something about the way Little hit that game-tying shot from the right corner with 30 seconds left against Missouri in Columbia hinted he has a big game on a big stage in him.
Why not today?