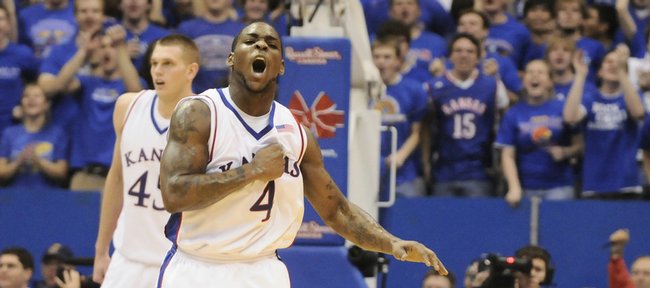 8:25 p.m.
Some final notes:
• Collins' 26 points were a career-high and also the highest for a KU player this year.
• Collins went 10-for-14 from the free-throw line. Those were career-highs in both free throws made and free throws attempted.
• Aldrich tied a career-high with six blocks. He also had six blocks against Washington earlier this year. The six blocks were the most for a Jayhawk since Nick Collison had seven blocks against Oklahoma State on March 1, 2003.
• Aldrich's ten field goals made were a career-high and also were a team-high this season for KU.
• The Jayhawks' 25 assists tied a season-high (Jackson State, Dec. 6).
• The last time an unranked KU team defeated a ranked team was Feb. 5, 2006, when KU beat No. 18 Oklahoma, 59-58.
• KU's 32-game home winning streak is the fourth-longest current streak in Division I.
Kansas scoring
Collins 26 (7-for-14 shooting), Aldrich 22 (10-for-14 shooting), Morningstar 12, Taylor 12, Reed 8, Marcus Morris 7, Markieff Morris 4, Releford 1.
KU made 34 of 66 shots (52 percent). UT was 26-for-66 (39 percent). KU out-rebounded UT, 44-38.
Also of note, KU had 50 points in the paint.
FINAL: KU defeats Tennessee, 92-85
Morningstar misses a shot, but he hustles to poke the ball away from a Vol. He then goes under the basket to put in a layup.
Aldrich follows with a block — his sixth. He and Collins have played like NBA guys today.
Hopson and Chism both put in desperation three-pointers, but it's too late. KU comes away with the signature win it was looking for, winning 92-85.
KU 87/UT 77 — 1:34 left in game
Collins makes two free throws to give KU some breathing room.
Tatum misses a deep three, and KU comes away with a big rebound.
The Vols defense breaks down underneath its own basket, and Collins inbounds to Aldrich for an easy slam.
Taylor penetrates on the next possession, scooping to Aldrich for another slam. KU holding on to an 11-point advantage.
Collins hits two free throws, but Marcus Morris fouls out on a questionable-at-best call inside.
A baseball pass to Taylor gets him an easy two, but Smith hits a three to keep UT within 10.
KU 77/UT 70 — 3:52 left in game
J.P. Prince fouls out for Tennessee, which can only help KU. Collins makes two free throws.
The Vols are starting to heat up from deep, though, as Hopson and Wayne Chism put in consecutive threes.
Tyler Smith makes a huge block inside on Marcus Morris, and Cameron Tatum buries another three as UT pulls within seven at 77-70.
Morningstar turns it over, but Chism forces up a guarded, deep three that bounces off. Marcus Morris clears the rebound.
KU 72/UT 55 — 7:01 left in game
KU finds a way to break UT's press, as Taylor makes a cut to the basket and puts in a one-handed stuff. He was late getting back on D, though, and Maze put in a two and also forced Taylor's fourth foul. Releford checks in.
After a turnover, Collins raises his hands, urging the crowd to get loud. Unfortunately for him, he turned it over on the other end trying to throw in a tough entry pass to Aldrich.
Smith picks up a technical after reaching over the baseline on an inbounds pass from Morningstar. Collins, though, bricks both free throws.
KU is totally lost with Tennessee's inbounds pressure. The Jayhawks aren't moving or screening to get open. Another turnover as Morningstar's pass sails out of bounds.
Markieff Morris fouls out on a blocking call with 8:41 left. Aldrich and Marcus Morris have three fouls apiece, so they'll have to be careful the rest of the way.
The Jayhawks grab some momentum, as Aldrich barrels down the lane for a stuff with a foul. As bad as KU's inbounds plays have been, the Jayhawks are still up 15.
Marcus Morris throws a lob to Aldrich, who slams it home. It seems like both of the Morris twins are learning how to utilize Aldrich better each game.
Marcus picks up his fourth foul with 7:01 left. KU needs him to avoid his fifth.
KU 59/UT 44 — 11:30 left in game
Collins once again hurts UT on the dribble drive, drawing two defenders before dishing to Marcus Morris for a two and foul.
UT's Brian Williams picks up his fourth foul trying to double-team Collins on the perimeter.
Collins' penetration causes problems again, as he takes a few dribbles to the basket before finding an open Reed on the perimeter for three. A lot was made of Collins not trusting his teammates. It looks like this might be his breakthrough game in that regard.
Off a steal, Taylor flies to the basket for a layup. KU has done a good job of maintaining a comfortable lead so far this half.
KU 50/UT 37 — 15:42 left in game
Marcus Morris follows his own miss with a layup, and on the other end, he draws his second charge of the year.
After the media timeout, Pearl starts to rip into the officials. As of now, the fouls are KU 13, UT 11.
KU 46/UT 37 — 16:40 left in game
Morningstar opens the second half with a three from the corner. He just doesn't miss open shots, does he?
Reed hits an open three from the top to push KU's lead back up to 11.
Tennessee looks to have committed itself to getting the ball inside more in the second half, and a nice pass gets an easy look for Hopson.
Kansas scoring
Collins 14 (6-for-10 shooting), Aldrich 11, Morningstar 6, Taylor 4, Marcus Morris 3, Markieff Morris 2.
• Collins also had five rebounds, five assists and no turnovers.
• KU made 17 of 36 shots (47 percent) and went 4-for-8 (50 percent) from three-point range.
• UT made 11 of 37 shots (30 percent) and went 1-for-11 (9 percent) from three-point range.
• KU outrebounded UT in the first half, 27-21.
General thoughts
Tennessee will not shoot as poorly in the second half as it did in the first. Until the Volunteers show some ability to hit outside shots, though, KU might continue to play 2-3 zone and take its chances letting the Vols try to beat them from the outside.
The Jayhawks, meanwhile, need to limit their turnovers. The Vols have scored 17 of their 31 points off KU turnovers. KU has done a good job of defending in the half-court, but it needs to limit Tennessee's transition opportunities if it wants to pull away.
Also, I think this was easily Collins' best half of the year. He looks motivated and energized, and he has made good decisions without turning it over. Don't want to jinx it, but he's also halfway to a triple-double.
KU 40/UT 31 — Halftime
Maybe Self's tirade will help get some calls the rest of the game. UT picks up two quick ones out of the media timeout, and Aldrich takes advantage with a basket and foul.
The officials look scared to call fouls now, as Collins charges in without a call. Aldrich gets an uncontested dunk on the play, and Pearl raises his hands in frustration wondering where the call was.
Little makes a mistake on defense, as he rotates late in KU's 2-3 zone and fouls Scotty Hopson on a three-point attempt. Hopson puts in all three.
Hopson gets another shot in the lane to go in late, and KU takes a nine-point advantage into the break.
KU 35/UT 26 — 3:38 left in 1st half
Collins does a nice job of drawing defenders, then kicking out to an open Morningstar for a three. Is Morningstar's outside shooting not one of the biggest surprises this year?
Collins continues his best half of the season, juking his man and getting all the way to the basket for two.
Self took a chance by putting Markieff Morris back in with two fouls. Sure enough, Markieff picked up his third foul on an offensive rebound. KU is forced to play with Aldrich and Quintrell Thomas in there.
Thomas is called for a bogus moving screen, and Self blows a gasket. He marches out on the court, and even the assistant coaches can't keep him from getting a technical. It's interesting how much more vocal he's been with officials this year than he has been in years past. Honestly, I'm not sure why.
After the two technical free throws by Tyler Smith, Smith puts in a one-handed jam, and some of the momentum has shifted the Volunteers' way.
KU 30/UT 16 — 7:15 left in 1st half
Marcus Morris picks up his second foul, then he gives a Tennessee player a shove on his way to the bench. He's lucky to not come away with his third foul there.
Taylor tries to take a charge, but he doesn't sell it very well and instead gets a blocking call. That's two on him, and three KU freshmen have two fouls each.
Tennessee is feasting on KU turnovers. The latest one comes on an inbounds play (we knew a few of those were coming) and Bobby Maze finishes with an uncontested layup. The Volunteers are on a 7-0 run, as KU hasn't scored in four minutes.
Collins helps KU get out of its funk, as he hits a three from the wing then goes 1-on-3 to finish a layup in transition.
KU 25/UT 9 — 11:19 left in 1st half
Releford and Little are the first ones off the bench for KU. Little gets a standing ovation from the crowd.
KU continues its hot shooting, as Collins bounces a three in from the corner.
Little gets in the action early, as he has two rebounds in his first minute.
Aldrich hits an 18-footer in transition, and Collins throws an alley-oop to Taylor. UT needs a timeout, but coach Bruce Pearl refuses to call one.
We start to see what I was talking about with the officials. Because the crowd is going nuts, an out-of-bounds call by Tennessee produces an emphatic point the other direction by a ref.
Morningstar hits an open three from the top, and KU is 11-for-16 (69 percent) from the floor. The Jayhawks enter the TV timeout still on an 11-0 run.
KU 14/UT 7 — 15:28 left in 1st half
The decibel meter hits the high 94s before tipoff.
Markieff Morris gets the crowd going early with a dunk for the first two points.
Aldrich gets a dunk on a stickback, and Collins spins in the lane to make it 6-0. Tennessee's young players look rattled by the raucous crowd.
Markieff Morris picks up his second foul on a cheap hand-check. Aldrich and Marcus Morris will have to be especially careful now.
After an easy layup by Marcus Morris, Taylor cuts to the basket for a lay-in. Timeout Tennessee. KU has gotten a lot of easy points right through the middle of the Tennessee defense early. I believe all 14 of KU's points have come off layups or dunks.
1:03 p.m.
KU starters: Brady Morningstar, Markieff Morris, Tyshawn Taylor, Cole Aldrich, Sherron Collins.
12:55 p.m.
There's a much better energy in the Fieldhouse today. The "Let's go Jayhawks" chants have started early. The video department put together another solid video, showing highlights with some loud music. At the end, the video urged KU fans to make some noise. They did.
Much like a lot of football games, the videoboard then showed the door to the locker room. After a few seconds, the door opened with the Jayhawks emerging, and the KU supporters went nuts. To be honest, it was probably the loudest sound I've heard in this building since the championship banner was raised at Late Night.
12:48 p.m.
Former KU basketball player Patrick Richey just passed by me in a red sweatshirt on the way to his seat. He's sporting the shaved-head look now.
Seems like a long time ago, doesn't it?
12:37 p.m.
An update: Mario Little is shooting with the team with a heavy brace/wrap/splint on his left hand. I'd say there's a good chance we see him in there today.
12:13 p.m.
Here are some quick-hitting notes about the Volunteers, who are ranked No. 14 in the AP poll with a 9-2 record.
• Tyler Smith is the team's leading scorer. He averages a team-high 16.9 points (interestingly, the same scoring average that Sherron Collins has right now). He had Tennessee's first triple-double in school history this season, posting 12 points, 10 rebounds and 10 assists on Dec. 3 against UNC-Asheville. UT coach Bruce Pearl has called him "the most productive player I've ever coached."
• Wayne Chism, a 6-foot-9 forward, is second on the team with 11.8 points. He is fifth in the SEC with 8.5 rebounds per game. In his last contest against Lousiana, he left the court on a stretcher after falling hard on his back. He was diagnosed with elbow and spine contusions, but he is expected to play today.
• UT's third-leading scorer, J.P. Prince, is averaging 10.9 points per game. He's also coming off an injury, as he missed three games with an ankle injury before playing last game against Louisiana.
• One of Tennessee's greatest strengths is its depth. Only two players play more than 22 minutes per game (that's pretty amazing if you think about it). Still, nine players play at least 16 minutes per game.
• UT's bench has outscored its opponent in every game. The Volunteers' bench averages 32.7 points per game — which is 14.9 more points than its opponents' bench scorers.
• In UT's last game against Louisiana, ten players scored. Each of those players scored at least five points.
• Tennessee leads the SEC in scoring, averaging 84.5 points per game. The Volunteers also average 42.7 rebounds per game to their opponents' 32.8. KU is averaging 79.4 points per game and is out-rebounding opponents, 40.0-32.7.
• The Volunteers have built a reputation with their pressure defense. In the last three years (82 games), they have forced 316 turnovers on inbounds plays alone.
• KU is 28-29 all-time against teams from the SEC. The Jayhawks have never faced the Volunteers.
11:40 a.m.
Now is the time for KU fans to break their silence.
After starting 9-3, the Kansas men's basketball team continues a tough non-conference schedule today at home against Tennessee.
Here's the simple fact of the matter: KU, as it stands now, is on the bubble. A couple more losses in non-conference, and the Jayhawks will be looking at a very real possibility that they will miss the NCAA Tournament for the first time since 1989.
That scenario won't happen if KU holds serve at home. If the Jayhawks can manage to go 10-0 or 9-1 at the Fieldhouse the rest of the way, they would be all but assured of clinching a spot in the Dance.
It'll be a lot easier if they start getting more help from those in the seats.
I can't speak for the Albany game, but so far, the noise level at Allen Fieldhouse has been underwhelming. And to me, that's puzzling.
To be honest, the loudest four KU games I remember this season have been the road game at Arizona and the three games at the Sprint Center. Kind of sad, really.
This should be the kind of team that Jayhawk fans are loudest for. This is the kind of team that needs the crowd noise the most.
Teams with Raef LaFrentz and Paul Pierce or Nick Collison and Kirk Hinrich might not need fan help every single night.
This team, filled with inexperienced (but talented) players, needs it.
One only has to look to the Arizona game to see how much a crowd can affect the outcome.
KU led early, but in the second half, Arizona's fans simply took over the game by turning up the volume. Arizona's players fed off the energy, going on a 29-6 run, and by then, the game was all but over.
Perhaps the biggest benefit for the Wildcats was getting extra calls. Hey, officials are human, too. They get caught up in the emotion of the game just like anyone else (if not, Ed Hightower would only blow his whistle once on foul calls instead of seven or eight times). During one stretch, Arizona shot free throws on five of six possessions. At one point in the second half, KU had 10 fouls compared to Arizona's four.
Is that bad officiating? Is it unfair? No and no. That's the advantage a home team gets when it has a good crowd.
Today, the Jayhawks need that kind of help. They need to get caught up in the atmosphere. They need to get the extra foul calls. They need Tennessee to get rattled in a tough environment.
They need Allen Fieldhouse to be at its best.
And then they need Allen Fieldhouse's best for the 10 games after that.