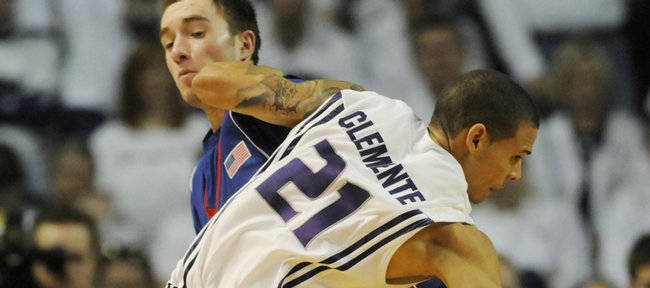 Videos
Feb. 17, 2009 KU men's basketball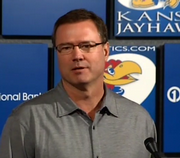 The Jayhawks are preparing for more conference play this week. Mario Chalmers attended the women's game this weekend, while Russell Robinson made an appearance at the men's game in Manhattan.
Kansas University guard Tyrel Reed, who was recipient of a head slap by Kansas State's Denis Clemente while boxing out the Wildcat guard in Saturday's KU-KSU game, doesn't want to see Clemente disciplined following the incident.
"No. It's no big deal. No hard feelings," Reed said before Monday's practice in Horejsi Center. "The game is over with. There's nothing you can do about it now. We're just focusing on our next game."
The Burlington native said he wasn't even fully aware Clemente whacked him after the junior guard shot a free throw with 31 seconds left in KU's 85-74 victory in Bramlage Coliseum.
Reed had stepped in front of the player when the contact was made.
"It happened so fast. I didn't even know anything about it until today," Reed said, noting several of his teammates visited with him about it Monday in the locker room.
"It's over and done with."
KU coach Bill Self said he saw the tape of Clemente striking Reed, "but I'm not going to comment on that at all," he said. "I'm not going to do anything. I'm not calling attention to it, but, yes, I saw it. You can't help but see it if you watch the tape."
The Big 12 said it was reviewing the incident, as is KSU coach Frank Martin.
"We're dealing with that right now," Martin said on Monday's Big 12 coaches teleconference, asked if he was considering disciplining Clemente, who also was called for a technical foul for elbowing KU's Brady Morningstar.
On Monday night, Martin told the Wichita Eagle: "I'm in talks with the Big 12 on numerous things. Before I take any action, I want them to be aware of some things that are concerns of mine. Denis is on board with any decisions."
Self was more upset Monday at an accusation made by gopowercat.com publisher Tim Fitzgerald on the Internet version of Sunday's "The Drive" TV show. Self angrily disputed claims of Fitzgerald's staff members who said they heard KU players "wishing him (Clemente) bodily harm" and allegedly saying, "Where's your green card?" to Clemente during the game.
"That flat-out (ticks) me off because that did not occur," Self said. "We have coaches sitting between players. I am sure that did not occur. That does bother me a lot that anybody would say anything like that, more importantly that anybody would report hearsay like that."
Self reiterated on Monday's Hawk Talk radio show that his players did not bait Clemente with any 'green card' talk.
"I was on the bench. I didn't hear anything. We have coaches who sat next to players. They didn't hear anything. We have coaches sitting between players. They didn't hear anything. I have a good idea nothing was said like that at all during the game. That is disappointing something like that could be said without being confirmed at all.
"I don't think Tyrel Reed or Brady Morningstar were the ones out there chatting."
KU's Sherron Collins said he didn't hear any insults directed at Clemente.
"Racial slurs ... that's not us, not our character," Collins said, noting he joked with both Clemente and Jacob Pullen during the game.
"The bench may holler when they shoot, 'Miss it,' that's about it," Collins added.
KU center Cole Aldrich also didn't hear any trash talk out of the ordinary.
"I don't see any of our guys doing that," Aldrich said. "They have respect for players on the other team, respect for our guys and respect for the game of basketball. Between two rival teams, it's like Duke-North Carolina. Once in a while people just get a little excited because it's two rivals. You want to beat the other team as bad as they want to beat you. I wouldn't say it ever got to where anybody (on either team) was really talking at all. Guys on our team are good at talking to each other, encouraging each other on the court."
KSU coach Martin heard nothing out of the ordinary.
"I've got my bench to worry about. I've got no idea what's going on the other team's bench," he said.
Collins, by the way, said he was surprised by Clemente's behavior during the game. He said he enjoyed hanging out with Clemente at past summer Nike camps.
"I'm a little surprised at a couple cheap shots he threw. He threw one at Tyrel in the back of his head and elbowed Brady. I've never seen him act like that before," Collins said. "College is different, I guess. I'd never seen him like that."
Clemente had said after the game his elbow to Morningstar was in retaliation for a Morningstar elbow that went undetected by the refs.
"I didn't throw any elbows," Morningstar said. "I'm not trying to get in any arguments with him. I'm defending myself. If that's what he thinks, that's what he thinks."
•Morningstar wears boot: KU's Morningstar wore a boot Monday to protect his bruised lower-left leg. Self said Morningstar would have been able to play in a game Monday had one been scheduled. He should be able to play in Wednesday's game against Iowa State (7 p.m., Allen Fieldhouse).
•Signee breaks bone in hand: KU signee Thomas Robinson recently broke his third metacarpal on his left (non-shooting) hand. The 6-8 power forward from Brewster Academy in Wolfeboro, N.H., said Monday night he likely will be out of action a week to 10 days.
Robinson grabbed 17 rebounds in a game last week while playing with the broken bone in his hand. He was unaware it was broken until visiting with doctors about swelling.
"I'll be back for the playoffs and all-star games," said Robinson, Rivals.com's No. 18-rated player nationally.
He's wearing a soft cast on his left hand.