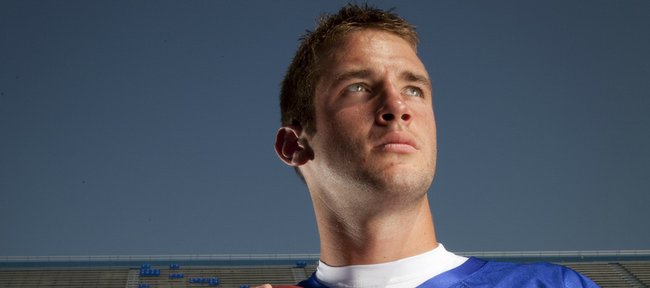 There generally isn't a lot of middle ground for the backup quarterback: Usually, he's either the first or the last person fans want to see.
Toiling to play his way into that football purgatory for Kansas University is Kale Pick, a 6-foot-2, 200-pound red-shirt freshman from Dodge City. To him, the title "backup quarterback" is music indeed.
"That's what I'm working for," Pick said. "That's my goal right now, and I'm working hard each day to reach that goal. That's what I want to be right now. That's the next spot in the depth chart where I want to be."
The spot beyond that, of course, is filled by Todd Reesing, a guy named to more preseason watch lists than Timex. Unseating him would be, well, improbable at best.
But locking up that coveted No. 2 spot would be the first in a string of dominos that only could help the Jayhawks this fall.
Coach Mark Mangino has said he'll keep working Kerry Meier with the quarterbacks until a clear backup to Reesing emerges. Should Pick win that job, Meier would be free to spend his time honing his considerable receiver skills.
"It would help Kerry out so he can be a full-time receiver," Pick said, "not only in games, but in practice. It would help him and us out, also."
For what it's worth, Pick has Meier's vote already.
"Kale's coming along," Meier said. "He's doing a lot of good things. One of the things people don't see is the athletic ability Kale has. He's a good looking prospect to have here at KU. … Kale's a little different style than Todd. He has his own personality. He can get out and run. And his capability to throw the ball is very good, also. His ability to run the ball and throw the ball can give defenses fits."
He did that at Dodge City High.
As a junior, Pick threw for 1,779 yards and 19 touchdowns, with just six interceptions. An all-stater, he led Dodge to its first winning season in a dozen years.
The first game into his senior year, however, he suffered a broken thumb and didn't play again until the final game, when he still wasn't fully healed.
"It was still partially broke," Pick said, "but I played anyway."
Pick graduated early from high school and went through spring drills in 2008. He red-shirted last season, meaning in the span of two years, he has little live-game experience.
"I don't think it affects me all that much at all," he said. "I go through practice all the time, and everybody goes full speed."
True, but at KU quarterbacks are protected in practice. Tackling is verboten.
Pick's not worried.
"I probably got tackled once or twice last spring," said Pick, who was named the Otto Schnellbacher Offensive Scout Team Player of the Year last season. "We're not live, but you also have to run away from the defense. It's actually harder to get away from the defense when you're not live because they can just touch you and say they got you."
Regardless of what happens in the race to back up Reesing, Pick is relishing just being able to toe the line.
"It's an important role," he said. "As backup quarterback, you have to be prepared every day. You have to know your stuff, know who you're playing against that week. You're one play away from being on the field. But I don't feel any pressure. Football is fun. I just like to come out here every day. I enjoy competing."