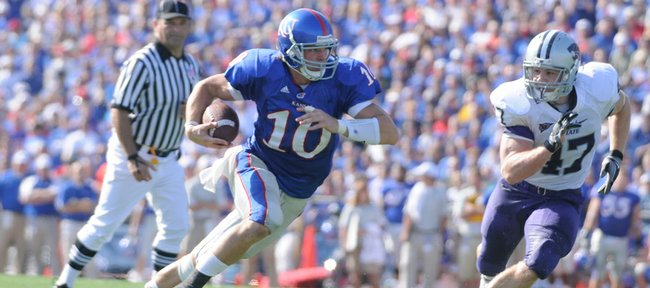 Jayhawks' first fall practice today
The Kansas University football team's quest for a Big 12 North title officially kicks off today, as the Jayhawks will undergo their first fall practice of the 2009 season.
More than 100 players reported to campus Thursday, as players underwent physicals, checked out equipment and attended team meetings.
Led by quarterback Todd Reesing and All-Big 12 preseason selections Dezmon Briscoe and Darrell Stuckey, the Jayhawks return 17 starters from last year's team, which finished 8-5 and won the Insight Bowl, the first time in school history the program earned back-to-back bowl victories.
The team's practices will remain closed to the public and the media for the majority of the training camp, with the exception of an open practice at 9 a.m. Tuesday, Aug. 11, and Fan Appreciation Day on Aug. 26.
KU media day is scheduled for Tuesday.
After careful examination, Kerry Meier says 97 receptions in 2008 wasn't enough.
He should have had more.
"I think there's a lot left on the table for me to go and get (this year)," the Kansas University senior receiver said. "Even though nearly 100 balls were caught, I think there's a lot more balls out there that I could have had last year. That's what kind of drove me this offseason as I went through and watched film from last year."
It didn't matter to Meier that 97 catches itself was an absurd number. Consider that KU's single-season reception record before last season was 70, set by Richard Estell in 1985.
Meier still couldn't help but wonder if his numbers could have been better. He even sat down one day and made a list of items that he wanted to improve upon before this season.
"Hopefully," Meier said, "those few mistakes that I had last year, I learned from them."
With the KU football team officially starting its practices today, Meier looks to be putting himself into a position where he could be a better all-around receiver in 2009.
He spent all of his time in the offseason with the receivers, which is a change from years past, when he also split time with the quarterbacks.
"I haven't heard the official, 'You are a 100-percent wide receiver' quite yet," Meier said, "but I see myself as a receiver right now."
He's also trying to take in all the information he can.
Meier has had offseason meetings with KU receivers coach David Beaty with the hopes of "picking his brain" while also learning some of the nuances that go with playing receiver.
"I think it's helped me," Meier said, "and hopefully I can take that knowledge that he's provided before me and put it to use this year."
As a senior, Meier has taken time to reflect on the accomplishments of the KU football program since he joined it.
"It feels dang good coming from a family that had two brothers go to K-State and be successful at K-State and see all the success they had at K-State," Meier said. "When I came to KU, I wanted to experience some of that success. I knew it was going to be hard work."
He also has seen a facilities facelift firsthand. During his freshman year, he remembered the team having problems with bugs in the locker room. Sometimes, the water wouldn't work in the showers after practice.
Now, with the new Anderson Family Football Complex, Meier said he feels "almost spoiled."
"I think we have too much stuff," he said with a smile.
Meier said it's the most excited he has been for a football season since he has been at KU.
"If I catch 80 balls, if I catch 20 balls, if I catch 100 balls ... as long as we have a successful season as a team and we find ourselves at the (Big 12) championship," Meier said, "I'm going to be the happiest guy on the team."