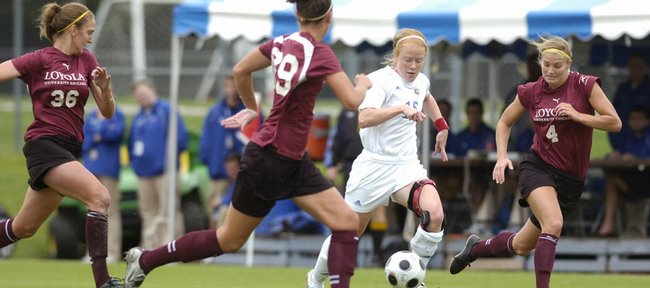 The law of averages figured to go against Kansas University's soccer team at some point this season.
On paper, Sunday afternoon didn't appear to be one of those points for the Jayhawks.
On the field, No. 18 Kansas let too many chances to score get away, and Loyola-Chicago handed KU its first lost, 2-1, on a blustery, overcast day at Jayhawk Soccer Complex.
Afterward, KU coach Mark Francis admitted these things tend to have a way of evening themselves out.
"We've sneaked a couple where we got a little bit lucky when we haven't played that great, but we finished our chances well," Francis said of his team's early-season successes. "I didn't think we played that bad today, but we didn't finish our opportunities."
Kansas players didn't say they were overconfident, but the teams' records entering the contest indicated that could have been a possibility.
The Jayhawks began the day 5-0 for the first time in four seasons, while the Ramblers carried an unimpressive 2-5 record into the game.
By halftime, it didn't much matter.
The Ramblers struck first in the 29th minute when forward Cynthia Morote-Ariza slipped a pass through KU's defense in the penalty area to midfielder Jackie Vera. Vera, onside and alone with Jayhawks goalkeeper Julie Hanley, chipped the ball into the upper-right corner of the net.
Despite out-shooting Loyola, 10-3, Kansas trailed at the half for the first time this season.
"It was frustrating," KU junior Monica Dolinsky said. "We had a lot more chances than them. We just were unlucky and didn't finish."
Loyola, meanwhile, certainly made the most of its opportunities. In the 65th minute, a Vera crossing ball sailed over Hanley and found Laura Trevillian, who netted the Ramblers' second goal with a diving shot off her shoulder.
Hanley called the goal a mental lapse on KU's part.
"They threw the ball in, and no one was covering the thrower," Hanley said. "The ball got crossed in, and we kind of got caught out of position. I was probably out of position, too, and I probably should have been able to make that save."
Perhaps more upsetting for players, the goal turned out to be the game-winner. Fifteen minutes later, Dolinsky briefly brought KU to life, burying a penalty shot to the left of goalkeeper Katie Groesch and pulling the Jayhawks within a goal.
But Kansas, which out-shot Loyola, 19-7, for the game, ran out of time.
"In the long run, maybe this is good for us," Francis said. "I told the team, 'Remember what this feels like, because losing (stinks).' We haven't experienced that yet, so maybe we were taking things a little bit for granted."
Kansas (5-1) returns to action on Friday at Central Florida for the first of four consecutive road games.