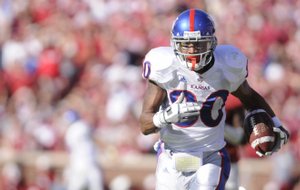 Videos
KU football vs. Texas Tech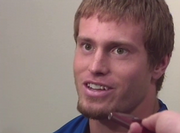 Complete video coverage of the Jayhawks' home matchup with undefeated Texas Tech
Audio clips
2008 Oct. 21 press conference
KU's Briscoe vs. TTech's Crabtree
While Kansas receiver Dezmon Briscoe has flown largely under the national radar this season, his statistics have been comparable to those of all-American Texas Tech receiver Michael Crabtree.
Briscoe
Total receiving yards705
Receiving yards per game100.71
Receptions per game6.1
Touchdowns8
No. of 100-yard receiving games3
Highest single-game yardage total269
Highest single-game TD total3
Crabtree
Total receiving yards724
Receiving yards per game103.43
Receptions per game7.3
Touchdowns12
No. of 100-yard receiving games3
Highest single-game yardage total158
Highest single-game TD total3
In the days leading up to the Kansas University football team's 11 a.m. matchup with eighth-ranked Texas Tech on Saturday, much of the pre-game focus will center on the Jayhawks ability to slow down Red Raiders receiver Michael Crabtree, last year's Biletnikoff Award winner and consensus all-American.
What won't be discussed nearly as much - but could play just as big a role in the game's outcome - is how the Tech defense hopes to limit Kansas receiver Dezmon Briscoe.
While Crabtree is no doubt one of college football's most recognizable stars, Briscoe, a sophomore who earned freshman all-American honorable mention honors last season, has quietly established himself as a comparable threat. Through seven games this season, Briscoe's stats have been nearly identical to Crabtree's. Both are ranked in the top 12 nationally in receiving yards per game (Crabtree is ninth in the nation with 103.4; Briscoe is 12th with 100.7) and total receiving yards (Crabtree is ninth with 724, Briscoe is 11th with 705). And while the Tech sophomore has the edge in receiving touchdowns - 12 to eight - Briscoe has been forced to share catches with one of the nation's most reliable receivers in junior Kerry Meier.
"He has played extremely well," said Kansas coach Mark Mangino on Tuesday, "and he has shown that he's capable of being one of the top receivers in this league."
Despite his steep production, however, Briscoe insists he doesn't feel left out when talk of the conference's most dangerous receivers centers primarily around Crabtree and Oklahoma State's Dez Bryant.
"No, he deserves it," Briscoe said of Crabtree. "Obviously, for the simple fact that he was a Biletnikoff finalist last year, and the yardage and touchdowns he put up last year, he already proved himself. I'm still trying to get to his level, so I can't really put myself on his caliber right now."
With more performances like last week's, however, that might soon change.
Against an Oklahoma defense ranked first in the Big 12, Briscoe caught 12 passes for 269 yards, both career-highs, and two touchdowns. The 269 yards marked the highest single-game total in the Big 12 this season, and the most in Kansas' 109-year history.
If there's a knock on the 6-foot-3, 200-pound receiver, it's that he has struggled with consistency this season. Before last week's breakout game, he had failed to surpass 50 yards in receiving in each of the previous two weeks, including a two-catch, 22-yard game against Iowa State. His receiving yardage per game this season is a bit roller-coaster in nature - in order, he has finished with 55, 146, 36, 124, 22, 48 and 269 yards - although he has scored in five different games.
The hope among coaches is that last week's career performance will give him the confidence necessary to perform consistently throughout the rest of the season schedule, which still features games against Missouri and top-ranked Texas.
Briscoe said after Saturday's game that while much of the credit for his success belonged to quarterback Todd Reesing, he felt the man coverage Oklahoma used against him for much of the game allowed him to make the plays he did.
And entering Saturday's game, Briscoe would like the coaching staff at Texas Tech to know that a similar strategy Saturday would work just fine with him.
"I don't know what their defensive plan is," he said, smiling, "but I hope it stays the same."