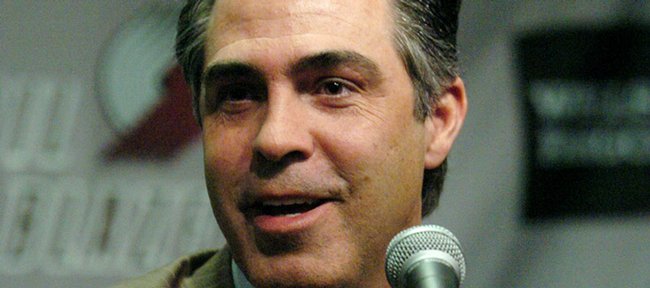 "Boy Wonder" is bringing his young, exciting Portland Trail Blazers basketball team to Kansas City's Sprint Center on Friday night.
It's a Brandon Roy/Greg Oden/LaMarcus Aldridge-led squad expected to vie for an NBA playoff berth after last year's respectable 41-41 campaign.
"I believe our team is ready. I don't know if we are the best, but we are the youngest (team in NBA), that's for sure," said 41-year-old former Kansas University point guard Kevin Pritchard, nicknamed Boy Wonder for his relative youth and series of successful roster moves since 2006.
"Hopefully we are a team on the rise and will put on a good show," Pritchard added of the Blazers' 7 p.m. exhibition game against the Atlanta Hawks in downtown Kansas City.
Pritchard since 2006 has rid the organization of problematic players Zach Randolph and Sebastian Telfair while adding Roy, Aldridge, Oden, Rudy Fernandez, Jerryd Bayless and others.
"We've gone through a transformation where we were very successful, then had some tough times," Pritchard said, realizing fans suffered mightily in 2005-06 when the Blazers had an NBA-worst 21-61 mark.
"We said, 'Let's build a program, make it more like a college than gun for hire," added Pritchard, who served as Blazers' assistant GM in 2006 before being promoted the following year.
"We had to transform from an older roster to a young and exciting team. We felt the best way was to get good young players from the draft."
The most publicized draft pick in the Pritchard era has been Oden, the top pick in the 2007 Draft, who missed last season because of injury.
Expectations are high for the 7-footer out of Ohio State.
"He is a great kid. He wants to do well. He wants to please," Pritchard said. "The best way to describe him is he is a winner. He doesn't care about points, blocks, individual statistics. He cares about winning.
"It's not just Greg, we have so many young players. They need to understand their roles. We'll be challenged. We need to stick together."
As far as Friday's game ... the location is perhaps a bigger story than the meaningless exhibition contest. Kansas City hopes to attract an NBA or NHL team to the Sprint Center sooner rather than later.
"I look forward to seeing the Sprint Center. I heard it's unbelievable," said Pritchard, starting point guard on KU's 1988 NCAA championship team. "It's such a basketball-crazy area. I think it could (support an NBA team)," he added.
Pritchard led the Kansas City Knights to the ABA championship in 2001, joining the San Antonio Spurs scouting department the following season.
"Being with the Knights was an amazing experience," Pritchard said. "It was the minor leagues and by definition there are challenges. I got to learn from the bottom up. I learned to do a lot of different things that have been valuable to me.
"It's nice to be playing a game in Kansas City again. The challenge has been all the ticket requests - about 70. That's a good problem to have," he added with a laugh.
¢ ¢ ¢
Notes: Former KU forward Raef LaFrentz will not be playing for the Blazers on Friday night. He had right shoulder surgery in late September and likely will miss the entire season. "I feel bad for Raef," Pritchard said. "He is a great kid. We do believe this ... he'll get healthy again and continue to play if he wants to. What he does is gives us a veteran presence."