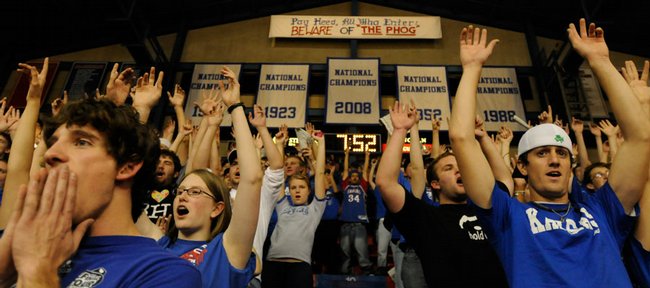 Kansas University's basketball players stood in a row on the Allen Fieldhouse court, arms draped around each other as their eyes focused on a spotlight high in the north rafters.
A cover dropped from the 2008 national title banner at 7:51 p.m. Tuesday, flashbulbs popping — not from the still photographers on the court, but fans taking pictures from their seats in the stands.
"I almost dropped a tear," KU junior guard Sherron Collins said after his career-high 25-point scoring effort led the Jayhawks to an 85-45 rout of Florida Gulf Coast in a game that took a back seat to the revealing of the 2008 NCAA championship banner.
It was uncovered on Phog Allen's 123rd birthday, joining title banners from 1922, '23, '52 and '88.
"It was kind of like a concert with all the cell-phone pictures," KU coach Bill Self said after KU turned in a near-historic performance on defense. Gulf Coast connected on just 13 field goals in 55 tries. The record for fewest number of opponent field goals in the building is 12 by Syracuse in 1968.
"I don't know how our guys felt, but I got close to tearing up," Self said of the pregame festivities. "It was moving. We're pretty proud of those guys and what they accomplished. Knowing it'll be up there forever is pretty cool."
Of course, the two Jayhawks who played significant minutes in last year's title run — Collins and Cole Aldrich — were the most emotional during the brief ceremony, which followed a video showing highlights of the 2008 overtime title victory over Memphis.
"It looks beautiful up there. I'm going to send Darnell a text later on," Aldrich said of Cleveland Cavaliers rookie Darnell Jackson, a key big man on last year's squad.
The gist of the text?
"We wish you were here, man," Aldrich said.
Aldrich for the second straight game found himself on the bench with two quick fouls. He took a seat just 3:15 in, with KU up, 6-0.
The 6-foot-11 sophomore returned with 9:04 remaining and KU holding a slim 18-9 lead. With Aldrich, the Jayhawks immediately went on a 14-0 run. KU outscored the Eagles, 20-0, with Aldrich on the court, just 25-13 with him on the bench as the Jayhawks led, 45-13, at halftime.
"That shouldn't happen. I shouldn't get two quick fouls. I've got to play more smart. Coach emphasizes me staying in the game," said Aldrich who finished with 12 points off 6-of-7 shooting with six rebounds in 19 minutes.
"They were tough fouls. One I was a second late on the trap. The other I tried to crash the boards hard and gave a little elbow, and it got called. I can't pick up those kind of fouls early in the game."
Self is not ready to deem this a pattern with Aldrich, who had two quick fouls and sat out the rest of the first half Sunday versus UMKC.
"I'm not worried about that yet," Self said. "He picked up one foul (where) he stepped on a guy's foot and pushed back so he wouldn't lose his balance. He got one on a blockout. They weren't from (him using) his hands."
Collins and Aldrich were KU's only double-digits scorers. Collins hit nine of 14 shots, including four of six threes. He had three assists and three turnovers in 29 minutes.
"I don't know how he does things sometimes," Aldrich said. "He'll cross the ball over three times before you can even blink. He's so smooth. He is looking good. I love playing with him. He is a great leader, so unselfish."
Collins and Aldrich said they loved all the celebrations involving last year's team. But the final banner revealing puts it all in the past — until the 2008 team's five- and 10-year reunions, anyway.
"This was the icing on the cake," Aldrich said. "It's surreal. We're part of history."
Self added: "I hope that it happens every year, but odds are that it is not going to. Tonight was a special night. We are reminded of last year all the time, maybe now that was the finality of it. So hopefully we can now focus on this year."
The 2008-09 season continues with a 9 p.m. battle against Washington on Monday at Sprint Center in Kansas City.