Feature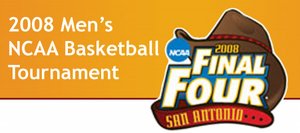 Get your March Madness fix at KUSports.com.
John Wooden gave us the basics of modern-day coaching. Dean Smith refined 'em. James Naismith, well, he simply invented basketball.
Now the schools these greats once coached - UCLA, North Carolina and Kansas - are in the Final Four, a once-in-a-generation convergence of three of college basketball's most storied programs on the sport's biggest stage.
March Madness? This is more like Hoops History 101 getting ready to be played out in an oversized classroom called the Alamodome, starting Saturday in San Antonio.
UCLA, the team that won 10 titles in the '60s and '70s under the guidance of Wooden - that rolled-up sheaf of game notes always in hand - will play Memphis, a team that also has a colorful and successful history, though not nearly that of the other three.
The "Wizard of Westwood" is now 97 and recovering from a broken collarbone and wrist, but almost sure to watch his beloved Bruins, in their record 18th Final Four, on TV from home.
In Saturday's other semifinal, it will be Kansas against North Carolina, a perfect matchup with a perfect story line - that of North Carolina coach Roy Williams going against Kansas, the program he left in 2003 amid shouts that he was a traitor for leaving his adopted school to return to his alma mater.
Carolina is in its 17th Final Four and Kansas its 13th.
"They gave me a chance when I was not exactly a household name. I was barely a name in my own house," Williams said of Kansas. "I have no idea what my emotions will be. I'm just ecstatic for this club right now."
And speaking of perfect: This is the first time since the NCAA started seeding teams in 1979 that all four top teams - from the South, Midwest, East and West regionals - advanced to the Final Four.
"This is one of those years where it appears from the Day One, people said there are four teams that are a little bit better than everybody else," Memphis coach John Calipari said Sunday after his team's 85-67 victory over Texas. "That's what they said. We happen to be one of those teams."
The early betting pick among these four power programs is North Carolina, listed as a 9-5 favorite at the Las Vegas Hilton Race and Sports Book. Memphis was the long shot at 3-1.
Those who picked all the favorites in their brackets are looking good. But does anyone really do that anymore?
These are the programs that were established in the 1890s, 1910s, 1920s, the ones that sell great players on their schools not only because of gleaming gyms and awesome weight rooms, but because it gives them a chance to wear the same uniforms as guys named Alcindor and Walton, Chamberlain and Manning, Jordan and Worthy.