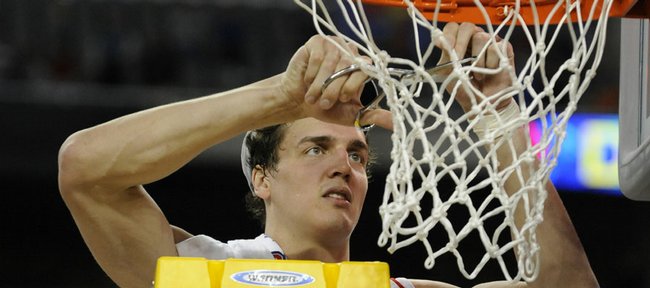 Sasha Kaun will begin his professional basketball career back in his native Russia.
CSKA Moscow over the weekend signed the 6-foot-11 former Kansas University center from Tomsk to a three-year contract.
Kaun said he would honor the contract and play in Russia next season no matter what happens in Thursday's NBA Draft.
"I'm very excited. I'm pumped about it," Kaun said Sunday night. "It's a good contract. It's a good club. This situation is great for me. I can play back home a couple years, and if I get drafted (Thursday), that team will hold my rights, and I could come back someday and play in the NBA."
Kaun, 23, is the first player from Russia to be part of an NCAA championship team.
"CSKA always keeps in its field of interests all of Russia's best basketball players, especially young ones," said Andrei Vatulin, CEO of the team. "After the win in the NCAA finals, Kaun became one of the most popular players here, but I'd like to mention that we began watching him a few years ago.
"Good big players have always been a rarity, and Sasha with his excellent work ethic can potentially grow into a player of NBA level. I think that our contract with a promising player who can become the starting center for the Russian national team is a very profitable investment. I am extremely happy that Russian fans will have a chance to see Sasha and the player himself chose to play for our team."
Terms of Kaun's contract were not revealed by the team.
"The money is great over there. Guys are making seven figures," Kaun said. "There is big demand for me to play in Russia coming from the U.S. and attending an American college, and the fact there must be three Russian players on the court (on Russian pro teams) at the same time."
Kaun will try out for Russia's Olympic team in July. Sixteen players have been invited to the national-team tryouts with three or four cuts to be made.
"The coach said if I play hard and do what I can do, I have a great chance to make it, even be playing," said Kaun, who is represented by agent Justin Zanik of New Jersey based ASM Sports.