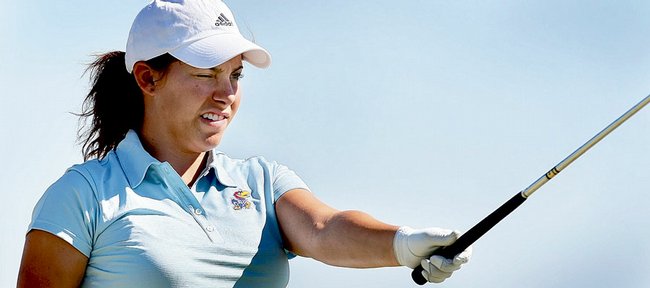 Emily Powers did her best to make it seem like she belonged among the best women's golfers in the world.
And while her deportment and play might have allowed her to blend in, the pen in her hand made her stand out.
"I saw all of them," Powers said. "I wanted to act like you're one of them. At the same time, oh my God, it's the first time I've seen an LPGA event. You're not supposed to get autographs, but I got autographs there, too. Even though I was playing in it, it was my first time."
Powers, a Kansas University junior-to-be from Quincy, Ill., competed in the U.S. Women's Open Golf Championship, which ran June 23-29 at Interlachen Country Club in Edina, Minn.
Powers shot 81-84-165 on the 6,789-yard, par-73 course. She tied for 153rd place - out of 156 golfers - and didn't come close to making the cut to stick around for all four days.
"I didn't play as well as I wanted to," she said, "but having that experience is help enough. It was the best experience I ever had. There wasn't one highlight. The whole thing was a five-day highlight, just being able to play in it, knowing I wasn't watching, that I have the ability to play with those girls. That's a highlight in itself. That's my goal in life, to play professional golf."
Curiously, Powers never before had so much as watched an LPGA event in person.
Thus, her first LPGA experience came inside the ropes - at a major, no less.
Powers' Open experience started slowly.
She opened double-bogey, par, double-bogey and shot 44 on the front nine of her first round before settling down for 37 after the turn.
"Nerves got to me," Powers said. "That start : that just kills it right there, just kills your chances a little bit. I had some good shots here and there, but there were some course-management mistakes that I made."
In the second round, Powers started on the back nine and made the turn at 7-over 44. She was 1-over through five holes on the front nine before play was stopped due to darkness. Powers returned to the course early that Saturday for the final four holes, three of which she bogeyed en route to a second-nine 40 and second-round 84.
Putts proved the killer in the second round. She hit nine of 14 fairways and 10 of 18 greens in the second round, compared to six fairways and eight greens in the first. But she needed 36 putts in Round Two, compared to 30 in the opening round.
"I think it was the inexperience and the nerves," Powers said. "I'd be lying if I said I wasn't nervous. And inexperience. I'd never played something that difficult. I wasn't used to the roughs. I wasn't used to the greens."
Technically, she wasn't supposed to be there in the first place.
At a local qualifier May 19 in West Bloomfield, Mich., Powers failed to advance to the sectional qualifier and thought her Open shot was done. She did, however, play well enough to be named an alternate for the sectional.
Literally hours before the sectional June 9 in Glencoe, Ill., Powers got the call. She recalls she was working out at the time and had less than an hour to pack up for the 5 1/2-hour drive to arrive on the eve of the tournament.
With no practice round, Powers - who had qualified for sectionals the previous two years - reported bright and early the next morning and played well enough to find herself in a nine-way tie for two spots into the Open.
"I played well, considering," she said. "I felt I was probably the biggest underdog. I didn't get a practice round. I wasn't prepared for it. It was a shock. Out of all the years I tried, the year I didn't even qualify is the year I made it. That whole weekend was kind of a blur."
The Open was not.
"It was just a wonderful experience," Powers recalled. "One memory I'll always have is the experience of being able to share it with my dad. He was my caddy. It was exciting to see all the time we put into this, and he got to be inside the ropes and experience it with me."
Powers figures her Open experience will fuel her throughout her junior year at KU.
"It motivates me even more," she said. "Now that I've seen what I need to work on, it's only going to help me. I know I really want to do that for my career. And not playing well in that setting : I don't want to be the person who finishes last. I want to be the person who finishes first."