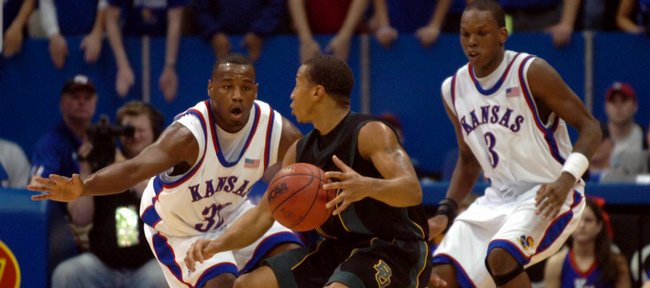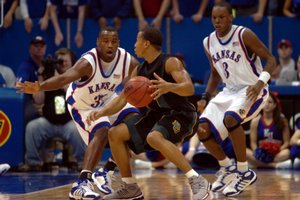 In terms of Kansas University testing itself as a basketball team, the immediate schedule plays out perfectly. The Kansas guards have fallen into a defensive mini-slump, and up next on the schedule are two Big 12 opponents featuring dangerous guards.
Baylor, today's 7 p.m. opponent in Allen Fieldhouse, features five perimeter players averaging from 8.3 to 14.4 points per game. After that game, it's on to Austin to face Texas in a Big Monday game. Longhorns guards D.J. Augustin and A.J. Abrams rank second and third in the Big 12 in scoring, averaging a combined 37.3 points per game.
"The next two games we'll probably play as good a guards as we'll play against, at least in the regular season, maybe throughout the entire season, because they're both terrific," Kansas coach Bill Self said. "Baylor's probably as deep at the guard position as anybody in the country."
Josh Lomers and Mamadou Diene split time at center for Baylor. At power forward, Mark Shepherd backs up Kevin Rogers, a 6-foot-9 junior and former high school teammate of KU's Darrell Arthur at South Oak Cliff High in Dallas. Rogers, who averages 12.6 points and 7.8 rebounds, is the only Baylor post player talented enough to crack KU's rotation.
Perimeter excellence has lifted Baylor to records of 17-4 overall and 5-2 in the Big 12.
Curtis Jerrells, a 6-1 junior from Austin, leads the Bears in scoring (14.4) and assists (3.8) and is the least accurate three-point shooter (.343) among Baylor's five guards in the rotation. Henry Dugat, a 6-foot junior out of Dayton, Texas, and three-point threat Aaron Bruce, a 6-3 senior from Australia, also start. LaceDarius Dunn, a 6-4 freshman from Monroe, La., was ranked 46th in the nation by Rivals.com coming out of high school.
In 20.5 minutes per game off the bench, Dunn leads the team in three-point field goals made and averages 11.9 points and 4.1 rebounds. His range is deep, and he has the muscle and know-how to mix it up underneath. Tweety Carter, a 5-10 sophomore from Reserve, La., was a McDonald's All-American and is the top scoring high school player in the nation's history. Carter scored 7,457 points in six varsity seasons. A feisty defender, Carter's shooting range extends well beyond the NBA three-point semi-circle.
"Bruce has been there forever, and he's hard to guard," Self started. "Jerrells is a pro, and he's hard to guard. Dugat's maybe as athletic as any guard in the league, and then you bring in Tweety Carter, and Dunn is fabulous. So they've got five really good guards. We've got five we can put out there, too, so it should be good in that regard."
Self is looking for better defensive play from his guards than he has received recently.
A failure to keep Kansas State freshman Jacob Pullen from going where he wanted to go played a part in KU's only loss of the season. Missouri's Keon Lawrence penetrated too easily in KU's victory against the Tigers in Allen Fieldhouse. Pullen and Lawrence combined for 43 points in the two rivalry games.
KU's formula for blowing out so-so opponents started with suffocating opposing guards into turnovers. As the quality of the competition improved, turnovers became harder to force, and the premium on containment, always the ultimate goal, became even greater. KU's guards didn't always make the adjustment and at times played sure-handed ballhandlers the same way they played shaky ones from weaker teams. Bad habits crept in.
"I think that's the way it is all the time," Self said. "You score points in the post when you're going against 6-4 that you can't get when you're going against 6-9. Obviously, you can gamble and teams can't make you pay if they don't have the quickness to get around you or beat you off the bounce when you do gamble. ... I think we got away from being as sound as you need to be when you're playing guys who are comparable in talent."
Was the guards' defensive domination throughout most of the season fool's gold? Self believes otherwise. Emphatically.
"We still have the best guards around," Self said. "They just haven't played to that level. You don't go from being a great defender to a bad defender in a week. There's a lot of lunging going on. There's a lot of reaching. There's forcing them the wrong way, a lot of getting beat middle. There are a lot of things that we can tighten up and improve on."
Russell Robinson usually spends more time than anybody on the opposition's primary ballhandler. He had trouble keeping both Pullen and Lawrence in front of him.
Robinson was asked to name the toughest of Baylor's five guards to keep in front of him?
"Jerrells is the toughest to keep in front of you, but Dugat is surprisingly quick and a real good athlete," Robinson said. "I'll give the edge to Jerrells, but Dugat is hard to guard, too."
Defensive breakdowns on the perimeter lead to inside players getting into foul trouble. Robinson said the team has "been in a slump," defensively and has been spending even more time than usual on defensive drills all week in practice.
"Coach calls it fishin' and missin'," Robinson said of reaching too often. "Little bit of gambling. Little bit out of synch. Help defense has not been great."
Baylor and Texas, two tough opponents in a three-day stretch, have the tools to expose any defensive deficiencies on the perimeter.
"I'd rather have them spread out, but that's what the schedule has for us," Robinson said. "What better way to do it than against the best. These two games are going to prepare us for when we play guards of this caliber in the tournament."