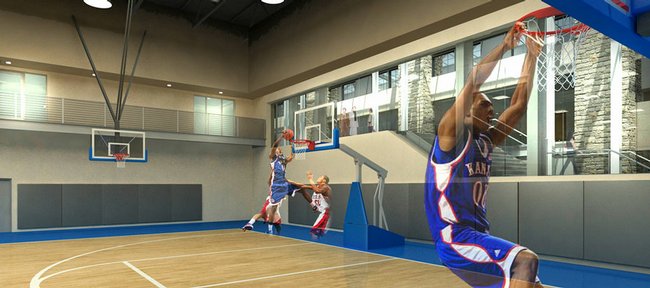 If any members of Kansas University's sports teams other than football were feeling left out, they shouldn't feel that way for long.
As the KU football team luxuriates in the Anderson Family Football Complex, its princely new home away from home, the rest of the Jayhawk student-athletes soon will get new digs of their own.
A $38 million project is under way that should bring the rest of the KU athletic facilities up to standards set by the football team's facility.
"It's for the student-athletes," Kansas associate athletic director Sean Lester said. "It's for their ease. It's for their use. : It's for all our student-athletes. It's not just for one particular sport. Every student-athlete will benefit from what we're doing."
The project, scheduled to be completed Oct. 15, 2009, is far-reaching. It includes new clubhouses for the men's and women's basketball teams; a donor atrium in the corridor between Allen Fieldhouse and Horejsi Center/Parrott Athletic Center; new locker rooms, especially for sports without their own; renovations to Allen Fieldhouse; and increased student-support areas.
The overreaching goal is to bring all the athletic-department buildings under one roof, metaphorically, at least. One indoor corridor will link all those buildings where now they're connected by a labyrinth of hallways and sidewalks.
"There is no Parrott and Wagnon - there is only the athletic facility," Lester said.
Lest anyone think the updates and upgrades are merely cosmetic, Lester says think again.
"It's needed," Lester said. "There's no doubt about it. KU's athletic facilities are behind the times. They're antiquated and need to be updated. We had significant Title IX issues. That was the driving force for all of these things. People that didn't have their own locker rooms or playing facilities - an example is rowing; tennis didn't have their own locker room here - everybody's getting their own lockers, their own playing facilities. Everything that's a Title IX-compliant issue is being addressed in this project.
"And the facilities were just old. Our coaches want to win. We want them to win. These are the assets they need."
Title IX - the federally mandated equal-opportunity legislation - might have been the impetus, but perhaps the biggest beneficiaries of the undertaking will be the men's and women's basketball teams.
The centerpiece of the project is a new, 11,600-square-foot basketball practice facility.
It will be bounded by Parrott and Wagnon Student Athlete Center on the north, Anschutz Sports Pavilion on the west, Horejsi Center on the south and Allen Fieldhouse on the east.
The facility will feature the same floor and similar lighting as the fieldhouse, a court-and-a-half setup with seven hoops, a banner of accomplishments and the floor from the 2008 Final Four court on the walls, plus a sound system into which users can connect personal MP3 players,
"It's a state-of-the-art facility," Lester said, "and NBA-type facility. The goal is to have as game-like conditions as we can possibly have."
Men's coach Bill Self likes what he has seen.
"I really believe when our facilities are done, we'll have as nice a practice and arena facility as any in the country," he said. "It will be state-of-the-art practice facility, a court and a half, not only will it be beautiful but practical and one our athletes can take full advantage of."
As it stands, both basketball programs vie for practice time in the fieldhouse and in Horejsi Center. Horejsi also is the home of KU's volleyball team.
"You have three teams trying to share two facilities," women's coach Bonnie Henrickson said. "Time really hasn't been that much of an issue, but we'll be able to schedule practice that's more conducive for the student-athlete. It will enhance the quality of life of our student-athletes, so they don't have to go at 6 in the morning.
"Bill and I have a great relationship. If we have four conflicts, he'll say, 'You take two, we'll take two.' So we're fortunate we have a great relationship, but this should make our practice time even more manageable."
And, of course, the new digs are another tool in recruiting, where keeping up with the Joneses can be just as important in an athlete's decision as playing time or anything else.
"It just speaks to the commitment of what we're trying to do here," Henrickson said. "It's a great space for players, and it will serve a recruiting element. But this is about the kids. It needs to be about the kids, taking care of the student-athletes you have in your program. We're thrilled. Between the practice facility and the locker-room renovation, we couldn't be more excited about it."