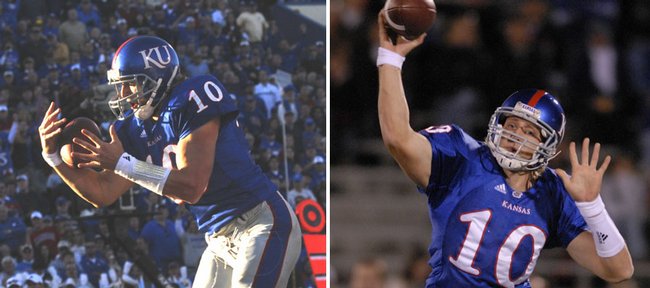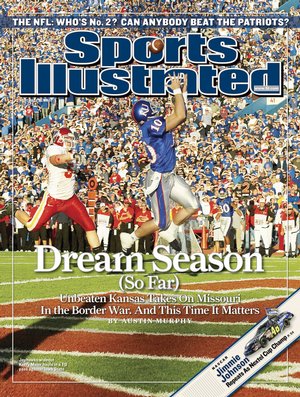 Kerry Meier could have been the poster boy for taking one for the team.
He ended up the Sports Illustrated cover boy instead.
Meier, starting quarterback for the Kansas University football team for most of the 2006 season, lost that job last year to Todd Reesing.
But the KU coaches thought Meier could help the team more on the field than the sideline, so they approached him about the possibility of becoming a slash - as in, quarterback/wide receiver - and Meier agreed.
The result was a season in which he threw for 275 yards in 13 games, rushed for 78 yards and caught 26 passes for 274 yards. He had a hand in (or on) six touchdowns - three of which he threw, one he carried in and two he caught.
And, oh yeah, he was featured on the cover of Sports Illustrated, hauling in one of those TD passes, against Iowa State.
"It was pretty surreal," said Meier, a 6-foot-3, 220-pound junior from Pittsburg. "I never thought I'd be on the cover catching the ball, but that's the way it happened."
When he learned he had lost his starting QB job, Meier put on a happy face and talked about his willingness to help the team.
But deep down, he burned a little.
The previous year, as a true freshman, Meier started eight games at QB. He completed 104 of 184 passes (56.6 percent) for 1,193 yards and a KU freshman-record 13 touchdowns.
But he lost the starting job to Reesing, and the realization his days of standing over center were numbered hit hard.
"I can't lie. It was a little tough at first," Meier said. "But at that point in time, it was, move forward or stay behind by myself and be alone. My decision was to move forward with the team and move on."
Adding a slash
The Jayhawks, no doubt, are glad he did.
And because Meier handled the two-position juggle with such aplomb, coaches concocted another slash for Meier's resume: quarterback/wide receiver/punter.
Meier had four punts last fall, too, which went for an average of 32.2 yards.
Though coach Mark Mangino insists he'd rather Meier not be the Jayhawks' primary punter this year, he stresses he'll field his best regardless.
"We're prefer if Kerry's not the punter," Mangino said, "but if he's the best punter, he'll be back there."
When Mangino talks about Meier, it's not without a bit of obvious respect.
Asked if he'd ever coached such a versatile player, Mangino said no.
"Not every player is capable of doing that," he said. "It takes an intellectual guy, where learning isn't a problem. He's the type of guy who can do that.
"It tells you Kerry has a lot of talent. He certainly does."
Enough talent to earn some sort of all-Big 12 reward? Meier earned his share of team awards last year - co-offensive player of the week (Iowa State), weight-room award, unselfish player award - but his versatility might have cost him in the league voting.
Though he completed 86.2 percent of his passes without an interception, he threw only 29. Though he averaged 10.5 yards per catch, he only had 26.
"I'm not in the prediction business," Mangino said in response to the all-league question. "I go by what I see every day. He has a lot to offer. I think he has even more to offer the program, and he'll have the opportunity to do that. He can only help our team more and more."
More and more, it looks like that help will come as a receiver, though Mangino has had Meier working mostly as a backup QB this preseason.
"We want to make sure we're a solid two-deep at the quarterback position," Mangino said.
A legitimate threat
But this wideout thing is no fluke.
Meier's intelligence, natural athleticism and insider's knowledge of pass routes - albeit from the other end of them - make him a real threat and not just a decoy.
"He's a great combination of athletic ability and intelligence," receivers coach David Beaty said. "He understands the game. I think because he played quarterback, he has a full understanding of what's going on in our scheme offensively and of what defenses are trying to do, so that gives him a little better look at what defenses are trying to do to us. That gives him a little bit better look at what defense are doing than some of our other kids on a down-to-down basis because he's had to survey the entire field."
Asked to liken Meier to a player from his past, Beaty didn't single out another slash nor a mere possession receiver.
Instead, he likened Meier to Jarett Dillard, whom Beaty coached at Rice. In 2006, Dillard led the nation in touchdown receptions, with 21. In 2007, he ranked in the top 25 in receptions (6.58, 22nd) and yards (88.08, 21st) per game. Dillard was a Biletnikoff finalist and an All-American.
"(Meier) possesses some of the ball skills he had, and he has a great knowledge of what we're doing offensively," Beaty said. "I think he can be a very productive guy for us there, and I'm really excited about having him."
One of the guys
And, believe it or not, the receivers are happy to have him in their ranks, too.
At least according to Marcus Herford, the other pass-catchers on the roster didn't give the former golden-boy slinger a cold shoulder.
"Not at all," Herford said. "I was in the same situation. I came here as a quarterback, and they moved me. He's an excellent athlete, a guy who helps the team win. We're very accepting, whether it's a freshman or Kerry Meier."
In Meier's case, they might need to be a little more accepting than normal.
Brother to three other college football players (Shad, Kansas State and the NFL; Adam, Pittsburg State; and Dylan, Kansas State), Meier marches to the beat of a different drummer.
A bongoist, to be exact.
In his media-guide biography, Meier lists being outdoors, riding a bike and playing the bongos as interests.
And it's no joke.
"A lot of the music I listen to has bongos playing in it," Meier said. "I got a couple of bongos on eBay. I do my own thing. It's a good pastime. I get my mind somewhere else, get down and let the rhythm go."