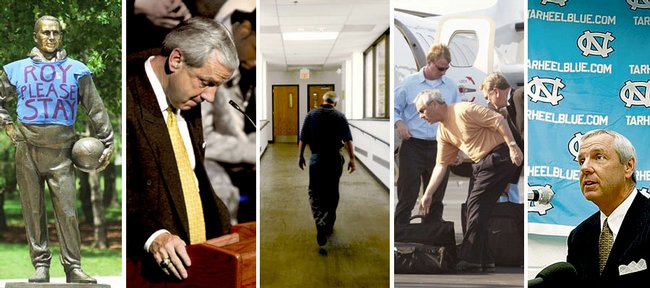 Maybe someday, say 10 years hence, the idea of a Roy Williams-led team playing against the university that gave him his first head-coaching gig might be old news.
Now, though, it's novel enough that Williams vs. Kansas University is sure to dominate talk of a Final Four loaded with college basketball royalty.
And Williams, who insists he bleeds both Kansas crimson and Carolina blue, knows it.
So Monday, for one of the first of what's sure to be umpteen times in the days leading up to Kansas vs. Carolina in an NCAA Tournament semifinal at 7:47 p.m. Saturday in San Antonio, Williams - without so much as a "dadgum" - addressed his thoughts leading up to the first Carolina-KU showdown since he left Mt. Oread for Chapel Hill, N.C., back in 2003.
"I definitely care," Williams said during a national conference call with the four Final Four coaches. "I gave some school, some basketball program, some state - whatever you want to call it - 15 years of my heart, body and soul. I'm never going to lose that. I'm never going to lose those memories. I'm never going to lose their appreciation for basketball, their passion for basketball. I'll always appreciate that."
To illustrate his point, Williams mentions his summer camps. On Day One, he said, he establishes an inviolate ground rule.
"There are a lot of little kids running around," he said. "They're instructed on the first day, they can wear Carolina stuff or Kansas stuff, but not anybody else's stuff."
Still a KU fan
Contrary to what some still bitter KU fans - and they are many, though they seem to dwindle with time - might believe, Williams still cares about Kansas.
Williams recruited fifth-year Kansas senior Jeremy Case to KU, and, he recounted Monday, he recalled young Darnell Jackson and Darrell Arthur attending games.
But most of his direct ties to the Jayhawks are gone.
Many of the same diehard fans and supporters, however, remain, and Williams was reminded of that as he watched a replay - "I Tivo'd it. I didn't want to watch all the commercials," Williams said with a laugh - of KU's 59-57 victory over Davidson that gave the Jayhawks their first Final Four trip since (you guessed it) Williams coached them to the 2003 NCAA championship game.
"They were showing sideline shots of the crowd," Williams said of the KU-Davidson game, "and I saw some people I really enjoyed cheering for my team for 15 years."
Not all of them - or the rest of the Jayhawk Nation - are so happy with Williams' success since departing KU.
The first time UNC tried to woo Williams back to his alma mater, back in the summer of 2000, a weeklong emotional roller coaster concluded with Williams' public "I'm staying" declaration, and KU fans apparently took that as a ironclad commitment to Kansas until death did them part.
Thus, when Williams accepted the second time Carolina came calling, some Jayhawks felt jilted. Many fans were livid; T-shirt sales ("Benedict Roy," "I don't give a sh-- about Roy Williams") were brisk.
Even now, those emotions still run deep, as is evidenced by the deluge of e-mails, message-board posts and phone calls whenever Williams' name or image happens to cross paths with his former school.
More than a few Kansas fans thought, "Now WE can make Roy cry," a nod to Williams' penchant for crying after tournament losses. Early in his KU career, it was an endearing sign of his commitment to the program and, especially, the players, but eventually came to become symbolic of his inability to win it all with KU.
Monday, Williams expressed hope any hard feelings eventually would pass.
"There's no question I hope so," he said. "It's something that's bothering me. I gave my heart and soul there for 15 years. I love that place and always will love that place. People pass me in the airport and say, 'Rock Chalk," and I say, "Go KU.' It should pass. The game should take center stage."
'We'll put all this stuff behind us'
Williams has been nothing but consistent on his approach to KU vs. Carolina.
In the ensuing five years, when such a showdown was purely hypothetical, to this week, when it has become inevitable, he has sounded a familiar refrain: that KU is his second-favorite school now, just as Carolina was his second favorite when he was at KU; that he'd never schedule a KU-Carolina game in the regular season; that he only would want such a showdown in the Final Four or, better yet, in the national championship game; and that he wished ol' Roy wouldn't overshadow what should be a dandy semifinal.
"Hopefully, we'll put all this stuff behind us," he said, "and it'll be about this year's North Carolina team against this year's KU team."
Not likely anytime soon.
Even Bill Self - who left his own similarly high-profile position at Illinois to replace Williams at KU - was asked about the Williams angle.
Specifically, he was asked if he was troubled that Williams talk had taken precedent over many other obvious story angles, like the fact four No. 1s make up the Final Four field for the first time in NCAA history, or that Self, after four previous Elite Eight setbacks, was going to his first Final Four.
Self just laughed.
"I'll deal with anything getting there," he said. "You could put me answering questions in a dark room with a bright light shining on me eight hours a day, and I'd love every second of it."
Then he sucked it up.
"When you leave a high-level place to go to another high-level place, five years is a pretty long time that those teams haven't matched up," he said. "Or Kansas and Illinois haven't matched up. So we've probably dodged some bullets. : This could have happened before now. But if it's going to happen, it's great to have it happen on a big stage, and this certainly will be the biggest of stages."