Julian Wright's career-high 20 points, helped Kansas claim its 17th straight 20-win season with a 76-61 victory over Baylor Tuesday night at Allen Fieldhouse.
Three other Jayhawks -- Brandon Rush (11), Darnell Jackson (11), and C.J. Giles (10) -- reached double figures as Kansas (20-6, 11-2 Big 12) picked up its 10th straight conference victory.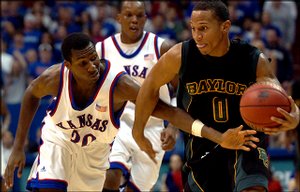 But not everything about KU's latest win, satisfied KU coach Bill Self.
"This was the worst outing we've had from an energy standpoint in a long time," Self said. "I expected it. It was a sandwich game, we had a distraction obviously with Jeff (Hawkins was cited with leaving the scene of an accident Sunday morning).
"All and all it was a win."
Kansas used a 14-1 spurt early in the first half to create some separation from the 2-11 Bears, but Baylor used a 10-0 run at the end of the half to keep the contest close.
The Bears (2-10), not allowed to play a non-conference schedule because of NCAA sanctions, avoided the blow-out by making nine of 14 three-pointers in the second half.
"We did a good job well from threes," said Baylor guard Aaron Bruce, who scored 13, while Curtis Jerrells led the Bears with 17. "They did a good job of blocking us out and forcing us into plays we didn't want to make."
The win for KU puts them all alone in first place in the Big 12, since Texas doesn't play until tomorrow night.
The Jayhawks and Self said they are ready to go to Austin, Texas on Saturday.
"I think they are a really good team. They have all kinds of offense weapons and rebound pretty well," Rush said. "They also have P.J. Tucker, leading the league in rebounds. We're just going to go down there and focus. We haven't had a big game like this on the road. We have played in some hostile environments previously and we've been through a lot. We put ourselves in big game situations during practice. Coach (Self) has really been putting the emphasis on defense and we'll be ready and prepared."
Chalmers scored an easy lay-in off a steal in the back court.
Self agreed, but said that Saturday's contest is not a winner-take all.
"It's a big game for both teams. I told our guys that it's not a win-or-take-all game, but the winner is definitely going to be in the seat to have a chance to win it out-right, or at least have a chance to share it," Self said. "Both teams still have two tough games left. It's game day though, and we're going to have to recharge these next few days and go down there and play with poise."
Second Half Action
Kansas' Sasha Kaun got the Jayhawks on the board to start the second half with a free throw.
But the KU big man missed three of four charities to start the second 20 minutes.
Julian Wright got an alley-oop from Mario Chalmers to put KU up 38-25 two minutes into the second half.
Wright was credited with another basket on a goaltending call.
Patrick Fields got the Bears on the board three minutes into the second half. Tommy Swanson then hit a three-pointer to cut KU's lead to 40-30.
Wright added his 14th point on a bank shot that rolled around the rim before finally dropping through the cyclinder.
Swanson scored for Baylor.
Rush hit a free throw and C.J. Giles added four charities to put KU up 49-32 with under 13 minutes to go.
Giles hit a long jumper from inside the circle.
Curtis Jerrells hit a three for Baylor, but Rush answered with a drive to give him 11 points.
Darnell Jackson scored on a jump hook to give the Jayhawks thier biggest lead of the night at 55-35 with under 10 minutes to go.
Jerrells had a three-point play when he scored on a drive and was fouled.
Jackson added a long jumper for the Jayhawks.
Aaron Bruce hit back-to-back three-pointers for Baylor.
Robinson answered for Kansas with a triple of his own.
Chalmers answered a Fields three with one of his own, then he hooked up Wright for an easy basket. The score gave Wright a career-high 16 points.
The KU freshman added another basket down low to put KU up 72-53, then was rewarded with another pass by Robinson that he dunked home.
Roderick Stewart added a basket off a Moody miss to put KU up 20.
KU will win its 10th straight Big 12 game and 20th victory of the year in a 76-61 win over Baylor Tuesday night at Allen Fieldhouse.
Halftime
Related Content
Kansas looked like it might just run away from Baylor Tuesday night at Allen Fieldhouse as the Jayhawks used a 14-1 run to grab a 31-13 lead.
But a 10-0 spurt by Baylor got the Bears back into the contest, as BU trails 33-25 at the half.
Brandon Rush led KU, which hit five three-pointers in the first half, with eight points, while Russell Robinson and Julian Wright each scored six.
Tommy Swanson led the Bears, which hit 35-percent from the field, with eight points.
KU outrebounded the Bears 21-14, but also had two more turnovers than Baylor with 11.
First Half Action
Baylor won the tip and Tim Bush hit a baseline jumper to give the Bears a 2-0 lead.
Julian Wright missed KU's first shot, and BU's Aaron Bruce stole the ball and scored on a lay-up.
Sasha Kaun got the Jayhawks on the board with a short shot in the lane.
Curtis Jerrells hit another jumper for the Bears, as Baylor as not missed a shot yet and leads 6-2.
Mario Chalmers couldn't get a shot to fall.
But Baylor turned the ball over as Chalmers came up with a near steal and BU was ruled for over and back at halfcourt.
Russell Robinson hit a three from the top of the key to cut KU's deficit to one.
Baylor followed with another turnover.
Chalmers gave Kansas its first lead , 8-6, with a three-pointer from the left corner.
Wright scored on a reverse lay-up off a pass from Robinson as KU is on 8-0 run.
Bush hit a free throw for BU to make the score 10-7.
Robinson hit another three to make the score 13-7 with 15 minutes left.
Rush hit KU's fourth trey, knocking down the triple from the left side off a inside-outside pass by Kaun. KU is on a 14-1 run in the last 2:30.
Tommy Swanson hit a high shot off the backboard.
Jerrells scored on a drive to the basket.
Darnell Jackson followed a missed KU jumper with a big dunk.
Jackson got another lay-in to roll in. C.J. Giles hit a midrange jumper to put KU up 22-11.
Wright scored on a shot down low for the 24-11 lead.
Kaun followed a Jeremy Case missed three-pointer with a putback down low for the 26-11 lead.
Bush hit a pair of free throws for Baylor.
Rush hit a pair of free throws off an intentional foul, and then knocked down a three-pointe from the right side to put KU ahead 31-13.
KU has hit 12-of-23 field goals, while the Bears are shooting just 5-of-18.
Henry Dugat hit a three for the Bears to give BU a 7-0 spurt.
Swanson hit an off-balance shot in the lane that counted, then hit the ensuing free throw to give Baylor a 10-0 run. The Bears have cut the game to 31-23.
Wright ended KU's drought with a tip-in with under a minute to play.
Kevin Rogers got a putback to cut the score to under double digits for Baylor.
Case missed a long three at the buzzer to make the halftime score 33-25.
Pregame
Kansas (19-6, 10-2 Big 12) brings a nine-game winning streak into tonight's battle against Baylor (2-10, 2-10). The Jayhawks have won 16 of their last 18 games and at 10-2 in Big 12 play, are tied for the conference lead with Texas (22-4, 10-2).
Baylor, which did not play any nonconference games because of past NCAA probations, is looking to snap a three-game losing streak tonight.
"I think, without question, it hurt them more than what people probably thought," KU coach Bill Self said. "I saw early on some said they'd have an advantage because teams won't know what they are running. They won't be as well-scouted. That's true, but there's no substitute for experience. That's shown by the way they've been playing so much better since they've gotten some minutes under their belt."
The Bears have lost three straight after their 64-40 home loss to Texas A&M; Saturday. BU has posted conference wins against Kansas State -- 72-70, in overtime on Feb. 1 -- and Missouri -- 90-64, on Feb. 7. Like Kansas, Baylor is a young team consisting of nine players who are freshmen and sophomores.
Freshman Curtis Jerrells leads the team in scoring at 12.3 points per game. The guard also leads the team in assists with 39 and steals with 17. Sophomore guard Aaron Bruce is next in scoring with an 11.4 average. He leads the team with 32 three-point field goals made. Redshirt freshman center Mamadou Diene leads the team in rebounds with 5.6 per game and blocked shots at two per outing. Baylor is celebrating its 100th year of men's basketball in 2005-06.
"I'm a positive and optimistic person," third-year Bears' coach Scott Drew said, "but it's really hard to find positives and optimism in not having a nonconference schedule, especially with our situation.
"Playing a bunch of new guys who haven't had a chance to adapt to college basketball, and then you're giving them the toughest schedule in America (all Big 12 games), is tough," Drew said.
"You don't know what to practice as much until you play games. We thought we were doing a good job rebounding, then we play the first couple games and get beat up on the boards. Now, we're doing the same rebounding drills, but there's a lot more intensity in practice because they believe they have to get better because they just saw how they got beat on the boards.
"You just hope it's a situation that no one else has to get through."
Kansas is coming off a 79-46 victory against Border Showdown foe Missouri Saturday. At 19-6 overall and 10-2 in Big 12 play, the Jayhawks have won 10 or more conference games for the last 12 seasons. They are the only Big 12 team to have won 10-plus league games every season as the conference celebrates its 10th anniversary in 2005-06. In their current nine-game winning streak, the Jayhawks are making nearly 50 percent of their shots (49.7) and 73.7 percent of their free throws.
Brandon Rush leads the Big 12 freshman class in scoring at 14.3 points per game. Rush also leads KU in rebounding with a 6.1 average, good for 12th in the league. He also leads the team with 35 three-point field goals made this season. Freshman Mario Chalmers is next in scoring at 10.8 points per game. He is tied for the Big 12 lead in steals with 2.64 per game and his 3.96 assists rank seventh in the league, just ahead of teammate Russell Robinson's 3.76 per game.
Robinson and fellow sophomore Sasha Kaun are next in scoring at 8.7 points per game. Kaun ranks 13th in the Big 12 in rebounding at 5.8 per game. Freshman Julian Wright is averaging 9.6 points per game in KU's nine-game winning streak and 7.9 overall.
Rush said he can empathize with Baylor's young players.
"Man, that would be tough," Rush said. "Just practicing against the same players every day would be pretty boring."
Kansas leads the overall series with Baylor, 10-1, and has won four meetings dating back to 2002. This series dates back to 1951 and the Jayhawks are 6-0 against the Bears in games played in Lawrence.
Last season, KU connected on a school-record 16 three-pointers, including a 5-for-5 effort from current senior Jeff Hawkins, in an 86-66 win in Waco. Baylor's win in the series was on Feb. 12, 2001, an 85-77 upset of then-ranked No. 5 Kansas.