Now that Kansas University football fans can expect to see more of The Next Great Thing, there's less of The Next Great Thing to see.
Rodney Allen - who made headlines in the offseason when KU defensive coordinator Bill Young predicted Allen would be as talented of a defensive lineman as Kansas has had in the Mark Mangino era - is expected to play a larger role on the Jayhawks' defense this fall, even if he is smaller.
Allen, a senior defensive end from Miami and Garden City Community College, now carries 280 pounds on his 6-foot-3 frame.
That's still 15 pounds heavier than his NJCAA All-American season as a sophomore at Garden City, but it's also 10-15 pounds lighter than last year.
"I was too heavy," Allen said. "I was up to 295, played at 290. That's not an end's weight. I just couldn't stop gaining. I think 280's just right for me. Now I'm lean and mean and ready to do some damage. Now I'm the right size. I've got the power, the speed to do some damage."
Allen did plenty of damage last season despite his limited role.
Though he played in all 12 games and made two starts, he played primarily in third-down bandit packages.
He finished with just 18 total tackles but seven tackles for losses, including a sack.
Despite a lack of downs, Allen nonetheless earned honorable mention to the All-Big 12 Conference team.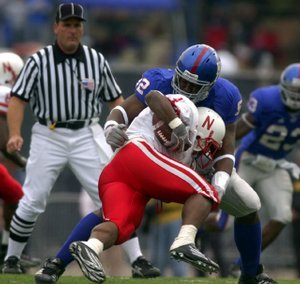 All of which raises the question: If Allen could do so much with so few opportunities, wasn't he underutilized last season?
"No," he said without hesitation. "I wasn't ready. I came in late. I was too out of shape. I weighed too much, and I didn't have all the calls down pat. I could have played much better. I came in late, so I had troubles with the calls. I was new to everything, but now I've got everything down pat. I'm ready, ready to go."
Hence, Young's bold offseason proclamation.
His statement in a summer article about the KU defense ran under the headline, "The next great thing?"
Allen saw the story and is eager to remove the question mark.
"It made me feel good, but I have a lot of things to prove, to the team and to me," Allen said. "I didn't do much last year. I still have to prove that I am the real deal. I can pass-rush. We have to prove Kansas football is the real deal, that we are a force in the Big 12. That's about it."
Despite the loss of eight starters and concerns about depth at just about every position, Allen is confident the Jayhawks can prove their turnaround from one of the league's worst defenses just a few years ago to one of the nation's best last year was no fluke.
"I like the expectations. There are a lot of eyes on us. Now we get to show everybody how good we are," he said. "It's the same as last year. We're very confident. We have a little swagger to us still. It's talent. The linebackers, line : everybody's fast, faster. There's a lot of talent there. But there are doubters. I love the doubters. The doubters push me even more. I've been dealing with that all my life."
Allen hopes not to have to deal with the sting of not being drafted into the NFL, a concern that hit close last year. Charlton Keith had 61 total tackles last season and led the Jayhawks with 23 tackles for losses, including nine sacks.
His name wasn't called on draft day.
"It surprised me and scared me, too," Allen said. "To see him not even get drafted : I have to do a lot just to get drafted. That's motivation for me, too."