J.R. Giddens is back in Lawrence.
Giddens, wearing a protective boot and his trademark headband, was greeted by a police officer at the Douglas County Judicial & Law Enforcement Center at about 11:15 a.m. A police spokesman said Giddens was picking up items - including a set of keys - taken by the police the night of the Moon Bar incident.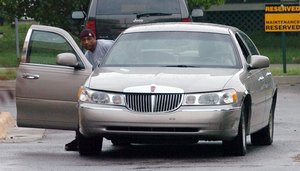 Both police and prosecutors denied that Giddens was at the law enforcement center to give additional information for the investigation into the incident.
Douglas County Dist. Atty. Charles Branson denied that Giddens was visiting his office while prosecutors determine what - if any - charges to file in the fight that injured Giddens last month. A police spokesman said his department did not interview Giddens today.
"He's already been interviewed," Police Sgt. Dan Ward said.
The Kansas University basketball guard was stabbed outside the Moon Bar last month during a fight that later became the subject of a police investigation. Police recently forwarded their investigation report to the district attorney.
After the stabbing, which left the player with an injured calf, Giddens went home to Oklahoma City to recuperate.
Giddens left the D.A.'s office about 11:45 a.m. without speaking to reporters. He was driven away from the Law Enforcement & Judicial Center by an unidentified older man wearing khaki pants and a polo shirt. The pair were riding in a bronze Lincoln Towncar.