Before their pickup game at Kansas University men's basketball coach Bill Self's Parent-Child Camp, former Jayhawks Mike Maddox and Chris Piper promised not to run.
The pact lasted about five seconds.
Once he hit the court, Maddox took off full speed, and from there it was all smiles for the 1988 national-champion teammates as they went head-to-head in the post.
"All of a sudden, he was moving and making cuts," Piper said. "It wasn't fair."
During the 10-minute game, the former Jayhawks played well. Piper hit deep jump shots, and Maddox threw down a pair of violent dunks.
So what if they were on 71/2-foot rims?
"I'm going to tell everybody it was 10-foot basket, but I think it was closer to a 6-foot basket," Maddox said with a laugh. "I think I had about a two-inch vertical both times."
For both, the objective was spending time with their children at the two-day camp.
Maddox attended with 4-year-old son Anderson.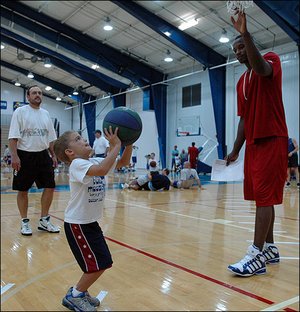 "That's the best part, just spending the day with him out here on the floor," Maddox said. "It lets him be around the current players. We're just having a great time."
Piper said he and 6-year-old daughter Madison each appreciated their time at the camp.
"It's a lot of fun, and it's great for the kids to have a chance to get out," Piper said. "I think more importantly it not only gets them involved in basketball, but also involved in Kansas basketball."
Patrick Richey, a contributor on Kansas' 1991 and 1993 Final Four teams, also was present Saturday with his brother and nephew.
"It's pretty cool, having guys like that around and bringing their kids," Self said. "It's always good to get those guys back."
KU assistants Tim Jankovich and Kurtis Townsend and their children also participated.
Maddox said so many players returned to KU because of the strong ties Self kept with basketball alumni.
"It's a tribute to coach Self, who is very welcoming of the former players," Maddox said. "He does such a great job of making everybody feel like a part of the program."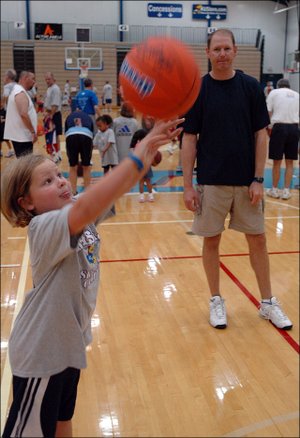 Piper said he always felt comfortable at his alma mater.
"It's always a place you can come back to," Piper said. "A lot of people here still remember Mike and myself, which is a surprise and an honor itself. But it's more about the kids, getting them involved, and having some fun."
The pair had fun with their children -- even if their bodies didn't always cooperate during the pickup game.
"That's the first time I've touched a ball in about seven years," Piper said. "It was a little rugged."
All Jayhawks eligible: Self said junior guard J.R. Giddens would be academically eligible if he returned to the team next season.
"J.R.'s a very good student -- he's been in good academic standing," Self said. "Although I can't legally comment on exactly where guys are academically, we have no players in our program that need to go to summer school to be eligible. All our players are eligible."
KU had 11 men's basketball players with 3.0-or-higher grade-point averages last season.
Coach dunks, too: Self showed his basketball skills, contributing two dunks on the shortened goal but air-balling his only three-point attempt.
"I wasn't good and loose yet," Self said with a laugh.