Seventeen-year-old Corey Bowen was exhausted before he even set foot on campus this week for Kansas University coach Bill Self's basketball camp.
That's what a car trip from Wichita will do to you.
"It was a long ride," Bowen said with a laugh.
"I was tired when I got here."
Despite the drive and the drowsiness, the senior at Wichita West High said his first trip to Self's camp was worth it.
After attending other basketball camps, such as Wichita State's, Bowen was pleased with the personal instruction he had received in Lawrence.
"Here, they give you more individual attention," Bowen said. "At Wichita State, it's more like a group thing. They really don't give you individual, one-on-one attention."
Giving the 900 campers that attention is important for KU basketball graduate assistant Brett Ballard, who works with the young players and oversees much of the camp.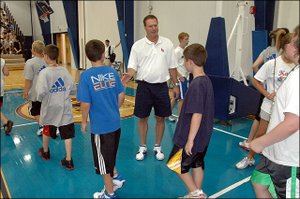 A former walk-on guard at KU from 2000 to 2002, Ballard knows the camp's impact on young players: He once was in their shoes.
"I came to camp one time when coach (Roy) Williams was here, and I really had a great experience," Ballard said, "so I just try to make sure every kid has the same experience I had."
Some campers enjoy the week so much they come back.
That was the case for 13-year-old Max Aubry of Overland Park, who returned this week after attending last week's festivities.
Aubry said he liked meeting new people and also the opportunity to meet the Jayhawk players, even emulating his game after his favorite KU player, Keith Langford.
"Sometimes I drive in and stop at the free-throw line and shoot," Aubry said. "He's a smart player."
Fifteen-year-old Mathew Justus from Lincoln, Neb., already standing 6-foot-7, attended the KU camp to improve his skills after attending camps in Nebraska.
Wearing a Duke T-shirt during pickup games, Justus emphasized KU was a close number two on his list of best-liked teams.
"Duke's my favorite, but I follow Kansas a lot," Justus said, "because they're a lot better than Nebraska."
Ballard said the camp's end result was a rewarding week for players and coaches.
"A lot of kids get to come and learn how to play basketball the right way - they just learn how to play Kansas basketball," Ballard said. "I definitely get great enjoyment out of giving back to these kids."