Moments after Gary Woodland's five-foot putt dropped, partner Tyler Docking was the first to shake his hand.
"After he made that putt," Docking said, "I asked him how it felt to win two championships in two days."
Weary, for one thing.
"I was tired," Woodland confirmed after he and Docking had toppled Chris Mabry and John Kelly to win the delayed KGA Four-Ball golf championship Monday morning at Alvamar Golf Course.
On Sunday, Woodland had edged Tyler Shelton, one up, in a grueling eight-hour, 36-hole match in mid-90 degree temperatures at Manhattan's Colbert Hills for the Kansas Amateur title.
On Monday, Woodland was at Alvamar for resumption of the KGA Four-Ball that had been suspended after 30 holes on June 12 because of rain.
Docking, knowing his partner and Kansas University teammate had played those two sun-baked rounds Sunday, wasn't surprised when Woodland showed up a little late Monday morning.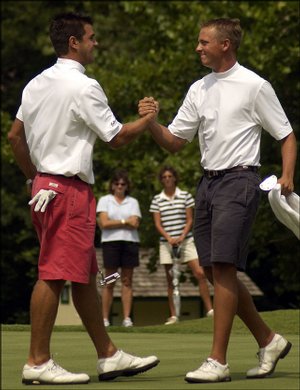 "He said he overslept a bit," Docking said. "He was tired."
Woodland showed up expecting to play six quick holes, then go home to Berryton. Instead, he and Docking had to play four extra holes of sudden death before his putt ended it.
On that decisive 40th hole (Alvamar's No. 16), Woodland's drive on the par-four landed just 30 yards from the green. Minutes later, he chipped to within five feet of the cup pin high to set the stage for a dramatic finish.
Mabry was away, and he just missed a 40-footer for a birdie.
"I don't know how that putt didn't go in," said Mabry, a Missouri University senior-to-be from Leawood.
Next to putt was Docking, and the KU junior-to-be from Olathe promptly lipped a 22-footer. Then it was Kelly's turn and the MU golfer, who had made a special trip from St. Louis, was short on a 12-footer.
That left it up to Woodland, and he drained the five-footer, ending his 46 holes of competitive golf over about a 28-hour period.
"It was nice to get this one over with," said Woodland, who had teamed with former KU teammate Kevin Ward, now a pro, to win the 2004 KGA Four-Ball. "To come out here and grind it out and win was nice."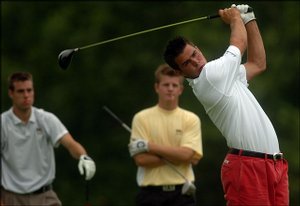 Mabry, for one, was impressed Woodland did not show up Monday with an empty tank.
"He was probably still on a high from Sunday," Mabry said. "He played well. I'm glad he won : not this tournament, the Kansas Amateur."
Woodland, incidentally, had defeated Mabry, two up, during last week's match play competition at the Kansas Amateur.
With his back-to-back titles, Woodland, a Shawnee Heights product who will be a KU junior this fall, clearly has established himself as the pre-eminent golfer in the Sunflower State.
"He's becoming a clutch player," said KU golf coach Ross Randall, who watched Woodland play Sunday in Manhattan and again Monday at Alvamar. "He made some key short putts yesterday and three or four today."
Woodland's pressure nine-footer on the 36th hole had sent the match into sudden death.
"Gary has improved so much focus-wise in competition," Randall said. "He's won every tournament he's entered - the Topeka City, Kansas City Stroke Play, the Kansas Amateur and now the Four-Ball."
As crucial as his putting was Sunday and Monday, Woodland's driver remains his primary club.
"Golf has become a distance game," Randall said, "and Gary has more distance than just about anybody. It's like being 7-foot-1 and playing basketball. You can't coach that."
Woodland will return Monday to Alvamar for a U.S. Amateur qualifier - a 36-hole event scheduled on both the public and private sides.
Between now and then, Woodland will practice, of course, but not until today at the earliest. He took the rest of Monday off.
"I'm done when the clubs go in the car," he said, smiling.