This time, Roy Williams simply could not say no to the call of his alma mater.
Williams, who compiled a 418-101 record in 15 years as men's basketball coach at Kansas University, was introduced Monday night as coach at the University of North Carolina -- three years after the Asheville, N.C., native declined a similar offer from the Atlantic Coast Conference school.
"I was a Tar Heel born. When I die, I'll be a Tar Heel dead. But in the middle, I have been Tar Heel and Jayhawk bred, and I am so, so happy and proud of that," said Williams, a 1972 UNC grad who was welcomed home with an eight-year contract good for $260,000 per year plus incentives that should push the deal closer to $2 million per annum.
At KU, Williams was paid a base salary of about $130,000, with a total package valued at more than $1 million a year.
"Other than serious injury or death to my family, I've never had anything more difficult than what I've been through this afternoon with my team, and telling those 13 young men that I was leaving them," Williams said at a Chapel Hill news conference five hours after a tearful team meeting at Allen Fieldhouse in which he told his Jayhawk players he'd no longer be their coach.
Painful decision
The team gathered to hear the news exactly a week after Williams led them to the NCAA national championship game. And his decision came just five days after KU fired athletic director Al Bohl, who had a tense relationship with Williams and blamed the coach for his dismissal.
Williams' decision -- which he made upon landing early Monday in Lawrence after a weekend trip to Los Angeles and finalized with a call to UNC athletic director Dick Baddour at 9:30 a.m. -- was painstakingly difficult, he said.
"I got up a couple nights throwing up," Williams said of the past week, during which he'd pondered the possibility of taking over for former KU assistant Matt Doherty.
Doherty resigned under pressure April 1.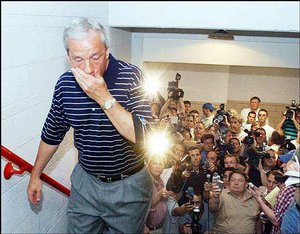 "There were several factors," Williams said, "my roots, my dream and my family."
And one other thing.
"The respect I have for coach Smith ... it's hard to say no to him twice even though I knew he wanted me to do what I wanted to do," Williams said of his mentor, KU grad and UNC coaching legend Dean Smith, who three years ago and again this week invited Williams to return home.
Both Williams and his wife, Wanda, have extended family in North Carolina, including their son, Scott, in Charlotte.
'Welcome home'
Introducing Williams in Chapel Hill, Baddour said, "We have the best coach in America." Moments later, James Moeser, UNC chancellor and a former KU professor and dean, said, "Welcome home, Roy."
KU assistants Joe Holladay and Steve Robinson joined Williams in North Carolina, leaving full-time assistant Ben Miller and administrative assistants Jerod Haase and C.B. McGrath in Lawrence to support the current players until a new coach is named.
Williams said he hoped Holladay would be considered for the KU head coaching job, but would bring him to Carolina if he's denied the Jayhawk position.
Williams said other members of his staff could ultimately join him in Chapel Hill.
"The last time I decided to stay it was because I thought it was the right thing to do," said Williams, who added that his mother, the late Lallage Williams, always taught him to "do the right thing" even if it was not what he "wanted to do."
What KU now needs to do is hire a new coach.
Chancellor Robert Hemenway, while wishing Williams well, said an aggressive search would begin immediately, led by interim athletic director Drue Jennings with assistance from Hemenway and senior athletic department administrators. They'll be hunting for just the eighth coach in KU history -- and the third in the past 20 years.
Impressive history
"KU has a tradition second to none in college basketball," Hemenway said in a prepared statement. "We also have a strong winning record, outstanding returning players and a devoted base of fans and supporters. We intend to talk to the very best coaches in the country about this opportunity, and we will make a decision quickly."
Illinois' Bill Self is thought to be the leading candidate, though no KU officials would discuss specifics Monday, a day in which prepared statements were the norm.
Jennings was to meet with the media this morning.
"We are committed to moving as quickly as possible in finding the right person to provide leadership for our basketball program," Jennings said in his statement.
Williams leaves behind an impressive history. In his 15 years at KU, Williams became the most victorious active coach in major colleges, taking the Jayhawks to 14 straight NCAA tournaments, four Final Fours and two national title games.
Hemenway said he was sorry to see Williams leave.
"I respect Roy's decision, which I know was not an easy one for him to make," the chancellor said. "While this is sad news for all of KU basketball and all friends of this university, his final decision was a personal one, and we must accept it.
"His departure is a loss for KU," Hemenway added, "not just because we love basketball and the historic traditions associated with Allen Fieldhouse and our program. Coach Williams has given outstanding service to this university and to the wider community in so many ways during his 15 years in Lawrence. His character and leadership are models of all that is good about intercollegiate athletics in this country. We extend our deep and heartfelt gratitude to an extraordinary coach, teacher and human being."
Praise for KU, Kansas
Williams repeatedly praised KU during his press conference in Chapel Hill.
"The great people in Lawrence who love KU made me feel I was not an adopted one, but one of theirs," Williams said. "Being in middle America, Kansas doesn't get the respect it should. The University of Kansas, Lawrence and the people there made me feel lucky to go to work each day."
So lucky, he said, it was hard to say goodbye.
On Friday, just four days after KU's appearance in the national title game, Williams said, he was prepared to call Baddour and take the UNC job. But he changed his mind after glancing at a picture of KU signee Omar Wilkes in his den.
And Sunday in Los Angeles, he nearly called Baddour to decline the job after visiting with Nick Collison at the Wooden Award ceremony in Los Angeles.
Finally, he accepted the offer after much deliberation.
"There are two great places where I wanted to coach," Williams said. "The last time I decided to stay because it was the right thing to do. This time I decided to leave because it was the right thing to do. I thought I made the right decision three years ago. The second time, this decision I feel I made the right decision as well."
His parting words to the media before leaving Allen Fieldhouse to fly to North Carolina were equally emotional: "Each and every day I've been here, you guys have been fantastic," he said, shaking hands with several media members and fans.
As he left, Williams walked by a sign in the upper reaches of Allen Fieldhouse saying, "There's no place but home."