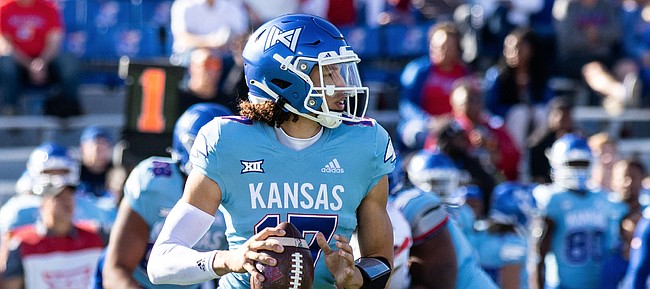 Through the first third of the Big 12 schedule, the struggling Kansas football offense hasn't found much success through the air. In the weeks ahead, head coach Lance Leipold said, the Jayhawks are looking for more consistency in their passing game, and they think that can be achieved with improved decision-making by quarterback Jason Bean.
"Jason's unhappy with his performance," Leipold said, "and (QBs coach) Jim Zebrowski keeps working with him on those things, being comfortable and confident."
So far, Bean's best outings in a KU uniform have come against nonconference opponents. Against South Dakota, Coastal Carolina and Duke, the 6-foot-3, 189-pound junior averaged 225 passing yards a game and completed 58.5% of his throws (48-for-82), with four touchdowns and two interceptions combined.
In Big 12 games, though, Bean is averaging just 85.7 passing yards, going a combined 29-for-58 (50%) for 257 yards, with one touchdown and two interceptions versus the likes of Baylor, Iowa State and Texas Tech.
As Bean has heard from his coaches, the QB said he knows he needs to trust his decision-making process on passing plays. The steps he is taking to make that happen include watching extra game clips, meeting with the receivers to talk about the routes they're running and conversing with offensive linemen about protections — all with the goal of delivering passes down the field in mind.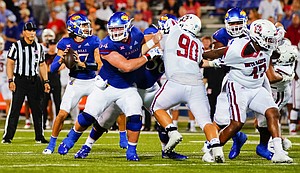 Bean, who joined the program this past summer as a transfer from North Texas, said he also spends time with receivers before and after practices so they can get their timing down on specific routes and throws.
During practices, Bean and the KU offense go against the scout team every day, too, so the Jayhawks (1-5 overall, 0-3 Big 12) can familiarize themselves with the types of looks and coverages they will see in the next game.
Bean, who hasn't thrown a TD pass in either of KU's two most recent losses, said he's putting in the work to try and improve himself as a QB in the weeks ahead.
"I think for me the main thing right now is trying to be more consistent with the stuff that I do," Bean said. "Just being consistent with the types of drops that I take and the balls that I throw to the receivers."
Leipold said the problems within the passing game aren't all tied to Bean. KU's head coach thinks inconsistencies within an entire offense can make a QB tentative.
"And he has been hesitant with some of the things and kind of — not kind of — he stops trusting his training, what he can do," Leipold said. "And all of the sudden it becomes plays that we don't want. And we're not getting those results."
Midway through the season, Bean has completed 77 of his 140 pass attempts, for 932 yards, with five TDs and four interceptions. Looking at Bean's 55% completion percentage, offensive coordinator Andy Kotelnicki would like to see that number improve.
"By no means is there any statistical evidence to support what I'm about to say, but I always feel like if you're north of 60 (percent) you're probably playing and calling that game the way you want to," Kotelnicki said.
Bean's best day against FBS competition came at Duke in Week 4, when he went 19-for-32 (59.4%) through the air for 323 yards and two touchdowns. He also had two interceptions in the road loss.
Percentage wise, his best game in the Big 12 to date was this past Saturday versus Texas Tech, when he went 11-for-21 (52.4%), with an interception.
Kotelnicki said the staff reflected internally recently to make sure Bean's practice reps are setting him up for game day success. The O.C. said the offense has to do an even better job of training and preparing Bean to make the easy completions KU will need during games.
Asked if there is a particular statistic that he likes to reference when gauging a QB's success and progress, Kotelnicki said he ultimately cares most about wins and losses.
"What are you doing to help us win the game and lose the game? Turnovers are big," he said. "One that statistically you wouldn't see, but mental errors. How are you doing managing the game, or what are you doing to allow us as an offense to put stress on a defense with how you do things?"
It's easy to look at stats such as completion percentage and TD to interception ratio, Kotelnicki said, but he thinks a QB's job is to help get the team in the win column — whether that comes by throwing 50 times or handing it off 60 times.
"Whatever's necessary, are you able to do it?" Kotelnicki said.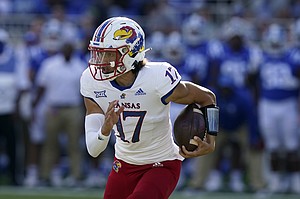 Part of what made Bean more successful earlier in the season was his ability to improvise and take off for a long run. He rushed for 50 or more yards in each of KU's first four games. As a runner in KU's three lopsided conference losses, though, Bean is averaging 31.7 yards per game on 22 combined carries with no rushing touchdowns.
While he is averaging 4.3 yards per carry in league play, Bean explained that many times recently — he only ran for 19 yards at ISU and 14 versus Tech — opposing defenses aren't providing many escape lanes for him out of the backfield.
This past week, the Red Raiders kept defenders outside, Bean said, and they made a point to keep him contained and in the pocket so he could neither extend plays nor exploit the defense as a runner.
"We've just got to find ways to make it happen," Bean said.
Leipold pointed to Bean's five carries for 14 yards against Tech as an example of opponents game-planning to keep Bean form being at his dual-threat best as a QB.
"We've got to continue to use his legs as a weapon," Leipold said. "And he's got to have confidence in that, as well. So holistically it's got to get better."
KU, which has league-worst averages of 9.3 points, 104 passing yards and 247 total yards per game in Big 12 play, faces No. 3 Oklahoma on Saturday at David Booth Kansas Memorial Stadium (11 a.m., ESPN).
Jason Bean's passing stats — first 6 games
• South Dakota: 17-for-26 (65.4%), 163 yards, 2 TDs
• at Coastal Carolina: 12-for-24 (50%), 189 yards
• Baylor: 8-for-17 (47.1%), 57 yards, 1 TD
• at Duke: 19-for-32 (59.4%), 323 yards, 2 TDs, 2 INTs
• at Iowa State: 10-for-20 (50%), 120 yards, 1 INT
• Texas Tech: 11-for-21 (52.4%), 80 yards, 1 INT
— Totals: 77-for-140 (55%), 932 yards, 5 TDs, 4 INTs
Jason Bean's rushing stats — first 6 games
• South Dakota: 15 runs, 51 yards
• at Coastal Carolina: 13 runs, 100 yards, 2 TDs
• Baylor: 12 runs, 62 yards
• at Duke: 15 runs, 54 yards
• at Iowa State: 5 runs, 19 yards
• Texas Tech: 5 runs, 14 yards