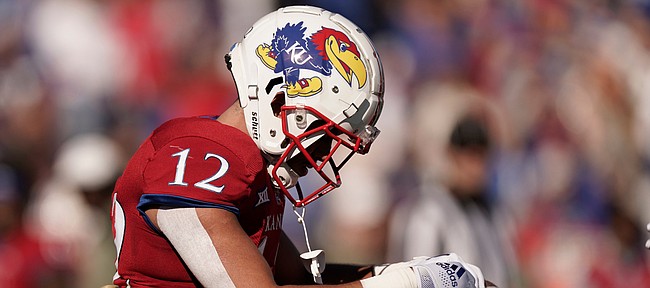 The Kansas football team's quarterback room isn't the only one experiencing shrinking numbers late in the season.
"It's bigger than our running back room," head coach Lance Leipold said Monday, while discussing injury issues for the offense.
The Jayhawks lost not only No. 2 QB Miles Kendrick, but also second-string running back Torry Locklin to season-ending lower leg injuries — both the result of hits the KU skill players took during the team's home loss to rival Kansas State this past Saturday.
While injuries to both Kendrick and starting QB Jason Bean (currently questionable for this week's game at Texas) over the weekend marked the first time this year the Jayhawks ran into problems at that position, Leipold and his staff have been dealing with various issues at running back since the start of the preseason.
First, returning starting running back Velton Gardner had to miss the first seven camp practices in August. Then, before KU even completed camp, sophomore Daniel Hishaw Jr. had his season lost to injury before it even had a chance to get going.
A nagging preseason injury also limited the availability of redshirt freshman Amauri Pesek-Hickson during August practices, and that continued into the early portion of the season.
Locklin, who began the preseason as a receiver, joined the running backs group in August to bolster its depth.
Then, after just three games, all of which Gardner started, the junior abruptly left the team and entered the transfer portal.
Since then, true freshman Devin Neal has been KU's No. 1 running back. But as the Jayhawks (1-8 overall, 0-6 Big 12) head into their game at Texas on Saturday (6:30 p.m., ESPNU), Neal and Pesek-Hickson are the only two players left standing from a position group that in the summer projected to be the team's deepest.
A 5-foot-11, 210-pound true freshman, Neal's 120 carries, 505 rushing yards and four rushing touchdowns lead the team.
"Devin's done a great job of staying healthy and taking care of himself the best he can," Leipold said Monday during the Big 12 coaches' media teleconference, before noting Neal also is taking a lot of hits for a first-year back.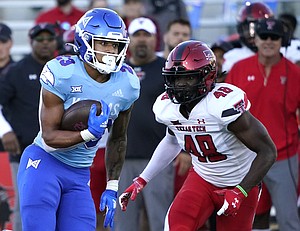 "Amauri's got a little bit more of a chance (to contribute this week)," Leipold added of Pesek-Hickson becoming the backup, "so we'll keep working those guys the best we can."
Pesek-Hickson had been KU's No. 3 running back for the past several weeks. The 6-foot, 230-pound redshirt freshman has appeared in eight games as a reserve this year, totaling 102 rushing yards on 33 carries. In his busiest day of the season so far, Pesek-Hickson ran 12 times for 34 yards in KU's Oct. 2 loss at Iowa State.
Leipold said redshirt freshman Malik Johnson is currently the No. 3 option at running back, followed by freshman walk-on DeAndre Thomas Jr.
A 5-foot-9, 195-pound back from The Woodlands, Texas, Johnson has yet to appear in a game for KU since joining the program as a three-star athlete in the Class of 2020.
Kickoff for road finale set
The Big 12 announced Monday that KU's road game at TCU on Nov. 20 will kick off at 3 p.m. and be available to watch via live stream on ESPN+.
The game will mark the final road trip of the year for the Jayhawks, who also will be in Texas this coming weekend, for their matchup with the Longhorns (4-5, 2-4).
After the back-to-back road games in the Lone Star State, KU will play its season finale at home against West Virginia, on Nov. 27.