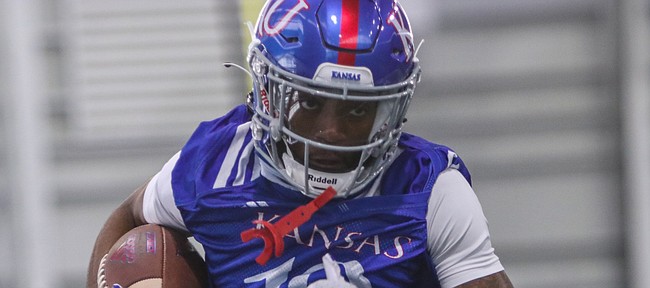 When Emmett Jones wasn't handling the big picture responsibilities that came with his stint as the football team's interim head coach this spring, the third-year Kansas assistant also stayed plenty busy in his normal role, coaching up the receivers.
What Jones saw from the young group over the course of 15 practices proved gratifying for the position coach.
"I sensed unification with those guys," Jones shared. "I sensed some of those guys matured up, as we went through those last two weeks of spring especially."
At a position dominated by youth, with eight underclassmen suiting up this spring compared to two juniors and one senior, the Jayhawks needed one of their younger players to emerge.
Jones said he saw sophomore Steven McBride do just that, with a "great" spring.
"I thought he kind of separated himself from the pack," Jones said of McBride, a 6-foot receiver from Louisiana. "Just the way he approached it, he settled down and allowed his athletic ability to kick in and kind of take over."
When the Jayhawks wrapped up the semester's offseason practice schedule, as well as Jones' run as the interim head coach, with the spring game, McBride caught five passes (tying tight end Will Huggins for the team lead) and accounted for 34 receiving yards.
A three-star receiver when he signed with KU in the Class of 2020, McBride broke through as a popular and reliable target for the team's quarterbacks this spring. It came after McBride caught four total passes in his debut season this past fall, when he appeared in six games and started in the 2020 finale.
The Jayhawks' offensive struggles throughout the season meant there wasn't a lot of receiving production to go around. But this year they do return two of their top-three pass catchers, with super-senior Kwamie Lassiter II and sophomore Luke Grimm back for the offense.
The relatively inexperienced group, Jones said, made strides throughout April as the receivers melded together.
"Those guys were coaching each other up, helping each other out," Jones said. "And just bought into it. They enjoyed the position room, they enjoyed studying film and they enjoyed each day that we had with each other."
As a whole, Jones appreciated the way the receivers used the spring to improve their perimeter blocking and route running, as well as how they took pride in not dropping the ball when it was thrown their way.
"So the details that make a wide receiver room great," Jones said, "I thought they did a good job when it comes to that."
Receivers on KU football roster
Kwamie Lassiter II, super-sr.
Luke Grimm, soph.
Lawrence Arnold, RS-fr.
Jamahl Horne, jr.
Steven McBride, soph.
Tristan Golightly, soph.
Kyler Pearson, RS-fr.
Malik Johnson, RS-fr.
Kevin Terry, jr.
Jordan Brown, RS-fr.
Quentin Skinner, RS-fr.
Class of 2021 signees joining this summer
Majik Rector, 3-star from Lancaster, Texas
Kelan Robinson, 3-star from Grand Prairie, Texas
Tanaka Scott Jr., 3-star from Mobile, Ala.