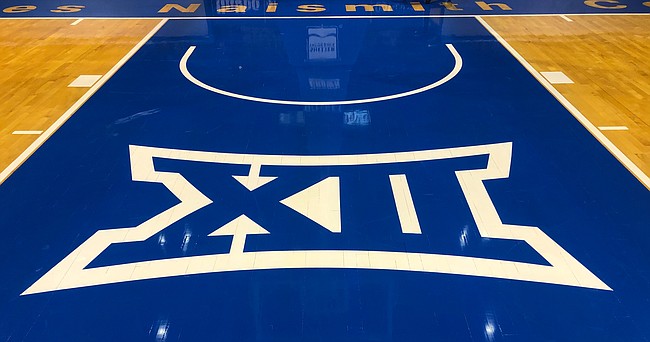 The Big 12 Conference on Tuesday announced a multiyear partnership with ShotTracker to install and operate its technology for all men's and women's basketball programs.

ShotTracker utilizes a revolutionary sports technology to capture performance data via sensors, providing statistics and analytics with sub-second latency.
The Kansas men's basketball program first began using the technology during its practices back in 2017. In October of 2018, the Jayhawks utilized ShotTracker — and the data it spits out — during its exhibition games.
ShotTracker's patented technology tracks data in three parts: a ShotTracker-enabled ball, sensors on players' jerseys, and court sensors that map the court in 3D.
When KU first started tinkering with the technology, the sensors were attached to each player's shoes by the laces.
Data is processed through the company's proprietary algorithm and can also be used to enhance broadcast productions by providing additional statistical data and to automate camera operations from remote locations.
In the release, Big 12 Executive Associate Commissioner Jeff Jackson called the ShotTracker technology "second to none" and said gathering player data in this manner would be "the standard" in the future.
"The partnership with the Big 12 Conference continues our upward growth not just in college basketball, but across the sports technology landscape," said ShotTracker Co-Founder and President Davyeon Ross.
Co-founded in Overland Park by Ross and Bruce Ianni, ShotTracker's innovative system delivers 70-plus unique and completely autonomous basketball stats and insights to teams, broadcasters and game partners with a transfer time of less than a second.

ShotTracker is currently being utilized by 63 men's and women's college basketball programs spanning 12 conferences. Its partners include Nike, Adidas, Under Armour, Spalding and Wilson.