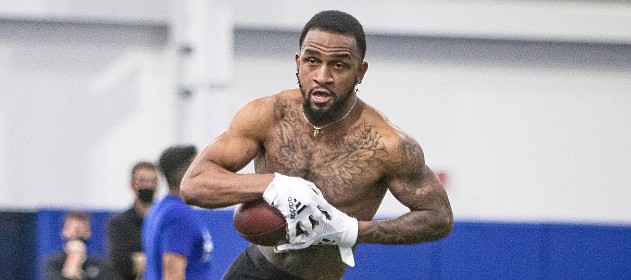 Back in Lawrence to show off his speed, footwork and more, former Jayhawks running back Pooka Williams returned to the Kansas football spotlight on Friday, more than four months after he opted out the 2020 season.
Williams clocked a 4.38 40-yard dash at KU's pro day, displaying some of the velocity that helped him stand out during his 26 career games with the Jayhawks.
"I was happy about the whole thing really," Williams told reporters on a video call following the closed event. "Just performed well, and was being myself for real."
One of KU's most talented skill players in recent memory, Williams, a preseason All-Big 12 running back in 2020, announced four games into the 10-game schedule he would opt out of the season. Speaking with media members for the first time since then, Williams, who announced in December his plans to turn pro and leave KU, said he didn't think his time away from practicing and playing in games from mid-October through early December would hurt him heading into this year's NFL Draft.
"Nah. If it does hurt me, once I get in there I'll just prove myself again," Williams declared.
At the time of his opt out, this past October, Williams pointed to his mother's health as one reason for him moving back to Louisiana. According to what Williams said on Friday, his mother, Angelique, is "way better now."
Asked what she had been dealing with, Williams replied, "I'm not even sure."
He added: "She's in the process, and getting way better as she goes."
Williams, a highly touted four-star prospect from the New Orleans area when he signed with KU in 2018, was measured at 5-foot-8 and 1/2 inches during the pro day — a little smaller than his roster listing of 5-10 — and weighed in at 175 pounds.
He shared that NFL teams see him as a potential punt returner, slot receiver or running back.
"That's what I do," Williams added confidently.
In four games as a junior, Williams averaged only 3.8 yards per carry, a far cry from the success he experienced earlier in his career. He averaged 7.0 yards per rush as a freshman and 5.2 as a sophomore. Williams ran for 196 yards (65.3 yards per game) and scored two rushing touchdowns in 2020 before opting out. That came after he totaled 1,125 rushing yards (102.3 per game) as a freshman in 2018, and 1,061 as a sophomore (96.5 per game) in 2019.
According to Williams, he already has spoken to five or more teams, he estimated, including a brief conversation with the Kansas City Chiefs and an interview with the New Orleans Saints.
Generally, Williams said those talks have been about football and more.
"Just understanding me and getting to know me as a person," he said.
Longsnapper Klusman's pro day
Williams wasn't the only Louisiana native hoping to impress on Friday. Former KU longsnapper Logan Klusman, from Lafayette, La., went through what he described as some basic drills, too.
Klusman, who snapped for both punts and field goals during the pro day joked "it was super exciting."
His one-liners didn't end there, though. Klusman explained why he and Williams didn't participate in all the same drills.
"I probably would've outshone Pooka a little bit," the 6-foot, 233-pound Klusman joked. "But he knows where his place is with me. I definitely could say that my feet are probably a little faster than his. I just decided not to do any of the drills he did."
After running a 5.13 40-yard dash and matching Williams in the vertical jump, at 31.5 inches, Klusman said he appreciated the opportunity to perform his specialty, too.
"I did what I had to do today," he said, "and I hope I didn't fly under the radar for some of the scouts watching."
KU football 2021 pro day results
Pooka Williams, RB
Height: 5-foot-8.5
Weight: 175 pounds
Arm: 30.7 inches
Wingspan: 72.6 inches
Vertical: 31.5 inches
Broad jump: 9 feet, 10 inches
Bench press (225 pounds): 4 reps
40-yard dash: 4.38 seconds
3-cone: 7.02 seconds
Logan Klusman, LS
Height: 6-foot-0.3
Weight: 233 pounds
Arm: 30.2 inches
Wingspan: 75.2 inches
Vertical: 31.5 inches
Broad jump: N/A
Bench press (225 pounds): N/A
40-yard dash: 5.13 seconds
3-cone: N/A