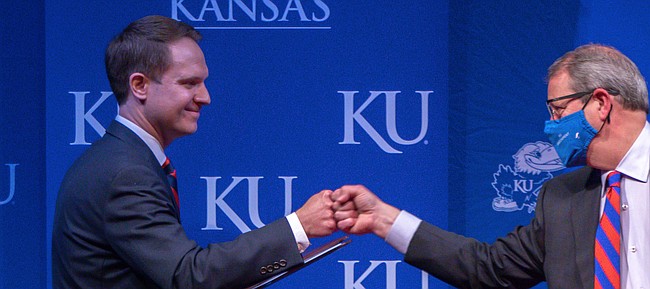 From a distance, former Kansas football coach Glen Mason has watched six different KU athletic directors hire seven different head football coaches since he left Lawrence in 1996.
And until this year, not one of them reached out to him before making a hire.
As one of two KU coaches in the past five decades who enjoyed prolonged success with the program, Mason always thought contacting him would make sense. So that's exactly what first-year KU Athletic Director Travis Goff did.
"This is the first time that an AD ever reached out to me to pick my brain and ask for my perspective on what might be important at KU in the rebuilding job," Mason told the Journal-World shortly after Goff hired Lance Leipold away from Buffalo two months ago. "Because that's what it is. They're rebuilding. Much like we were when I took the job back in December of 1987."
Goff knew that when he took the job at Kansas. Even before the ink dried on his first contract, the 41-year-old, first-time AD was well aware of how important his impending football hire would be.
So rather than slow-playing it and allowing himself time to get settled first, Goff got right to work. It wasn't until Leipold's introductory press conference on May 3 that Goff became a regular in his own office. Up to that point, it was all search all the time.
'A beautiful plan'
Goff was introduced as KU's new AD on April 7. In the 48 hours that followed, Goff put together a search committee and began to implement the very plan that helped him get hired as KU's AD.
"He made it very clear that this would be the top priority for a while," said KU's Senior Woman Administrator Nicole Corcoran, who was joined by David Reed, Darrell Stuckey and Mike Vollmar on the search committee. "We did an initial meeting that Friday and then we took off from there and never stopped. He knew exactly where we were headed and he made it very clear that we were headed there together."
Goff's comfort in the first major coaching search of his career came from his past.
At Northwestern, where Goff worked closely with former NU AD Jim Phillips on several key hires during his nine years in Evanston, Ill., the process began to look familiar.
Whether the search was big or small, Phillips said it was always the same.
"He'd been trained in a way to where there's kind of a template you end up using with these things and then he put his own touches on it and applied it to Kansas," Phillips told the Journal-World.
Things did not always go according to plan. And Phillips said the two occasionally talked during Goff's football search.
"In those moments, you often turn to those who have been in those shoes before," Phillips said.
The conversations, Phillips recalled, were much more about Goff sticking to the plan, trusting his training and utilizing the gobs of information and feedback he and his search committee gained from KU's stakeholders — donors, coaches, student-athletes and more — in the early stages of the process.
Talking to as many KU people as possible before the search began in earnest was the foundation of Goff's vision. He and the committee members had some form of contact on every one of the 25 days between Goff's introduction as KU's new AD and Leipold's introduction as the Jayhawks' next football coach.
And Corcoran said she believed the committee may have "set records" for time spent on Zoom calls.
"He had a beautiful plan and he executed it perfectly," Phillips said.
Coaches speak
Mason and former KU coach Mark Mangino were two of the big fish in Goff's plan. He contacted both of them early on to pick their brains about what worked, what didn't and why they were able to have success at a place where so many other coaches had failed.
Almost immediately, Mangino was struck by Goff's energy.
The former KU coach told the Journal-World that the two talked about everything from facilities to recruiting to comparisons to other Big 12 programs and strategies for all of it.
"He asked a lot of good questions," Mangino said.
Mason agreed and said he was most impressed by how Goff knew "the important questions" to ask.
"I was really impressed," Mason said. "Especially taking into account his youth."
Mangino said he wanted to be as helpful as possible. And his biggest message was simple: "Travis, you can't miss."
"You and the football coach you hire will be tethered together," Mangino recalled telling Goff. "He needs you. You need him. And if you're successful and find the right coach, you'll be the toast of the town."
"He understood that completely," Mangino added. "He understands that football is very important to him, personally, as well as to the university. And he knows the stakes are higher for him."
On the day of his introduction, Leipold said tying himself to an AD who had as much at stake as he did played a key role in his decision to pursue the Kansas job.
At Buffalo, Leipold worked under three different ADs in his first four seasons. And while that did not prevent him from building the Bulls program into a winner, he said the turnover was like pressing the pause button on whatever progress was being made.
"One of the things that really attracted me to this job was his enthusiasm and his passion for this university," Leipold said of Goff. "You could see that every day. That's at 7 a.m. and that's at 11 p.m. To get in on the ground floor together and partner with someone at the beginning of this was an extra bonus."
Hard work pays off
After arming himself with as much knowledge about the past as he could acquire, Goff set out to change KU's football future.
As profiles of potential fits came and went and Goff checked references of the more serious candidates like Santa Claus with his list at Christmas, those who went along for the ride were occasionally in awe of Goff's ability to stay organized amid a sea of data.

"He took such a thorough approach to gathering information before we even started reviewing the candidates," Corcoran recalled. "The process was intense, exciting, exhausting and a whole lot of fun."
Corcoran praised Goff's ability to delegate portions of what was required to build the candidate profiles. And she said a "divide and conquer" approach allowed Goff and the committee to move quickly.
There were other people who had no ties to Kansas ties who played important roles in Goff's search. Northwestern football coach Pat Fitzgerald, with whom Goff worked closely at NU as the school's football administrator, proved to be a valuable sounding board from start to finish.
Tennessee AD Danny White, who hired Leipold at Buffalo back in 2014, also helped Goff vet Leipold.
White told the Journal-World that he was impressed by Goff's willingness to go back that far to find out more. And he was even more impressed by Goff's demeanor.
"I certainly didn't get the feeling that Travis felt overwhelmed by the challenge," White said. "It may have been his first hire, but, based on the conversation I had with him, you would've thought it was his 15th hire."
In addition to providing as much detail as possible about Leipold, White offered his thoughts on how Goff could manage "information overload" and also talked about the process of hiring coaches in general.
"They're all challenging," White said. "It ultimately comes down to you have to have that gut feeling that you're making the right choice."
"I told Travis he can't go wrong," White added. "Lance is a superstar coach and he's a superstar person and we had a great conversation. I came away from that conversation thinking, one, that Travis was going to hire Lance, but also that he was extremely thorough and he had covered all of his bases."
That, too, was part of Goff's plan. A big part.
"You can overcomplicate these things," Goff said back on May 3. "(But) sometimes it's just hard work. And I think we worked really hard, and probably, at times, tortured Lance as we continued to dig in."
Better days ahead?
Even though he, too, was still in the early stages of getting to know his new boss, Kansas basketball coach Bill Self saw the hard-work approach Goff preached.
"We visited," Self told the Journal-World. "I don't know that we went into great detail about anything. I think he had a pretty good feel on what he thought would win here. But he kept me abreast of what was going on from a strategy standpoint."
What stuck with Self the most during the process was Goff's ability to utilize different styles while staying locked in on a single goal.
"He was very deliberate and patient and aggressive," Self said. "Those are sometimes three difficult combinations to master, but he was."
Those who know him attribute Goff's ability to do that to his passion and burning desire to get it right, whatever it is.
"He's incredibly thorough, very organized and very thoughtful," Phillips said.
Added Mangino: "He was very enthusiastic on the phone. Seems like a bright, bright young guy."
While the evaluations of Goff's approach to the Leipold hire painted an image of an AD who was ready for the moment, White's assessment carried with it an element of history repeating.
"The work they did at Northwestern was kind of like the work Lance did at Buffalo," White said. "They took a place and turned it into something it had never been. And I think he's going to do the same thing at Kansas."
Added Mason: "A lot of people say for both Travis and Lance, 'Boy, that's a tough situation to go into.' But the way I see it, it's a very attractive situation in a lot of ways. I know coaches that were there with me and a lot of the players that I had really believe that KU football should be better. A lot better. It's not very good right now, and there's only one way to go."