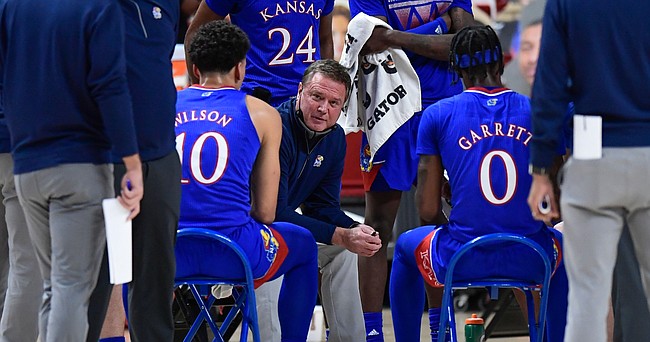 Although he's never really been one to stand out in his designer suits on the sideline, Kansas basketball coach Bill Self dutifully has worn hundreds of them throughout his 28-year coaching career.
But those days might now be gone forever, as Self and his KU assistants have followed the national trend in wearing a more casual look on game nights during the 2020-21 season.
"I actually like it," Self said recently when asked about dressing down on game day. "I doubt I go back."
Long before the 2020-21 basketball season ever began, a quiet movement started in which coaches at all levels started talking about wearing slacks and polos or pullovers instead of suits and ties on the sidelines this season. Most believe it was tied to the COVID-19 pandemic and the need to move quickly and keep your footprint small.
But Self said recently that the transition to more comfortable gear made sense long before the pandemic arrived.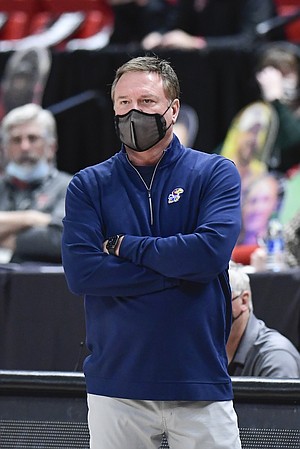 "Our world is a lot more casual today than it was even 15 or 20 years ago," Self said. "Even when you go to church, you dress differently than you did when we were growing up."
So why did basketball coaches start wearing suits on the sideline to coach players who wear shorts and tank tops? Self did not immediately know the origin of the fashion movement that has dominated on courts across the country for decades. But he did offer a theory.
"Basketball coaches, I think, have always done it because everybody else has done it," Self said. "I think that it's probably silly when you look back on why coaches wear what they wore before this. You know, football coaches don't wear a coat and tie, unless you're Hank Stram or Tom Landry."
The NBA, which has had a dress code for coaches and players not in uniform, agreed to relax its requirements for coaching attire ahead of the 2020-21 season.
And with college and high school coaches across the country following the same path, Self believes the more casual look is likely here to stay for a good chunk of college coaches.
"There'll be some coaches (wearing suits again), without question," Self said. "But I'm pretty superstitious about certain things, so it may depend on how we finish the season. Because if we don't finish the season right, I'm sure how I'm dressed will play a large role in that. So who knows well we'll do it next year."
"I'm not gonna say never, because who knows what'll happen, maybe somebody will make me," he added of the idea of wearing a suit and tie again. "But I think it's actually a good look."
It's also not entirely new for Self.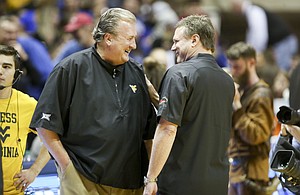 In addition to dressing down at the Maui Invitational or during exhibition tours overseas, Self occasionally has obliged his good friend Bob Huggins by wearing slacks and a KU pullover when Kansas faces West Virginia.
"He's told me for years, 'What are you doing (wearing a suit), you look like an idiot,'" Self said of Huggins' playful ribbing. "But, you know, there was a time where Huggs was wearing three-piece suits, too. He had the vest on and everything back in the day."
Self said the key for pulling off the dressed-down look is finding something that's comfortable while still being classy.
"I think Huggs may have been ahead of the curve a little bit on that one," Self said.
For Self and his coaching staff this season, the game day look, most often, has been casual slacks and some kind of quarter-zip pullover with a Jayhawk logo on it. They always match each other, and Self said he believes they represent the Kansas program in a respectful manner.
"I feel more comfortable, my dry cleaning bill is ridiculously lower than what it normally has been and I think it's a pretty good look for coaches," Self said.